Day passenger ship 120 pax
reduced in price
Dimensions (m):
23.35 x 5.56 x 1.15
Mooring:
Near Venlo, Netherlands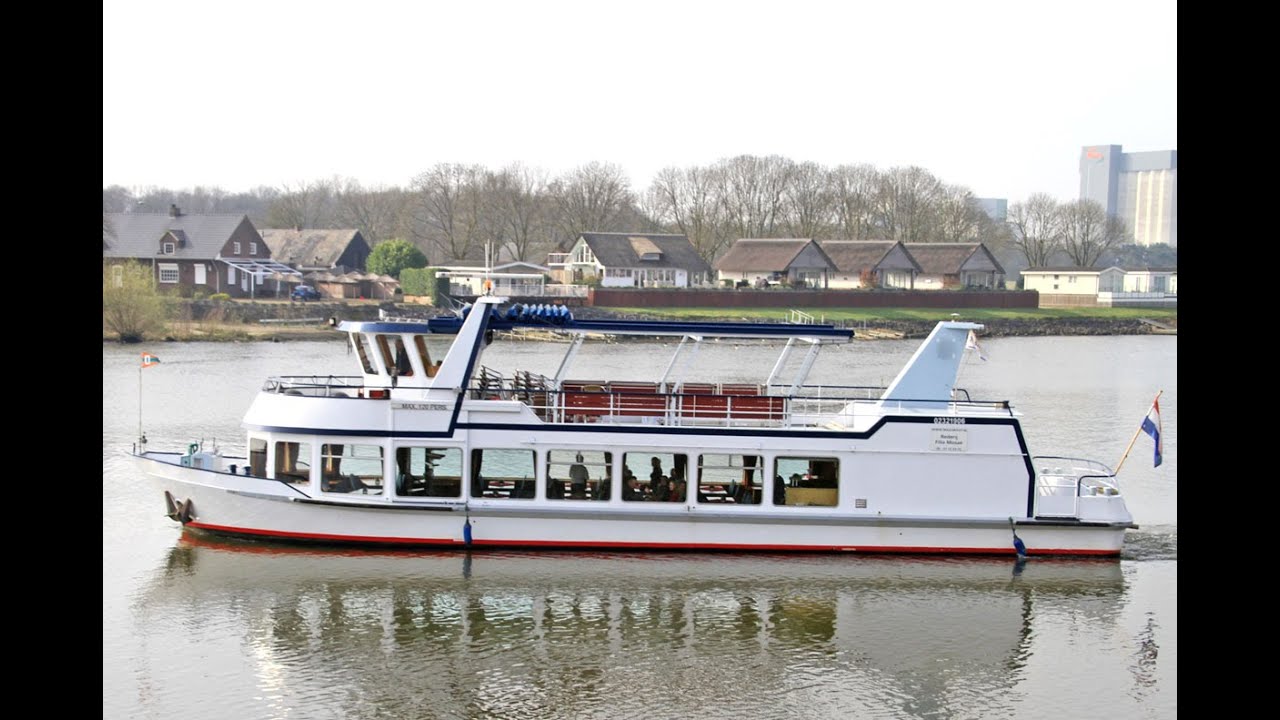 Vision Doeve Brokers
Well maintained party & passenger ship that gives a new owner immediately a good start without having to prepare the ship first. From the aft deck you will enter the entrance with on SB the toilet area and on PS the kitchen, Panorama salon with the bar on PS at the back. Behind the wheelhouse there is a spacious outside deck with a bimini, folding benches and aluminum terrace seats. From the sun deck at PS is the staircase to the aft deck. Acquisition of the boat with taking over the entire business is also negotiable. The party boat will then be offered with goodwill, inventory, own pier, internet site with booking system, telephone number and private berth with shore connections. Also included is a pontoon boat (18.55 x 4.80 m) with spud poles for mooring and a 6-meter-long aluminum gangway.
More information
General information
Yard:
Shipyard J. Tinnenmans, NL-Maasbracht
Superstructure material:
steel
Construction method:
rubbing strake
closed bollard cabinets
bulwark
transom stern
4 watertight bulkhead(s)
side-decks
Steering system:
manual hydraulic steering
wheel
fish tail rudder
Windows:
aluminium windows frames
teak wooden outside doors
Displacement (approx.):
maximum allowable displacement 101 m3
displacement in empty condition 80 m3
Ballast (approx.):
no ballast
Airdraft (approx.):
5,35 m everything down
Registration:
Dutch registered
B-registered
Costs for the change of ownership and / eventually deletion are for purchasers amount.
Colour / Paint System:
white hull
white superstructure
very well maintained
see photographs
last underwatership treatment 10-2018
very well maintained
Certificates:
inland waterways certificated (TRIWV / ES-TRIN)
zone 3
zone 4
Waal, Lek & NL Rhine
valid until: 10-2023
120 Passengers
Suitable for / as:
inland shipping
passengers vessel
General information:
Know-how and information about sailing areas can be passed on.
Training of a new crew may be discussed.
Hand over in consultation.
Acquisition of the current operation can be discussed.
Additional information:
120 day guests
The techniques used on board are commercial shipping quality.
forepeak with chain locker
Great vessel for cruising on the European canals and rivers.
Technical information
Enginepower:
186 Hp
136 kW
Construction year engine:
1989
Overhaul engine:
1995 reconditioned installed
Running hours (approx.):
20500
Fuel tank (approx.):
1000 litre
1 steel tank(s)
BOBS overflowing fuel safety system
Cooling system:
closed
box cooler
insulated exhaust
Propulsion:
4 blade propeller
greased lubrication of propeller shaft
greasing device
Gearbox:
PRM 1000D hydraulic (2000)
reduction/ratio 4:1
Speed (approx.):
12 km/hour cruising speed at 1500 RPM
15 km/hour top speed
Heating:
Elja central heating (2014)
on diesel
radiators
Bow thruster:
Duco electric bow thruster
20 Hp
400 Volt
proportional
Electricity system:
12 / 24 / 230 / 400 Volt
230 Volt shore power connection
400 Volt shore power connection
professionally installed system
Batteries:
2x 220 domestic batterie(s)
2x 220 Ah starter batterie(s)
2 emergency batterie(s)
1x 95 Ah starter batterie(s) generator
1x 64 Ah starter batterie(s) generator
Battery charger:
Mastervolt ChargeMaster Plus battery charger 24/60-3
Genny:
Lister diesel
17,5 kVA 230/400 Volt (Stamford)
Perkins diesel
25 kVA 230/400 Volt (Stamford)
box cooler
Inverter:
3x inverter 24-12 Volt, 10 ampere
1x inverter 24-12 Volt, 20 ampere
1x inverter 24/1500
Fresh water tank (approx.):
4000 litre
2 steel tank(s)
Water pressure system:
1x hydrophore pump
1x seawater hydrophore pump
Hot water system:
close-in boiler/water calorifier (230 Volt)
Holding tank (approx.):
2000 litre
Homa macerator wastewater pump
Engineroom:
see photographs
Bilge pump:
2x general service pump
400 Volt &
230 Volt
& submersible pump
Gas system:
no gas on board
Accommodation
Interior:
mahogany interior
Plywood
Lay-out plan (not to scale):
see attachment
Toilet / Heads:
men's room:
toilet
washbasin
cold running water
tiled toilet
lady's room:
toilet
washbasin
cold running water
tiled toilet
Cooker:
2-burner hob
electric cooker
1-burner hob
induction cooker
cookerhood
Fridge / Refrigerator:
2x fridge / refrigerator
Worktop:
laminate worktop
Washbasin:
stainless steel sink
Water tap:
mixer tap with hot & cold running water
Dishwasher:
dishwasher (2022)
400 Volt
Entertainment:
stereoset
inside and outside speakers
Headroom (approx.):
wheelhouse (approx.) 2,20 m
galley (approx.) 2,08 m
salon (approx.) 2,08 m
toilet (approx.) 2,08 m
Additional information:
coffee machine
cash register
Equipment
Anchor equipment:
400 Volt electric anchor winch
1x Pool anchor
1x Klipp anchor
anchor cable
in hawse-hole
Bimini:
bimini top above aftdeck
electrically lowable
Searail / Pulpit:
guardrail around upperdeck
Safety:
6 life buoys
8 fire extinguishers
122 life jackets
2 inflatable life jackets
according to the certification requirements
fire alarm system
according to the certification requirements
Additional information:
set deck furniture
aluminium gangway
Survey report of the underwatership is available (10-2018)
LED deck lights