Hotel / Passenger vessel 138 passengers
Dimensions (m):
104.67 x 10.24 x 1.40
Mooring:
Near Rotterdam, Netherlands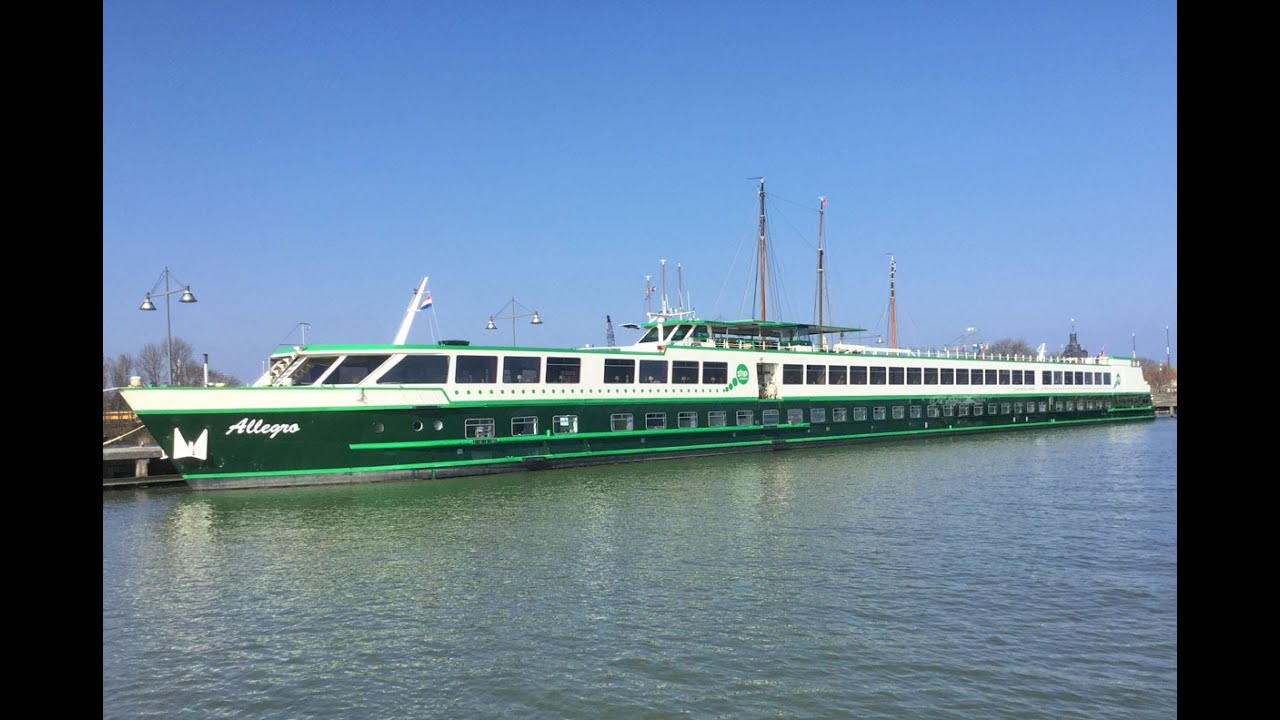 Vision Doeve Brokers
A *** Hotel Passenger vessel that has been refitted for a big part in 2011, whereby among other things the complete propulsion installations as well as the generators were renewed, which provides a good operational reliability. In the following years, further modernization and repairs were carried out. For example, the guest cabins were upgraded in 2018/2019 and the reception area and the day toilet group were renewed in 2019/2020. It is an operational ship that has a very large cruising area due to her equipment and construction. There are a total of 69 guest cabins with en-suite bathroom and 15 crew cabins with en-suite bathroom. There is an elevator on board, making all floors and the sun deck accessible for the disabled.
More information
General information
Yard:
Shipyard De Nieuwe Scheepswerven Sint-Barbara, B-Maasmechelen
Rebuilt year:
2011 - 2018/2019
Superstructure material:
steel
Construction method:
rubbing strake
4 watertight bulkhead(s)
closed bollard cabinets
Steering system:
hydraulic
power steering
3x Veth rudder propeller (2011)
= steerable PODS
1x inside steering position
2x outside steering position
Windows:
aluminium windows frames
double glazing
Displacement (approx.):
maximum allowable displacement 1198,007 m3
displacement in empty condition 796,140 m3
displacement 401,867 m3
Ballast (approx.):
600 m3 ballast tank(s)
Airdraft (approx.):
6,70 m everything down
Upper part wheelhouse is hydraulically lowered.
5,90 m with ballast
Registration:
Dutch registered
B-registered
Costs for the change of ownership and / eventually deletion are for purchasers amount.
Colour / Paint System:
green hull
cream superstructure
see photographs
very well maintained
last underwatership treatment (10-2019)
Certificates:
Rhine certificated (ROSR)
open sea to Basel
& zone 2 Netherlands
Is equal to:
zone 3
zone 4
valid until: 04-2025
Suitable for / as:
commercial shipping
restaurant
useful as charter
passengers vessel
General information:
Know-how and information about sailing areas can be passed on.
Training of a new crew may be discussed.
Hand over in consultation, charter contracts must be complied.
The current berth may differ from what is indicated as the vessel operates internationally.
Additional information:
The techniques used on board are commercial shipping quality.
138 hotel guests
140 day guests
Great vessel for cruising on the European canals and rivers.
Technical information
Enginepower:
3x 525 Hp
3x 386 kW
Number of cylinders:
3x V-8
Construction year engine:
2011 into operation
Running hours (approx.):
3x 16000
Fuel tank (approx.):
150 m3
Cooling system:
closed
3x box cooler
Propulsion:
3x Z-drive
3x Veth rudder propeller
duoprop
Speed (approx.):
15 km/hour cruising speed at 1250 RPM
20 km/hour top speed
Heating:
2x central heating
on diesel
Air conditioning:
present in each cabin
reverced circle
in the saloon present
Engine instruments:
present
alarm system
Bow thruster:
Boterman bow thruster with dieselengine (Cummins)
360 degrees turnable
360 Hp
Electricity system:
12 / 24 / 230 / 400 Volt
400 Volt shore power connection
70-80 % new system
Batteries:
starter batterie(s)
starter batterie(s) bow thruster
starter batterie(s) generator
emergency batterie(s)
Battery charger:
2x Victron Centaur battery charger 24/30
1x Victron Phoenix battery charger 24/25
1x Victron battery charger
Genny:
240 kVA 230/400 Volt (2011)
150 kVA 230/400 Volt (2011)
75 kVA 230/400 Volt (2011)
Fresh water tank (approx.):
350 m3
Water pressure system:
hydrophore pump
Fresh water filter system:
fresh water filter system
Hot water system:
2x boiler/water calorifier (400 Volt)
genny cooling system
hot water ring line
Holding tank (approx.):
150 m3
Diesel waterseparator:
present
Engineroom:
very well maintained
see photographs
clean engineroom
Gas system:
no gas on board
Additional information:
400 liter waste oil tank (approx.)
fire pump
air compressor
Accommodation
Interior:
various materials have been used
well maintained
for the greater part renewed
see photographs
Berth:
69 Guest cabin(s): 2x 1-pers
11 Crew cabin(s): 2x 1-pers
4 Crew cabin(s): 1x 2-pers
Lay-out plan (not to scale):
see attachment
Bathroom:
84x En Suite
shower
hot & cold running water
washbasin with hot & cold running water
in 1 area together with the toilet
Toilet / Heads:
84x flush toilet
day toilet
4x flush toilet
2x washbasin with hot & cold running water
Galley:
professionally equipped galley (2015)
Cooker:
6-burner hob
electric cooker
2x cookerhood
stainless steel
Oven:
4x combi steamer oven
Fridge / Refrigerator:
refrigerated counter
walk-in cold room with 400 volt refrigerator compressor
3x bottles cooler
3x fridge / refrigerator
Freezer:
walk-in freezer space with 400 volt compressor
2x freezer
Worktop:
stainless steel worktop
Washbasin:
stainless steel sink
Dishwasher:
pass-through dishwasher
2x dishwasher
Entertainment:
selfsearching satellite antenna
86x flatscreen TV
intercom/music system
Headroom (approx.):
wheelhouse (approx.) 1,99 m
salon (approx.) 2,11 m
Restaurant 2,13 m
cabins (approx.) 2,06 / 2,19 m
corridor / walkthrough (approx.) 2,06 m
galley (approx.) 2,14 m
Additional information:
2x beer tap
postmix machine
2x wine dispenser
coffee machine
Hot cupboard
4x stainless steel deep fat fryer
slicer
ice-cube maker
flatwork ironer
washing machine
tumble dryer
elevator
Full charter inventory is present.
Rigging and sails
Mast:
lantern mast
aluminium
& radarmast
aluminium
Equipment
Anchor equipment:
electric anchor winch
2x Pool anchor
anchor chain
in hawse-hole
Aft:
electric anchor winch
Pool anchor
anchor cable
in hawse-hole
Bimini:
present
hydraulically lowerable
Searail / Pulpit:
guardrail around upperdeck
Dinghy:
Plastic
dinghy with outboard engine
5 Hp
Safety:
life buoys
life jackets
2x FM200 automatic fire extinguishing system in engine room
fire alarm system
fire blanket
bilge alarm
according to the certification requirements
Additional information:
4x aluminium gangway
2x hydraulic crane
set deck furniture
deck lights
steering chair
sundeck
Survey report of the underwatership is available