Luxe Motor 33.32 with TRIWV
Sold
Dimensions (m):
33.32 x 6.08 x 1.00
Mooring:
Near Leeuwarden, Netherlands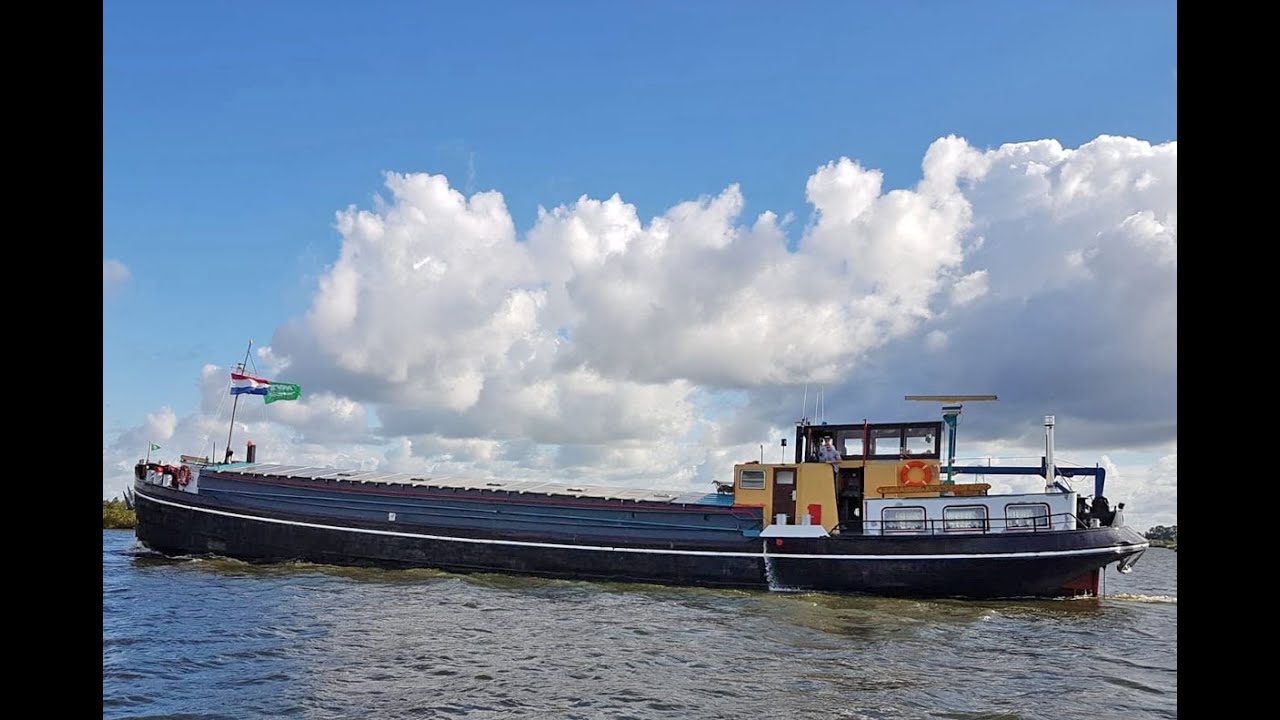 Vision Doeve Brokers
Former inland cargo vessel that, after coming out of commercial shipping, has been refurbished into a cruising Live Aboard Dutch Barge with 4 cabins, a spacious bathroom, in the teahouse the galley, a spacious wheelhouse with seating area and an aft cabin that is completely furnished as a living room. The wheelhouse is equipped with professional navigation equipment such as a river autopilot. This, together with the 360 degree rotatable bow thruster and the stud poles, makes her an easy to navigate ship.
More information
General information
Yard:
Shipyard Gebr. Boot, NL-Leiderdorp
Superstructure material:
steel
teak top of the wheelhouse
aluminium hatch covers over hold
Construction method:
riveted
new steel is welded
rubbing strake around
wide side decks (gunnels)
deckhouse
raised upperpart hold
closed bollard cabinets
kalffsdecks (raised decks)
Steering system:
hydraulic
power steering
wheel
& steering handle
Windows:
aluminium windows frames
hardwood outside doors
Airdraft (approx.):
4,70 m
Registration:
Dutch registered
B-registered
Costs for the change of ownership and / eventually deletion are for purchasers amount.
Colour / Paint System:
black hull
grey bulwark
white superstructure
last underwatership treatment 08-2018
some overdue maintenance
Certificates:
inland waterways certificated (TRIWV / ES-TRIN)
zone 2 Netherlands
zone 3
zone 4
Waal, Lek & NL Rhine
valid until: 08-2025
Suitable for / as:
suitable as a year round live- aboard
inland waterways
Additional information:
beautiful sheer
classic lines
forepeak with chain locker
Hull shape is suitable for drying out.
Great vessel for cruising on the European canals and rivers.
Technical information
Enginepower:
325 Hp
239 kW
Number of cylinders:
V-12
Construction year engine:
1980 into operation
Running hours (approx.):
43936
Fuel tank (approx.):
1x 1200 litre
1x 250 litre
steel tank(s)
Cooling system:
closed
box cooler
Propulsion:
4 blade propeller
greased lubrication of propeller shaft
greasing device
Gearbox:
Reintjes hydraulic
Heating:
Roca central heating
combi boiler
on diesel
& pelletstove
central heating
& electric
Engine instruments:
present
Bow thruster:
bow thruster with dieselengine
Volvo 137 Hp
360 degrees turnable
Electricity system:
24 / 230 / 400 Volt
400 Volt shore power connection
Batteries:
1x 200 Ah battery
2x 230 Ah starter batterie(s)
2x 120 Ah starter batterie(s) bow thruster
1x 140 Ah starter batterie(s) generator
1x 74 Ah starter batterie(s) generator
Battery charger:
Victron Pallas-TG battery charger 12/50
Deca Class battery charger 12-24/12
Absaar battery charger 12/5
Victron Blue Power battery charger
Genny:
Lister diesel 20 kVA, 230/400 Volt, 1500 RPM
running hours (approx.) 11895
Lister diesel 9,5 kVA, 230/400 Volt, 1500 RPM
Fresh water tank (approx.):
7x 1000 litre
plastic tank(s)
1x 1000 litre
stainless steel tank(s)
Water pressure system:
hydrophore pump
Hot water system:
through the central heating
& boiler/water calorifier (230 Volt)
Holding tank (approx.):
not present, enough space to build-in
Bilge pump:
submersible pump
Gas system:
yes, bottle(s) in bottle box on deck
Gas certificate
Additional information:
spare propeller
main engine with PTO for the hydraulic
Accommodation
Interior:
various materials have been used
see photographs
simple interior
Insulation:
for a large part
Bathroom:
tiled bathroom
bath with shower
washbasin with mixer tap and hot & cold running water
in 1 area together with the toilet
Toilet / Heads:
flush toilet
Cooker:
2x 4-burner hob
ceramic cooker
& on gas
stainless steel
Worktop:
laminate worktop
Washbasin:
stainless steel sink
Water tap:
mixer tap with hot & cold running water
Headroom (approx.):
cabins (approx.) 2,35/2,27 m
corridor / walkthrough (approx.) 2,16 m
bathroom / toilet (approx.) 1,95 m
galley (approx.) 1,73 m
wheelhouse (approx.) 1,85 m
aftcabin (approx.) 2,06/1,92 m
Additional information:
washing machine
Rigging and sails
Mast:
lantern mast
aluminium
Equipment
Anchor equipment:
electric anchor winch (400 Volt)
2x Klipp anchor
2x 44 m anchor chain
in hawse-hole
1x spudleg / pole (electric)
3,50 m under the bottom
1x spudleg / pole
3,50 m
specified length(s) is/are approximate
Safety:
fire extinguishers
life buoys
life jackets
according to the certification requirements
Additional information:
Survey report of the underwatership is available (08-2018)