Day passenger ship / Party ship 500 pax
Dimensions (m):
49.84 x 10.39 x 0.85
Mooring:
Near Regensburg, Germany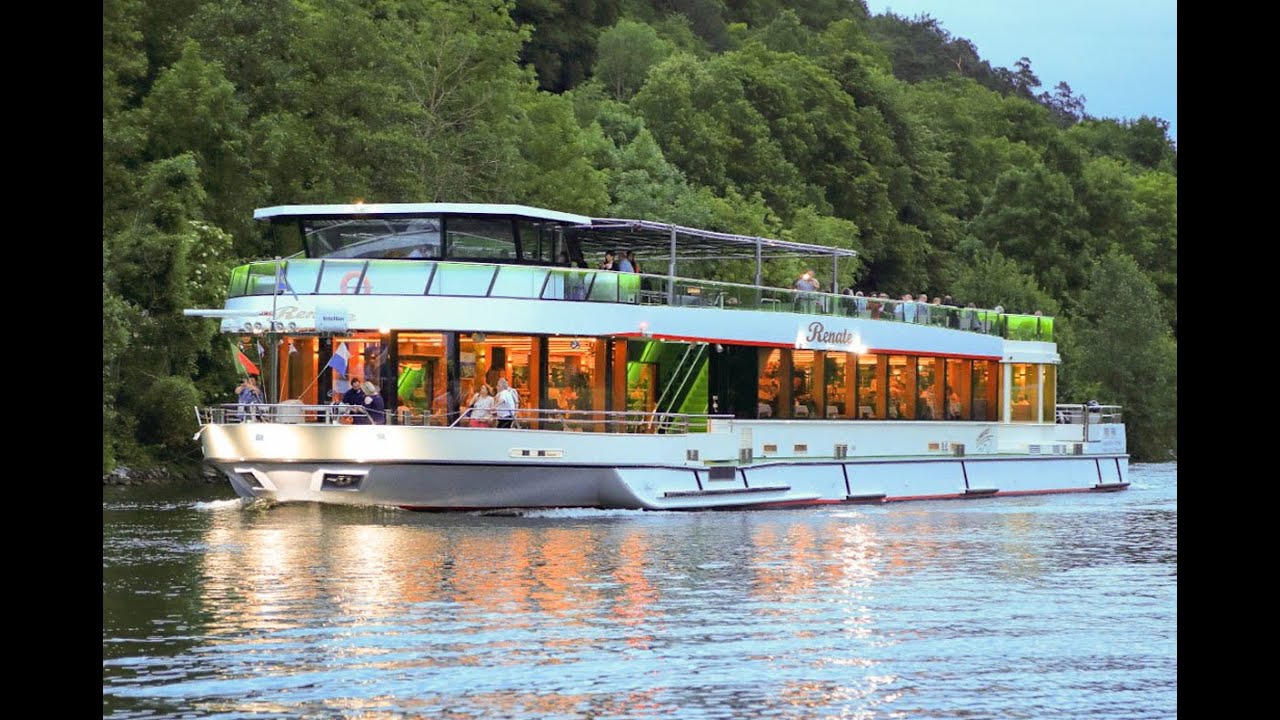 Vision Doeve Brokers
Recently built passenger ship that is ideal for cruises, festivities and parties, but can also function very well as a restaurant. There is a professional kitchen where a chef can prepare high-quality dishes. The indoor and outdoor bar are both very well equipped. The interior is very spacious with, among other things, 2 panoramic salons and a spacious upper deck. With the height-adjustable wheelhouse, the minimum air draft is approx. 5.50 m. This allows her to go from her current berth to the Rhine catchment area, but she will also cruise very well on the Danube. The ship is built for environmentally friendly operation, including, for example, a diesel / electric jet drive. The required power will be selected automatically. A very well-built ship that is available immediately. In our view, an excellent opportunity to obtain a new ship for significantly less than the current new-build price.
More information
General information
Yard:
Shipyard Guenter Mueller, D-Remagen-Oberwinter
Hull shape:
flatbottom
V-bottom
Superstructure material:
steel
aluminium top of the wheelhouse
Construction method:
13 watertight bulkhead(s)
closed bollard cabinets
stainless steel bollards
bulwark
rubbing strake around
rubber rubbing strake
flush deck
bulbous bow
Steering system:
electric hydraulic steering
inside and outside steering position
emergency steering
steerable Nozzle
Windows:
aluminium windows frames
double glazing
aluminium outside doors
Displacement (approx.):
359,000 m3 displacement
Airdraft (approx.):
5,50 m everything down
Upper part wheelhouse is electrically lowered.
Registration:
German registered
Colour / Paint System:
white hull
white superstructure
two component system
very well maintained
see photographs
Certificates:
inland waterways certificated (TRIWV / ES-TRIN)
zone 3
zone 4
zone R (Rhine)
valid until: 04-2023
niet/not/nicht/ne pas Emmerich tot open zee/till open seas/biss offenen Meer/jusqu'au large
Suitable for / as:
commercial shipping
passengers vessel
restaurant
pancake restaurant
General information:
Hand over in consultation.
not inspected by us
from first owner
Additional information:
500 day guests
The techniques used on board are commercial shipping quality.
Many rust sensitive places are made from stainless steel.
forepeak with chain locker
Great vessel for cruising on the European canals and rivers.
Given construction year is the year that the ship was ready and she was launched.
Technical information
Enginepower:
2x 490 Hp
2x 361 kW
Fuel tank (approx.):
2x 8500 litre
steel tank(s)
Propulsion:
2x Schottel SPJ 87 water jet
Speed (approx.):
14 km/hour cruising speed
16/17 km/hour top speed
Heating:
via air conditioning unit
& central heating
from the engine cooling system
Air conditioning:
2x Daikin air conditioning
reverced circle
Engine instruments:
present
alarm system
Bow thruster:
Schottel Pump-jet SPJ 87 electric bow thruster
180 kW
360 degrees turnable
Electricity system:
12 / 24 / 230 / 400 Volt
400 Volt shore power connection
professionally installed system
mainmaster control
with automatic changeover
Battery isolator:
battery isolator
Isolation transformer:
isolation transformer
Earth-leakage breaker:
present
Genny:
4x 300 KWe
Scania DI13 diesel
1x 80 kW
John Deere 6068 diesel
Fresh water tank (approx.):
2x 4000 litre
plastic tank(s)
Water pressure system:
hydrophore pump
Fresh water filter system:
fresh water filter system
Hot water system:
boiler/water calorifier
genny cooling system
Holding tank (approx.):
2x 6700 litre
plastic tank(s)
Diesel waterseparator:
present
Engineroom:
very well maintained
clean engineroom
Bilge pump:
2x electric pump
Gas system:
no gas on board
Additional information:
LED lightning
air compressor
2x fire pump
Accommodation
Interior:
various materials have been used
luxurious interior
2x bar with full equipment
professionally done
retardant panelling
see photographs
Lay-out plan (not to scale):
see attachment
Bathroom:
crew quarters:
shower cubicle
mixer tap with hot & cold running water
washbasin
cold running water
Toilet / Heads:
lady's room:
5x flush toilet
3x washbasin with hot & cold running water
men's room:
3x flush toilet
4x urinal
2x washbasin with hot & cold running water
disabled toilet room:
flush toilet
washbasin with hot & cold running water
Galley:
professionally equipped galley
Cooker:
2x 4-burner hob
electric cooker
1x Sous Vide
tilting frying pan
Oven:
2x Rational combi steamer oven
Microwave:
2x microwave/oven
Fridge / Refrigerator:
10 m2 walk-in cold room with 400 volt refrigerator compressor
6 m2 bottles cooler
refrigerated counter
Freezer:
10 m2 walk-in freezer space with 400 volt compressor
Worktop:
stainless steel worktop
Washbasin:
2x stainless steel sink
Water tap:
2x mixer tap with hot & cold running water
Dishwasher:
Winterhalter pass-through dishwasher
Entertainment:
Intellian selfsearching satellite antenna
intercom/music system
WIFI repeater
Headroom (approx.):
below deck (approx.) 1,95 / 2,05 m
upper deck (approx.) 2,45 / 2,70 m
wheelhouse (approx.) 2,10 m
galley (approx.) 2,05 m
Additional information:
buffet elevator
2x wheelchair lift
beer tap
Siemens washing machine
Siemens tumble dryer
2x stainless steel deep fat fryer
Griddle plate
coffee machine
slicer
postmix machine
central forced ventilation system
Full charter inventory is present.
Hot cupboard
Navigation equipment
Navigation equipment:
Alphatron JRC daylight radar
Furuno GPS
depth / echosounder
Nauticast A2 Automatic Identification System (AIS)
camera system
Alphacall MF intercom
Radarpilot 720 chartplotter
river autopilot (follow-up steering )
2x Sailor 6210 VHF
EBF rate-of-turn indicator
2x search light
blue board with oscillating light
navigation lights
horn light
horn
4x window wiper
" rudder indicator "
Rigging and sails
Mast:
radarmast
stainless steel
& apparatus wing
aluminium
Equipment
Anchor equipment:
2x electric anchor winch
2x warping drum
2x Pool anchor
in hawse-hole
2x 59 m anchor chain
specified length(s) is/are approximate
Bimini:
electrically lowable
Searail / Pulpit:
stainless steel searail
Dinghy:
Plastic
Yamaha outboard engine
Safety:
12 fire extinguishers
automatic fire extinguishing system in engine room
Sprinkler system in the accommodation (automatic)
7 life buoys
500 life jackets
fire alarm system
according to the certification requirements
Additional information:
hydraulic operated aluminium gangway
set deck furniture
deck lights
sundeck
steering chair