Tugboat Avontuur with TRIWV
Sold
Dimensions (m):
17.73 x 4.05 x 1.85
Mooring:
Near Hoorn, Netherlands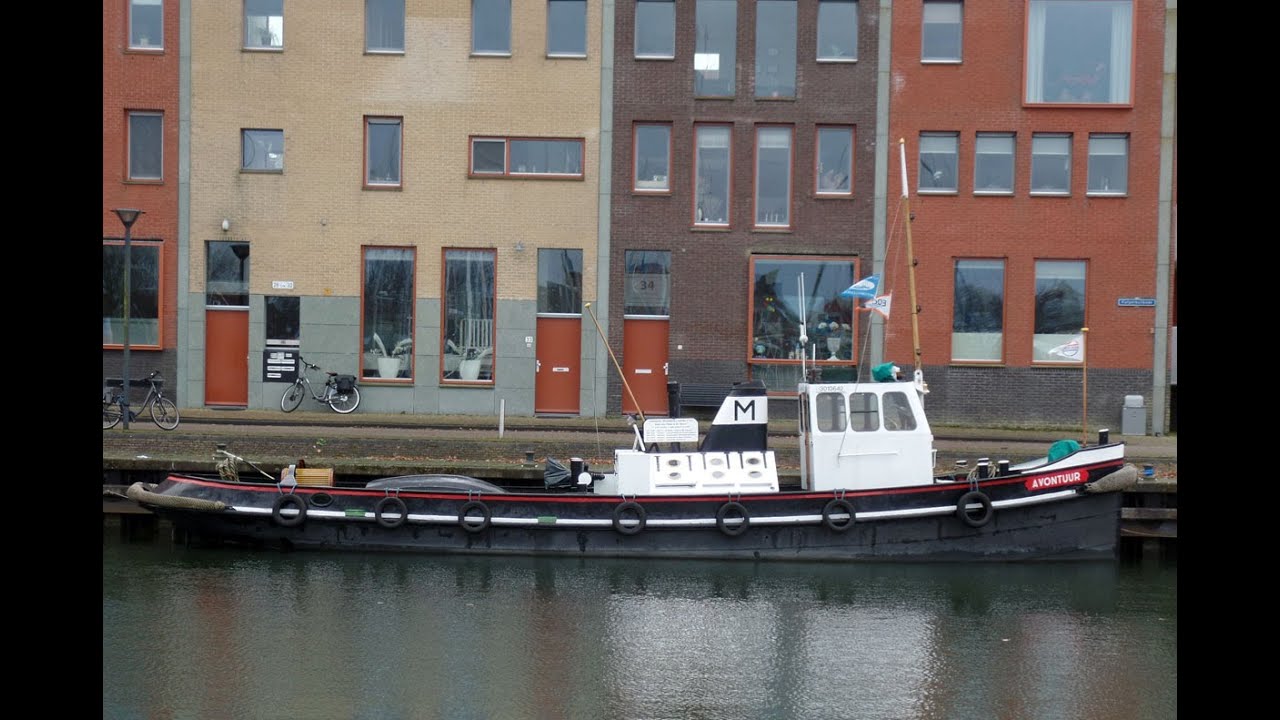 Vision Doeve Brokers
Former steam tug which was converted from steam to diesel in 1948. The boat has a valid Community certificate for pleasure craft (TRIWV / ES-TRIN). Recognized as Sailing Heritage does this boat qualify for berths in the various museum harbors in The Netherlands (no restrictions when she will be sold to other countries). She is also a welcome guest at nautical events. In the front there is the salon, it features a renewed warm and cozy interior. In the aft there are the bedroom and the bathroom. The Bolnes engine stands in a spacious engine room and is a magnificent engine.
More information
General information
Yard:
Shipyard Wed. A. van Duijvendijk, NL-Papendrecht
Hull material:
iron/steel
Deck material:
iron/steel
Superstructure material:
iron/steel
Construction method:
riveted
new steel is welded
rubbing strake around
bulwark
aftcabin
forecabin
Sturdy, heavily constructed
Steering system:
mechanical
wheel
Windows:
brass window frames
hardwooden door
Displacement (approx.):
maximum allowable displacement 73,092 m³
displacement in empty condition 61,618 m³
displacement 11,474 m³
Ballast (approx.):
present
Airdraft (approx.):
3,80 m
Registration:
Dutch registered
B-registered
Costs for the change of ownership and / eventually deletion are for purchasers amount.
Colour / Paint System:
black hull
black bulwark
red striping
white superstructure
11-2020 last underwatership treatment
some overdue maintenance
Certificates:
inland waterways certificated (TRIWV / ES-TRIN)
zone 2 Netherlands
zone 3
zone 4
Waal, Lek & NL Rhine
valid until: 12-2025
Suitable for / as:
recreational vessel
inland waterways
suitable for bigger waterways
General information:
The ship is recognized as a Historic Vessel
Additional information:
forepeak with chain locker
spacious aftdeck
tug bitts
towing hook
Great vessel for cruising on the European canals and rivers.
Technical information
Enginepower:
180 Hp
132 kW
Construction year engine:
1961
Running hours (approx.):
unknown
Fuel tank (approx.):
2x 1300 litre
1x 50 litre
waterbag(s)
Cooling system:
intercooling
dry exhaust
Propulsion:
4 blade propeller
greased lubrication of propeller shaft
Gearbox:
Brevo 510
hydraulic
reduction/ratio 2:1
Speed (approx.):
18 km/hour cruising speed at 350 RPM
24 km/hour top speed at 450 RPM
Heating:
Somy central heating
on diesel
also engine heating
Electricity system:
12 / 230 Volt
230 Volt shore power connection
simple electric system
Battery charger:
Victron Blue Power battery charger 12/30
Inverter:
Mastervolt Mass inverter 12/1200
Fresh water tank (approx.):
1x 150 litre
stainless steel tank(s)
Water pressure system:
electric water pump
Bilge pump:
by engine
also deckwash pump
submersible pump
Gas system:
present
Gas certificate
Additional information:
air compressor
2x air bottle
Accommodation
Interior:
various materials have been used
see photographs
Berth:
Aft: 2x 2-pers
Forward: 1x 2-pers & 1x 1-pers
Lay-out plan (not to scale):
see attachment
Toilet / Heads:
Aft:
washbasin
cold running water
hand pumptoilet
Cooker:
2x 2-burner hob
on gas
Fridge / Refrigerator:
coolbox (2020)
230 Volt
Worktop:
stainless steel worktop
Washbasin:
stainless steel sink
Water tap:
cold running water
Entertainment:
radio/CD player
Headroom (approx.):
foc's hole (approx.) 1,80 m
wheelhouse (approx.) 1,89 m
aftcabin (approx.) 1,43 m
Additional information:
The vessel will be delivered as without the private goods like furniture, clothing, artwork and tools.
very well maintained
Equipment
Anchor equipment:
manual anchor winch
Klipp anchor
anchor chain
in hawse-hole
Bimini:
bimini top above aftdeck
Boarding ladder:
present
aluminium
Dinghy:
present
Plastic
outboard engine
2 Hp
Safety:
4 fire extinguishers
3 life buoys
life jackets
according to the certification requirements
Additional information:
teak wooden skylight
set deck furniture