Dutch Barge 13.80
reduced in price
Dimensions (m):
13.80 x 2.87 x 0.80
Mooring:
Near Groningen, Netherlands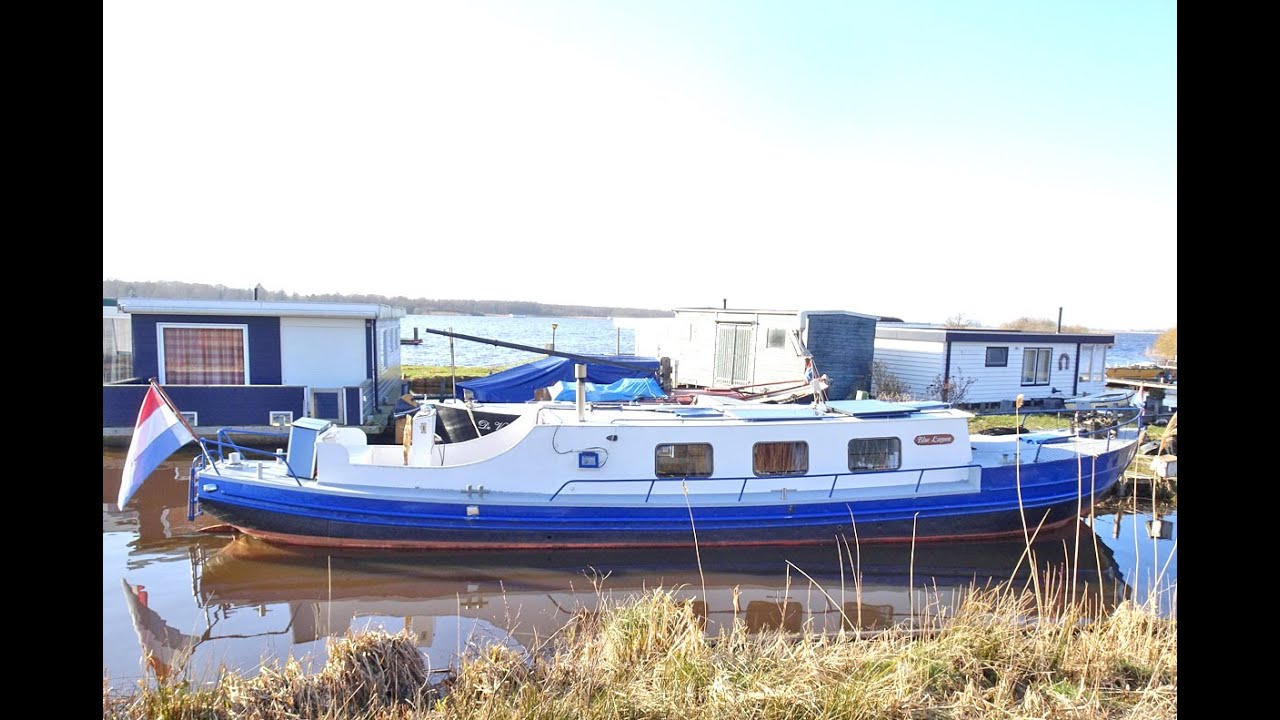 Vision Doeve Brokers
Former inland cargo vessel, presumably of the Groninger Snik type, that has been completely refurbished into a simple cruising Live Aboard Dutch Barge. In our view, it is a nice barge with which someone can make beautiful trips over the European inland waterways, but living on board in a marina is also an option. The vessel is neatly painted. There is 1 double berth, toilet room, cupboard, galley and a salon with fixed sofa that can be used as a bed.
More information
General information
Superstructure material:
steel
Construction method:
riveted
new steel is welded
open cockpit
self-draining cockpit
Steering system:
hydraulic
wheel
on steering pedestal
emergency tiller
Windows:
rubber window frames
Displacement (approx.):
11 metric tons
Ballast (approx.):
trim ballast
Airdraft (approx.):
2,00 m
Colour / Paint System:
black hull
blue bulwark
white superstructure
last underwatership treatment 03-2021
Suitable for / as:
inland waterways
suitable as a year round live- aboard
recreational vessel
Additional information:
Given construction year is an estimate.
Suitable for drying out alongside quay or pier.
roomy foredeck
Great vessel for cruising on the European canals and rivers.
Great vessel for cruising on the French canals and rivers.
Technical information
Construction year engine:
1960
Running hours (approx.):
unknown
Fuel tank (approx.):
100 litre
1 plastic tank(s)
Cooling system:
closed
box cooler (2021)
Propulsion:
4 blade propeller
greased lubrication of propeller shaft
Gearbox:
Velvet hydraulic
Speed (approx.):
11 km/hour cruising speed at 1800 RPM
Heating:
Heatpol stove heater
stainless steel
Electricity system:
12 / 230 Volt
230 Volt shore power connection
Batteries:
2x 100 Ah starter batterie(s)
2x 114 Ah domestic batterie(s)
battery monitor
Battery charger:
Victron Blue Smart battery charger 12/15
Inverter:
Victron Phoenix inverter 12/800
Solar panels:
4x solar panel
Fresh water tank (approx.):
250 litre
1 plastic tank(s)
Water pressure system:
electric water pump
Bilge pump:
1 submersible pump
230 Volt
Gas system:
yes, bottle(s) in bottle box on deck
Additional information:
LED lightning
Accommodation
Interior:
various materials have been used
simple interior
oak floor(s)
see photographs
Insulation:
polystyrene
& Rockwool
Berth:
Forward: 1x 2-pers
Sofa bed: 1x 1-pers
Lay-out plan (not to scale):
see attachment
Toilet / Heads:
pumptoilet
Cooker:
4-burner hob
on gas
Washbasin:
stainless steel sink
Water tap:
cold running water
Headroom (approx.):
corridor / walkthrough (approx.) 1,90 m
toilet (approx.) 1,92 m
salon (approx.) 1,90 m
Equipment
Anchor equipment:
anchor with rope
Boarding ladder:
present
steel
Safety:
smoke detector(s)
gasdetector