Dimensions (m):
17.10 x 3.82 x 0.90
Mooring:
Near Amsterdam, Netherlands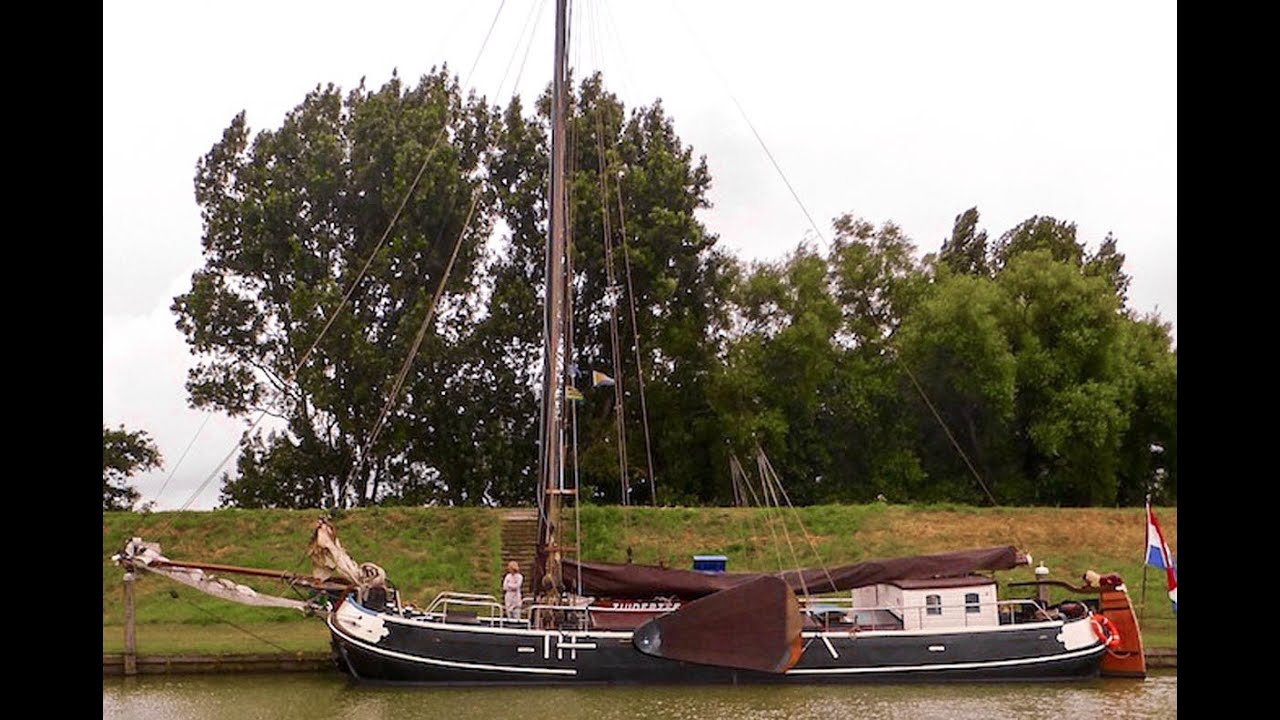 Vision Doeve Brokers
Groninger Decktjalk, which was used in the past for the transport of cargo over inland waterways. Later on she was converted into a small-scale charter ship for up to 12 guests, mainly sailing on the Markermeer, IJsselmeer and the Dutch Wadden Sea. This Dutch Barge can still be used as such, but she can also be used as a pleasure craft or as a sailing Live Aboard barge. The mast was replaced by steel in 2021 and the last hull survey has been done in 2022. The aft cabin is now for the skipper and has a 2-persons berth. In the forecastle there is a bed for the deckhand. The old hold has a simple but functional interior with the galley, toilet, seating area and the bunks.
More information
General information
Yard:
Shipyard Barkmeijer, NL-Grijpskerk
Hull shape:
flatbottom
round bilges
Hull material:
iron/steel
Deck material:
iron/steel
Superstructure material:
steel
wooden aftcabin
wooden hatches covers over hold
Construction method:
riveted
new steel is welded
rubbing strake around
bulwark around
closed bollard cabinets
forecastle
cut-water
Steering system:
tiller
hardwooden rudder
attached rudder
Displacement (approx.):
maximum allowable displacement 56,647 m³
displacement in empty condition 39,356 m³
displacement 17,291 m³
Ballast (approx.):
poured concrete
8 metric tons
Airdraft (approx.):
20,00 m
lowered mast(s) 2,70 m
Registration:
Dutch registered
B-registered
Costs for the change of ownership and / eventually deletion are for purchasers amount.
Colour / Paint System:
black hull
black bulwark
white superstructure
see photographs
03-2022 last underwatership treatment
Certificates:
no certificate requirement
Suitable for / as:
inland waterways
useful as charter
suitable as a year round live- aboard
recreational vessel
General information:
Hand over in consultation.
Acquisition of the current operation can be discussed.
Additional information:
Specified beam excludes the leeboards.
Specified length is between bow and stern.
forepeak with chain locker
classic sailing yacht
Hull shape is suitable for drying out.
roomy foredeck
Great vessel for cruising on the European canals and rivers.
Great vessel for cruising on the French canals and rivers.
Technical information
Construction year engine:
1972
Running hours (approx.):
6050 on the hour counter
Fuel tank (approx.):
300 litre
1 steel tank(s)
Cooling system:
closed
cooling pipes
Propulsion:
3 blade propeller
greased lubrication of propeller shaft
Heating:
stove heater
on diesel
& electric
Electricity system:
12 / 230 Volt
230 Volt shore power connection
simple electric system
Mastervolt Mass Inverter charger control
Batteries:
2x domestic batterie(s)
1x starter batterie(s)
Battery charger:
Mastervolt Mass combi inverter/charger 12/2000/100
Battery isolator:
battery isolator
Inverter:
Mastervolt Mass combi inverter/charger 12/2000/100
Fresh water tank (approx.):
700 litre
4 plastic tank(s)
Water pressure system:
foot pump
Holding tank (approx.):
not present, enough space to build-in
Bilge pump:
present
electric pump
= also deckwash pump
& submersible pump
& manual pump
Gas system:
yes, bottle(s) in bottle box on deck
Accommodation
Interior:
various materials have been used
simple interior
pine floor(s)
see photographs
Cabins:
2 guest cabins
2 crew cabins
Berth:
Guest cabin(s): 2x 2-pers.
8x 1-pers
Crew cabin(s):
Forward: 1x 1-pers
Aft: 1x 2-pers
Lay-out plan (not to scale):
see attachment
Toilet / Heads:
Rheinstrom hand pumptoilet
washbasin
& Aft:
hand pumptoilet
washbasin
Cooker:
4-burner hob
on gas
stainless steel
Fridge / Refrigerator:
Dometic fridge / refrigerator
230 Volt
Worktop:
hardwooden worktop
Washbasin:
stainless steel sink
Water tap:
cold water
foot pump
Headroom (approx.):
aftcabin (approx.) 1,90 m
galley (approx.) 1,76 m
bathroom / toilet (approx.) 1,68 m
salon (approx.) 1,77 / 1,84 m
guest cabin (approx.) 1,39 m
foc's hole (approx.) 1,05 m
Additional information:
useful as charter
Full charter inventory is present.
cutlery and crockery
coffee machine
Navigation equipment
Navigation equipment:
Sestrel compass
Debeg 6448 VHF
Cobra MR HH500 portable VHF
navigation lights
Easy TRX@Class B Automatic Identification System (AIS)
tablet = chartplotter
barometer
Rigging and sails
Rigging type:
gaff rigged
Mast:
steel (Piet Blaauw 2021)
Lowerable:
yes
spreader
with anchor winch
Jib boom / Bowsprit:
wooden bowsprit
& bowsprit
Leeboards:
hardwooden leeboards
2x leeboards winch
Material of the sails:
Dacron
Sails:
2x mainsail
jib
flyer
yankee
2x watersail
cruising chute
mizzen staysail
Additional information:
pin rail
Equipment
Anchor equipment:
manual anchor winch
Klipp anchor
anchor chain
in hawse-hole
warping drum
also for mast lowering
Searail / Pulpit:
searail on bulwark
Safety:
2 life buoys
15 life jackets
2 inflatable life jackets
5 fire extinguishers
fire alarm system
carbon monoxide detector(s)
Additional information:
elektrische step / electric scooter / Elektroroller / scooter électrique
hard wooden skylight
cover over skylight
Survey report of the underwatership is available (03-2022)
sup