Passenger vessel 200 pax, Rhine certificate
Sold
Dimensions (m):
36.63 x 7.62 x 1.40
Mooring:
Near Roermond, Netherlands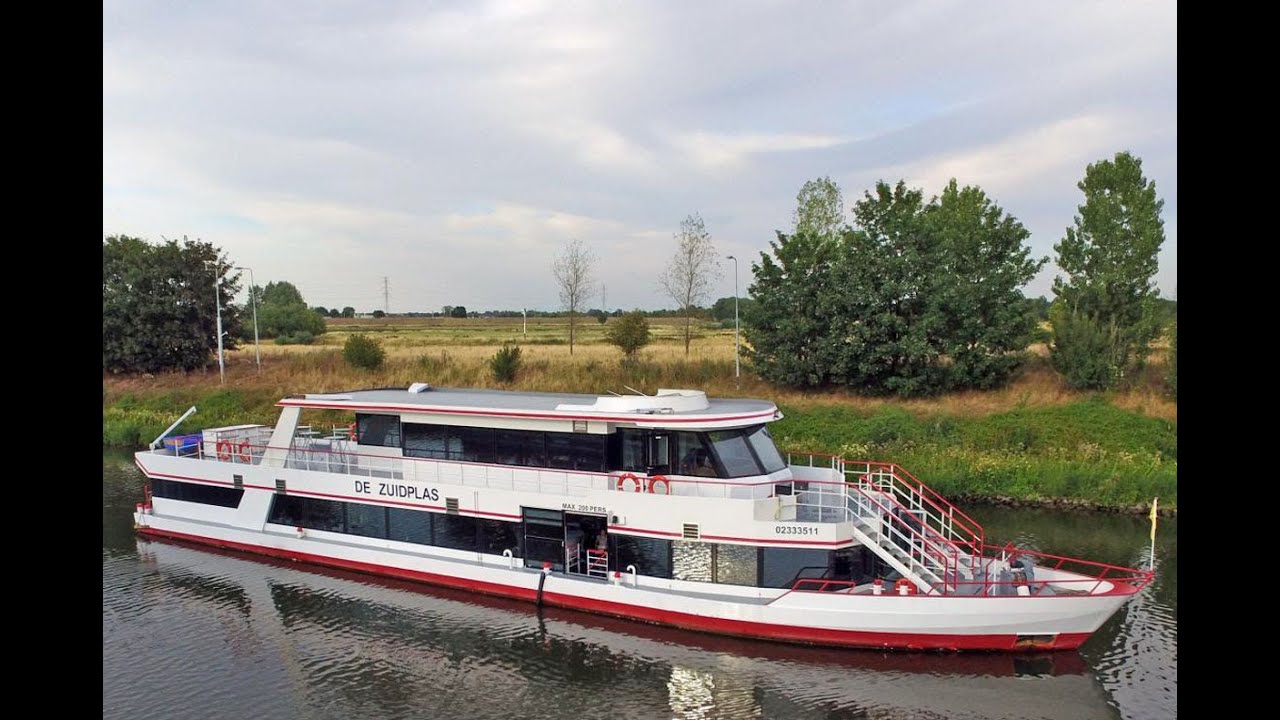 Vision Doeve Brokers
Passenger ship that was built in 2010 according to the very latest requirements for Rhine navigation. She is immediately available. On deck level there are the spacious salon with panoramic view that is accessible through 2 side doors, the main bar, the galley, the toilet area and the stairs to the upper deck where a 2nd salon with bar and the wheelhouse are located. From here you can also go outside. It is an unique boat that allows guests to walk safely to the main salon via the upper deck and foredeck. Tinted double glazing has been installed all around. It is a very good manoeuvrable ship with a 360° rotatable powerful bow thruster. There are 2 generators installed and a modern John Deere diesel for the propulsion. She is certified for Rhine navigation, which gives her a very large sailing area. With some additional ballast, she can also be sailed to the Danube where she can then be used again.
More information
General information
Yard:
Shipyard Gebr. Jooren, NL- Werkendam
Superstructure material:
steel
Construction method:
9 watertight bulkhead(s)
rubbing strake
closed bollard cabinets
Steering system:
hydraulic
power steering
follow up steering
& joystick =
emergency steering
Windows:
double glazing
toned glass
aluminium outside doors
Displacement (approx.):
maximum allowable displacement 293,087 m³
displacement in empty condition 247,008 m³
displacement 46,079 m³
Ballast (approx.):
1 ballast tank(s)
Airdraft (approx.):
6,25 m everything down
Registration:
Dutch registered
B-registered
Costs for the change of ownership and / eventually deletion are for purchasers amount.
Colour / Paint System:
white superstructure
two component basic system
one component finish
some overdue maintenance
see photographs
11-2019 last underwatership treatment
Certificates:
Rhine certificated (ROSR)
open sea to Basel
Is equal to:
EU zone 3 & 4
valid until: 01-2025
200 Passengers
Suitable for / as:
passengers vessel
restaurant
gastronomy
pancake restaurant
commercial shipping
Additional information:
200 day guests
The techniques used on board are commercial shipping quality.
Great vessel for cruising on the European canals and rivers.
forepeak
Technical information
Enginepower:
305 Hp
224 kW
Construction year engine:
2010 into operation
Running hours (approx.):
4000 (07-2022)
Fuel tank (approx.):
9000 litre
1 steel tank(s)
BOBS overflowing fuel safety system
Cooling system:
closed
box cooler
Propulsion:
5 blade propeller
De Waal Stuwa oil bath propeller stern tube
Gearbox:
Dong-I DMT 140H hydraulic
reduction/ratio 3,46:1
Speed (approx.):
12 km/hour cruising speed at 1800 RPM
14,5 km/hour top speed
Heating:
ACV central heating (11-2021)
combi boiler
on diesel
Bow thruster:
Van Wijk electric bow thruster
400 Volt
360 degrees turnable
Electricity system:
24 / 230 / 400 Volt
400 Volt shore power connection
professionally installed system
Batteries:
2x 230 Ah emergency batterie(s)
1x 105 Ah starter batterie(s) generator
2x 155 Ah starter batterie(s)
1x 105 Ah starter batterie(s) generator
Battery charger:
LBC412-B battery charger 12/10
Genny:
1x John Deere 159 kVA 230/400 Volt, 1500 RPM
1x John Deere 50 kVA 230/400 Volt, 1500 RPM
diesel
2x closed cooling system
box cooler
Fresh water tank (approx.):
10000 litre
1 steel tank(s)
Water pressure system:
hydrophore pump
Fresh water filter system:
Wyclomar fresh water filter system
Hot water system:
through the central heating
Holding tank (approx.):
10000 litre
1 steel tank(s)
Diesel waterseparator:
present
Engineroom:
insulated engineroom
very well maintained
see photographs
Bilge pump:
2x general service pump
electric pump
with manifold
also deckwash pump
Gas system:
no gas on board
Additional information:
LED lightning
air compressor
Hobalt electric engine control system
Accommodation
Interior:
various materials have been used
modern interior
carpet on the floor(s)
ceiling systems
see photographs
Lay-out plan (not to scale):
see attachment
Bathroom:
shower
thermostat tap
washbasin with mixer tap and hot & cold running water
Toilet / Heads:
lady's room:
toilet
washbasin
cold running water
men's room:
2x urinal
disabled toilet room:
= men's room
toilet
washbasin
cold running water
Galley:
along ships
professionally equipped galley
Cooker:
2-burner hob
induction cooker
cookerhood
stainless steel
Oven:
Rational combi steamer oven
stainless steel
Fridge / Refrigerator:
1 walk-in cold room with 230 volt refrigerator compressor
1 beer fridge
5x fridge / refrigerator
2x bottles cooler
1 refrigerated counter
Freezer:
1 freezer
230 Volt
Worktop:
stainless steel worktop
Washbasin:
stainless steel sink
Water tap:
mixer tap with hot & cold running water
Dishwasher:
1 Winterhalter pass-through dishwasher
Entertainment:
intercom/music system
Headroom (approx.):
wheelhouse (approx.) 2,31 m
bathroom (approx.) 2,29 m
above (approx.) 2,38 m
bar (approx.) 2,08 m
salon (approx.) 2,35 m
bar (approx.) 2,14 m
corridor / walkthrough (approx.) 2,13 m
toilet (approx.) 2,22 m
galley (approx.) 2,11 m
Additional information:
2x stainless steel deep fat fryer
2x coffee machine
4x beer tap
Rigging and sails
Mast:
lantern mast
aluminium
Equipment
Anchor equipment:
electric anchor winch (400 Volt)
Pool anchor
47 m anchor cable
in hawse-hole
specified length(s) is/are approximate
Searail / Pulpit:
guardrail around upperdeck
Safety:
200 life jackets
7 inflatable life jackets
7 life buoys
9 fire extinguishers
2x automatic fire extinguishing system in engine room
fire blanket
fire alarm system
according to the certification requirements
Additional information:
2x aluminium gangway
deck lights
steering chair
sundeck
Survey report of the underwatership is available (11-2019)