Sailingclipper 25.36 with TRIWV
Sold
Dimensions (m):
25.36 x 4.64 x 1.30
Mooring:
Near Amsterdam, Netherlands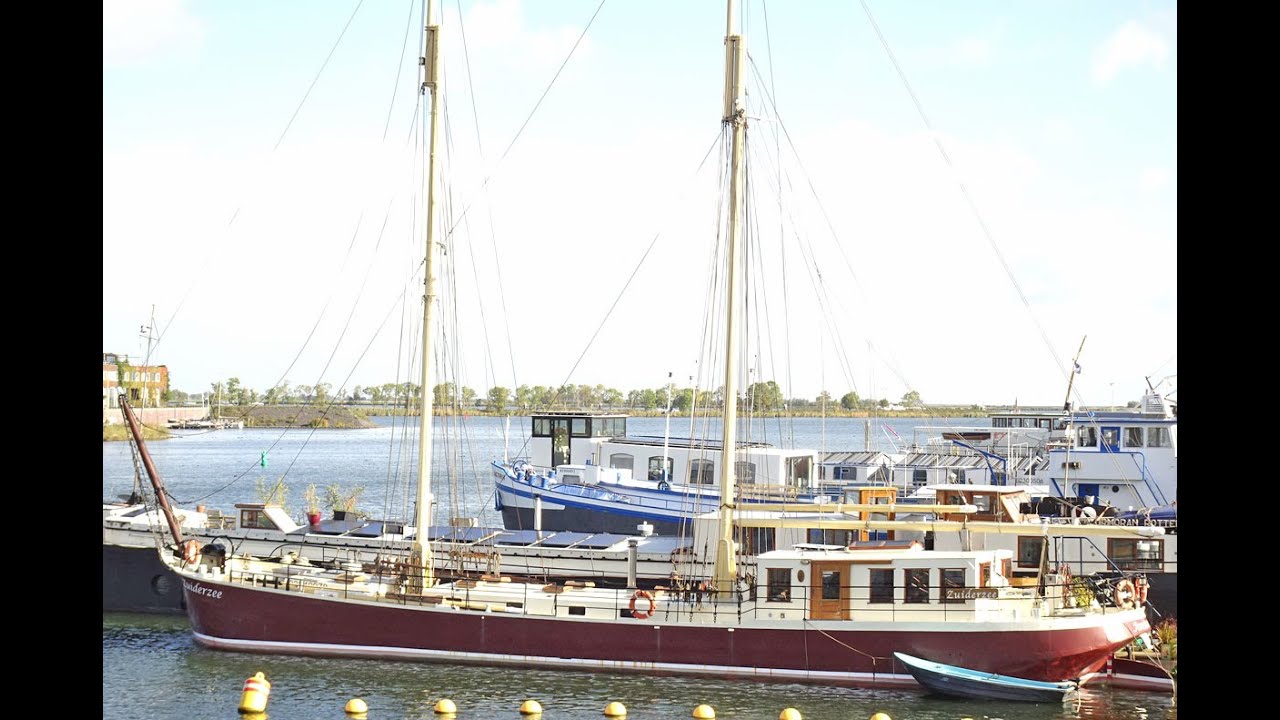 Vision Doeve Brokers
Former inland freighter that was completely converted into her current sailing status quo in the 1990s. This Dutch Barge is equipped with a very neat living quarter with a spacious owner's cabin, open galley/kitchen, salon and an aft cabin/deckhouse with good view to the outside, in which also the inside steering position is located. It is an excellent ship to live on, with which you could also make long journeys. For example, it is possible to cruise on the inland waterways of the Netherlands, Belgium, Germany and France by removing the masts. If a new owner wants to sail or cruise on the motor on the more open waters, she will also come into her own.
More information
General information
Superstructure material:
steel
Construction method:
riveted
new steel is welded
bulwark around
rubbing strake around
deckhouse
deckhouse
wide side decks (gunnels)
1 watertight bulkhead(s)
Steering system:
hydraulic
inside and outside steering position
2x wheel
Windows:
hardwood window frames
double glazing
& single glass
Displacement (approx.):
maximum allowable displacement 93,081 m³
displacement in empty condition 67,304 m³
displacement 25,777 m³
Ballast (approx.):
12 metric tons
concrete tiles
Airdraft (approx.):
22,00 m
mast(s) removed 3,30 m
Registration:
Dutch registered
B-registered
Costs for the change of ownership and / eventually deletion are for purchasers amount.
Colour / Paint System:
bordeaux red hull
bordeaux red bulwark
cream superstructure
see photographs
last underwatership treatment 08-2020
Certificates:
inland waterways certificated (TRIWV / ES-TRIN)
zone 2 Netherlands
zone 3
zone 4
Waal, Lek & NL Rhine
valid until: 09-2027
Suitable for / as:
suitable as a year round live- aboard
recreational vessel
suitable for bigger waterways
inland waterways
General information:
good sailing characteristics
can be sailed by 2 persons
Hand over in consultation.
Additional information:
all the bad steel is replaced
Hull shape is suitable for drying out.
spacious aftdeck
straight hull
wheelhouse
forepeak with chain locker
Great vessel for cruising on the European canals and rivers.
Great vessel for cruising on the French canals and rivers.
Technical information
Overhaul engine:
1999 reconditioned
Running hours (approx.):
400 after overhaul
as declared
Fuel tank (approx.):
1x 1100 litre
1x 200 litre
steel tank(s)
1x 500 litre
stainless steel tank(s)
Cooling system:
intercooling
dry exhaust
insulated exhaust
Propulsion:
3 blade propeller
greased lubrication of propeller shaft
Gearbox:
Reintjes hydraulic
reduction/ratio 2:1
Heating:
Domomatic central heating
on diesel
& stove on wood
Bow thruster:
Rheinstrom electric bow thruster
8 kW
400 Volt
Electricity system:
12 / 24 / 230 / 400 Volt
230 Volt shore power connection
Victron Phoenix Multi Control
Batteries:
2x 120 Ah starter batterie(s)
1x 120 Ah starter batterie(s) generator
4x 230 Ah domestic batterie(s)
Battery charger:
Victron Phoenix Multi combi inverter/charger 24/3000/70
Rebotool battery charger 12-24/20
Victron Skylla-TG battery charger 24/50
Isolation transformer:
Victron isolation transformer 3600 Watt
Earth-leakage breaker:
present
Genny:
Mercedes OM615 diesel genny
15 kVA 230 / 400 Volt
1500 RPM
Inverter:
Victron Phoenix Multi combi inverter/charger 24/3000/70
Fresh water tank (approx.):
1300 litre
2 stainless steel tank(s)
Water pressure system:
hydrophore pump
Hot water system:
Rheinstrom boiler/water heater (230 Volt)
70 litre
Holding tank (approx.):
500 litre
2 steel tank(s)
not connected
& Homa macerator wastewater pump
Engineroom:
see photographs
very well maintained
Bilge pump:
2x electric pump
Deck wash pump:
1 submersible pump
Gas system:
no gas on board
Additional information:
partly LED lightning
Accommodation
Interior:
Marine Plywood
Jatoba
Jatoba floor(s)
suitable for living on board
see photographs
Insulation:
yes
well insulated
Rockwool &
glass wool
Berth:
Forward: 1x 1-pers
owners cabin: 1x 2-pers
Guest cabin(s): 1x 1½-pers
Lay-out plan (not to scale):
see attachment
Bathroom:
bath with shower
thermostat tap
washbasin with mixer tap and hot & cold running water
in 1 area together with the toilet
Cooker:
4-burner hob
ceramic cooker
Oven:
Samsung microwave/oven
Fridge / Refrigerator:
present
230 Volt
Freezer:
small ice compartment
Worktop:
oak wooden worktop
Washbasin:
stainless steel sink
Water tap:
mixer tap with hot & cold running water
Dishwasher:
Siemens dishwasher
Headroom (approx.):
foc's hole (approx.) 1,80 m
ownerscabin (approx.) 1,98 m
corridor / walkthrough (approx.) 2,00 / 1,60 m
bathroom / toilet (approx.) 2,00 m
guest cabin (approx.) 2,00 m
galley (approx.) 2,00 m
salon (approx.) 2,01 m
aftcabin (approx.) 1,93 m
Additional information:
washing machine
The vessel will be delivered as without the private goods like furniture, clothing, artwork and tools.
Rigging and sails
Rigging type:
gaff ketch rigged
square rigged
Jib boom / Bowsprit:
Oregon Pine bowsprit
Winches:
2x halyard winch
Material of the sails:
Dacron
Sails:
yankee 29 m²
yankee 27 m²
mizzen 65 m²
flyer 21 m²
flyer 31 m²
flyer 34 m²
square sail 36 m²
square sail 34 m²
Additional information:
pin rail
bobstay
Equipment
Anchor equipment:
manual anchor winch
Klipp anchor
anchor chain
in hawse-hole
warping drum
Searail / Pulpit:
searail on bulwark
Safety:
fire extinguishers
life buoys
inflatable life jackets
life jackets
according to the certification requirements
Additional information:
Survey report of the underwatership is available 08-2020
hard wooden skylight