Dimensions (m):
19.95 x 4.95 x 1.00
Mooring:
Near Emmen, Netherlands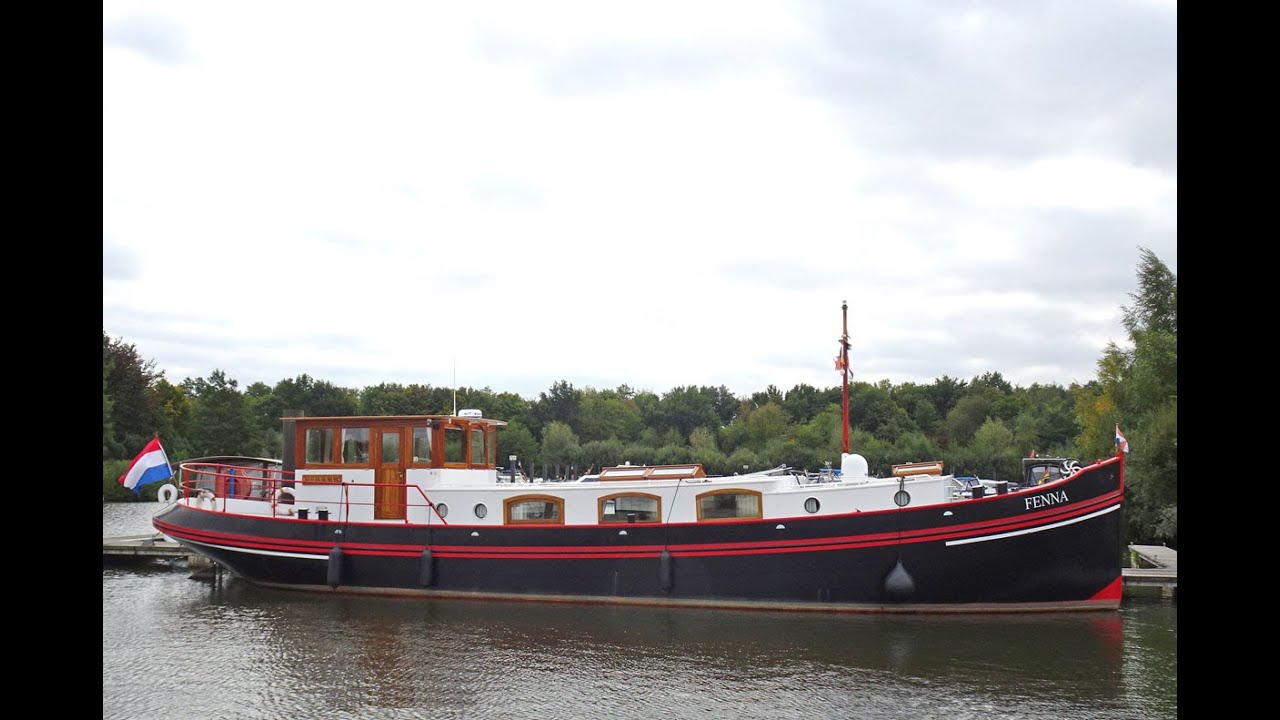 Vision Doeve Brokers
Newly built Luxe Motor of which the hull was built by Shipyard Talsma and the finishing was then carried out by professionals. She is a solid ship that has proven herself over the years to be reliable and comfortable. The sailing area is very large and extends from the Mediterranean Sea and Canal du Midi in France to the Baltic Sea. But also to the east to the mouth of the Danube is possible. There are 2 cabins with spacious beds, a spacious kitchen and ample seating in the salon. The wheelhouse completes the picture with a corner seat and the fantastic view all-around. In our opinion a great Dutch Barge to travel around with and which is also very suitable for a new owner to live on.
More information
General information
Yard:
Shipyard Talsma, NL-Osingahuizen
& ESB Group, NL-Elburg
Designer / Architect:
Gaastmeer Design, NL-Gaastmeer
Hull shape:
flatbottom
round bilges
Hull material:
steel 6 mm
Superstructure material:
steel
hardwooden top side of the wheelhouse
Construction method:
welded
bulwark around
rubbing strake around
3 watertight bulkhead(s)
Sturdy, heavily constructed
Steering system:
hydraulic
wheel
Windows:
hardwood window frames
double glazing
hardwood outside doors
Displacement (approx.):
45 metric tons
Ballast (approx.):
lead
& steel
Airdraft (approx.):
3,50 m
2,20 m with dismantled wheelhouse
Registration:
Dutch registered
B-registered
Costs for the change of ownership and / eventually deletion are for purchasers amount.
Colour / Paint System:
black hull
black bulwark
red striping
white superstructure
varnished wood
very well maintained
see photographs
Certificates:
no certificate requirement
RCD / CE Certification:
C
Suitable for / as:
suitable as a year round live- aboard
& recreational vessel
inland waterways
& coastal waters
General information:
from first owner
For sale because of the age of the seller.
Additional information:
various rust sensitive places are made from stainless steel
classic motor yacht
classic lines
Given construction year is the year that the ship was ready and she was launched.
Hull shape is suitable for drying out.
forepeak with chain locker
spacious aftdeck
straight hull
Great vessel for cruising on the coastal waters.
Great vessel for cruising on the European canals and rivers.
Great vessel for cruising on the French canals and rivers.
Technical information
Construction year engine:
2012 into operation
Running hours (approx.):
1750 on the hour counter
Fuel tank (approx.):
2x 750 litre
steel tank(s)
Cooling system:
intercooling
wet exhaust
Propulsion:
4 blade propeller
greased lubrication of propeller shaft
Gearbox:
Dong-I hydraulic
Speed (approx.):
12 km/hour cruising speed at 1500 RPM
Heating:
Kabola HR 500 central heating
combi boiler
on diesel
Engine instruments:
present
Bow thruster:
Duco electric bow thruster
24 Volt
20 Hp
Stern thruster:
Duco electric stern thruster
24 Volt
10 Hp
proportional
Electricity system:
24 / 230 Volt
230 Volt shore power connection
professionally installed system
with automatic changeover
Victron VE.Bus Multicontrol
Batteries:
2x 135 Ah starter batterie(s)
4x 200 Ah domestic batterie(s)
4x 230 Ah bow thruster batterie(s)
1x 90 Ah starter batterie(s) generator
Victon BMV700 battery monitor
Battery charger:
Victron Quattro combi inverter/charger 24/3000/70
CTEK battery charger 12/3,8
CTEK battery charger 24/4
Battery isolator:
battery isolator
Isolation transformer:
Victron Galvanic Isolator VDI-16
Earth-leakage breaker:
present
Genny:
Kohler 9EFOZD whisper set
9 kVA
1500 RPM
230 Volt
wet exhaust with water separator
225 running hours (approx.)
Inverter:
Victron Quattro combi inverter/charger 24/3000/70
Fresh water tank (approx.):
2x 2100 litre
plastic tank(s)
Water pressure system:
1x hydrophore pump
1x seawater hydrophore pump
Fresh water filter system:
filter
Hot water system:
through the central heating
Holding tank (approx.):
2x 1300 litre gray water tank(s)
plastic tank(s)
1x 1750 litre black water tank(s)
steel tank(s)
Diesel waterseparator:
present
Engineroom:
clean engineroom
very well maintained
Bilge pump:
3x electric pump
Deck wash pump:
electric pump
230 Volt
Gas system:
no gas on board
Additional information:
LED lightning
Accommodation
Interior:
Plywood
mahogany finish
oak floor(s)
ceiling with laths (classic)
professionally done
very well maintained
see photographs
Berth:
Forward: 1x 2-pers
Guest cabin(s): 1x 2-pers
Quarter berth: 2x 1-pers (1,80 x 0,70 m)
Lay-out plan (not to scale):
see attachment
Bathroom:
Forward:
En Suite
shower
thermostat tap
washbasin with mixer tap and hot & cold running water
partly tiled
in 1 area together with the toilet
Aft:
shower
thermostat tap
washbasin with mixer tap and hot & cold running water
in 1 area together with the toilet
Toilet / Heads:
2x toilet
Cooker:
Siemens 4-burner hob
ceramic cooker
cookerhood
stainless steel
Oven:
Siemens electric oven
& grill
Fridge / Refrigerator:
Siemens fridge / refrigerator
230 Volt
Freezer:
Everglades freezer
230 Volt
Washbasin:
stainless steel sink
Water tap:
mixer tap with hot & cold running water
Dishwasher:
Bosch dishwasher
Entertainment:
selfsearching satellite antenna
Samsung flatscreen TV
Headroom (approx.):
ownerscabin (approx.) 2,36 m
bathroom / toilet in the front (approx.) 2,25 m
salon (approx.) 2,08 m
galley (approx.) 2,03 m
bathroom / toilet aft (approx.) 2,00 m
guest cabin (approx.) 2,19 m
wheelhouse (approx.) 2,14 m
Additional information:
useful as live-aboard
The vessel will be delivered as without the private goods like furniture, clothing, artwork and tools.
Electrolux washing machine / dryer
inventory
Equipment
Anchor equipment:
manual anchor winch
Pool anchor
50 m anchor chain
in hawse-hole
warping drum
specified length(s) is/are approximate
Awnings:
winter cover around the wheelhouse
Boarding ladder:
present
aluminium
Searail / Pulpit:
guardrail around aftdeck
Safety:
automatic fire extinguishing system in engine room
fire extinguishers
life jackets
2 life buoys
fire blanket
Homematic alarm system with burglary, bilge, fire and heating monitor function
Additional information:
2x hard wooden skylight
covers over skylights
2 foldable Bike(s)
sundeck