Luxe Motor 19.95 with TRIWV Rhine
Dimensions (m):
19.95 x 4.85 x 1.35
Mooring:
Near Rotterdam, Netherlands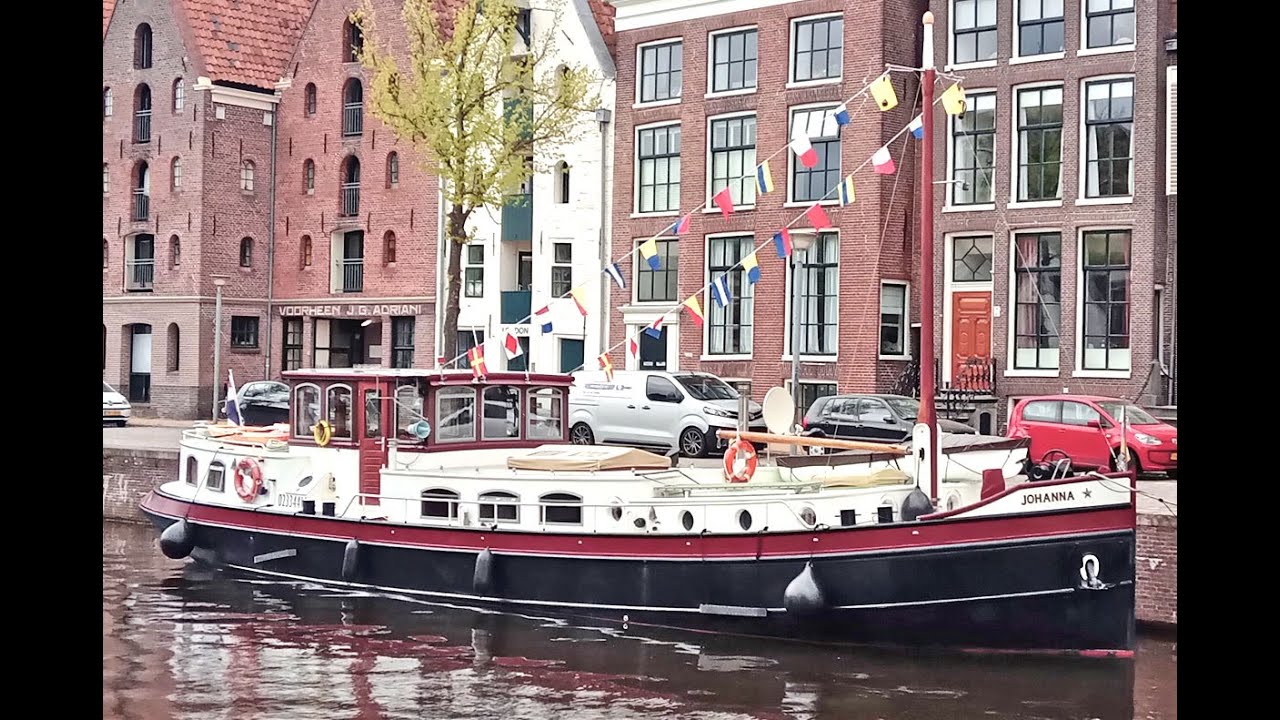 Vision Doeve Brokers
Solidly built new Luxury Motor based on the original "Boot" line plan, which has resulted in a beautifully lined Sailing Houseboat. The interior is beautifully executed with teak. There is an owner's cabin with en suite bathroom in the aft cabin and a guest cabin with a bathroom in the bow. The technology on board is excellent, with, among other things, a young engine, whisper generator, central heating system on diesel, pellet stove, bow thruster, solar panels and so on. The ship is fully equipped and ready to go or to live comfortably on board (with excellent insulation). Due to her ideal dimensions, the ship is suitable for sailing the waterways of France, Belgium, the Netherlands and Germany. But the German Rhine and even the Baltic Sea are also possible. In other words, versatility in a traditional form.
More information
General information
Yard:
Shipyard Centromost, PL-Plock
Interior: Van Etten, NL-'s-Hertogenbosch
Designer / Architect:
exterieur: K & S Maritiem Technisch Bureau, NL-Enkhuizen
Interior: Van Etten, NL-'s-Hertogenbosch
Hull shape:
round bottom
V-bottom
Hull material:
steel 10, 8 & 7 mm
Deck material:
steel 7 & 6 mm
cork deck(s) (Marinedeck)
Superstructure material:
steel 6 & 5 mm
Construction method:
welded
rubbing strake around
bulwark
deckhouse
wide side decks (gunnels)
closed bollard cabinets
2 watertight bulkhead(s)
Sturdy, heavily constructed
Steering system:
hydraulic
wheel
emergency tiller
Windows:
TopWindow plastic window frames
teak wooden outside doors
double glazing
Displacement (approx.):
55 metric tons
Ballast (approx.):
present
4 metric tons
trim ballast
Airdraft (approx.):
3,45 m everything down
Registration:
Dutch registered
B-registered
Costs for the change of ownership and / eventually deletion are for purchasers amount.
Colour / Paint System:
black hull
bordeaux red bulwark
white superstructure
last underwatership treatment 01-2019
very well maintained
Certificates:
inland waterways certificated (TRIWV / ES-TRIN)
zone 2 Netherlands
zone 3
zone 4
zone R (Rhine)
valid until: 01-2029
RCD / CE Certification:
C
Suitable for / as:
inland waterways
coastal waters
suitable as a year round live- aboard
recreational vessel
General information:
from second owner
good sailing characteristics
Additional information:
Given construction year is the year that the ship was ready and she was launched.
Hull shape is suitable for drying out.
classic lines
beautiful sheer
straight hull
wheelhouse
forepeak with chain locker
Great vessel for cruising on the coastal waters.
Great vessel for cruising on the European canals and rivers.
Great vessel for cruising on the French canals and rivers.
Technical information
Enginepower:
156 Hp
115 kW
Engine brand:
Weichai Deutz
Construction year engine:
2010 into operation
Running hours (approx.):
1600 on the hour counter
Fuel:
diesel
4 ltr/hrs consumption of the engine at cruising speed (as declared)
Fuel tank (approx.):
3000 litre
2 steel tank(s)
Cooling system:
intercooling
dry exhaust
insulated exhaust
Propulsion:
4 blade propeller
greased lubrication of propeller shaft
Python constant velocity prop shaft with thrust bearing
Gearbox:
PRM 750 hydraulic
reduction/ratio 2,565:1
Trawling Valve (trolling)
Speed (approx.):
10 km/hour cruising speed at 1000 RPM
17 km/hour top speed
Heating:
Baxiroca Gavina Confort central heating
combi boiler
on diesel
&
Ravelli pelletstove
Engine instruments:
present
Bow thruster:
Vetus electric bow thruster
160 KGF
24 Volt
6 blade propeller
Electricity system:
12 / 24 / 230 Volt
2x 230 Volt shore power connection
professionally installed system
with automatic changeover
Victron Digital Multicontrol
Batteries:
2x 100 Ah starter batterie(s)
4x 230 Ah domestic batterie(s) Victron Super AGM (10-2022)
2x 230 Ah bow thruster batterie(s)
1x 100 Ah starter batterie(s) generator
Battery charger:
Victron Blue Power battery charger 24/8
Victron Quattro combi inverter/charger 24/5000/120
Battery isolator:
3x battery isolator
Isolation transformer:
Victron isolation transformer 7000 Watt
Earth-leakage breaker:
present
Genny:
Fisher Panda whisper set
6,5 kW 230 Volt
wet exhaust with water separator
running hours (approx.) 1450
Honda EU26I petrol (gasoline)
2,25 kVA 230 Volt
Inverter:
Victron Quattro combi inverter/charger 24/5000/120
Solar panels:
3x 330 Watt (max) solar panel
Victron BlueSolar MPPT 150/70
Fresh water tank (approx.):
4000 litre
2 steel tank(s)
coated
Water pressure system:
Marco UP 3/E electric water pump
Fresh water filter system:
system to make drinking water out of fresh river or canal water
Hot water system:
through the central heating
& boiler/water calorifier (230 Volt)
Holding tank (approx.):
4000 litre
4 steel tank(s)
suitable for pumping sewage to the shore
Diesel waterseparator:
diesel waterseparator
Engineroom:
sound insulated engineroom
clean engineroom
very well maintained
see photographs
Bilge pump:
2x electric pump
& by engine
& submersible pump
Deck wash pump:
present
electric pump
Gas system:
no gas on board
Additional information:
partly LED lightning
Accommodation
Interior:
teak interior
Marine Plywood
teak finish
very well maintained
see photographs
Insulation:
yes
6 cm Rockwool
& 44 mm 3M Thinsulate
Berth:
Forward: 1x 2-pers & 1x 1-pers
Aft: 1x 2-pers
= French bed
Lay-out plan (not to scale):
see attachment
Bathroom:
Forward:
shower cubicle
thermostat tap
washbasin with mixer tap and hot & cold running water
granite
in 1 area together with the toilet
Aft:
bath
hand shower
thermostat tap
washbasin with mixer tap and hot & cold running water
in 1 area together with the toilet
Toilet / Heads:
2x flush toilet
Cooker:
4-burner hob
induction cooker
cookerhood
stainless steel
Oven:
microwave/oven
& grill
Fridge / Refrigerator:
present
230 Volt
Water tap:
mixer tap with hot & cold running water
Entertainment:
2x flatscreen TV
Blueray- DVD-player (multi region)
Yamaha soundbar
satellite antenna
Headroom (approx.):
Forward: 2,18 m
bathroom / toilet in the front (approx.) 2,12 m
salon (approx.) 2,10 m
galley (approx.) 2,10 m
wheelhouse (approx.) 1,98 m
aftcabin (approx.) 2,00 m
bathroom / toilet aft (approx.) 1,98 m
Additional information:
Candy washing machine
Candy tumble dryer
cutlery and crockery
The vessel will be delivered as without the private goods like furniture, clothing, artwork and tools.
inventory
Tefal Slowcooker
Equipment
Anchor equipment:
manual anchor winch
Klipp anchor
60 m anchor chain
warping drum
Aft:
manual anchor winch
Klipp anchor
40 m anchor cable
2x spudleg / pole
3 m under the bottom
specified length(s) is/are approximate
Searail / Pulpit:
searail on bulwark
Dinghy:
2x Ocean sit-on kajak/kayak
Tomatsu outboard engine
5 Hp
Safety:
life buoys
fire extinguishers
life jackets
according to the certification requirements
Firecom Mare 30 automatic fire extinguishing system in engine room
fire blanket
Additional information:
skylight
cover over skylight
gangway
Survey report of the underwatership is available (02-2022)
sundeck