Dutch Barge 20.28 with TRIWV
Dimensions (m):
20.28 x 4.17 x 0.80
Mooring:
Near Zwolle, Netherlands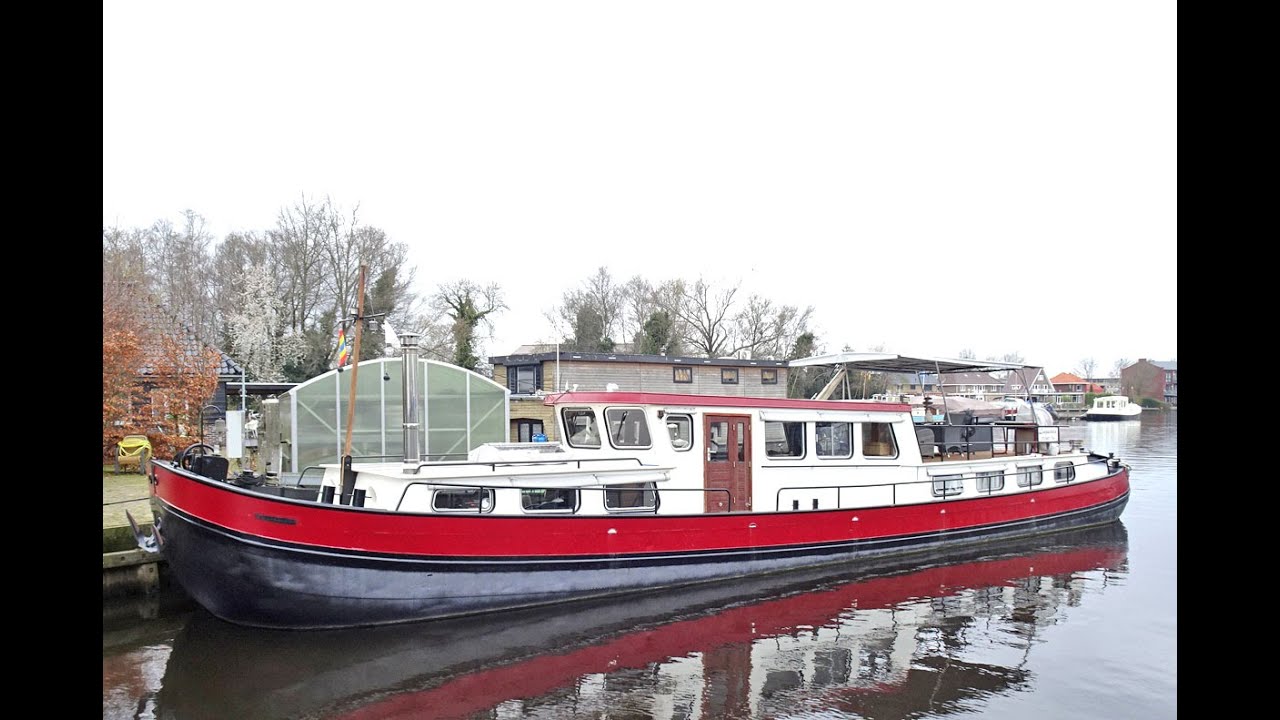 Vision Doeve Brokers
This former inland cargo vessel is of the type Hasselteraak and was completely refurbished in 2013. This Dutch Barge is, among other things, equipped with a generator, a large solar cell package and 2 spud poles, so that she can sail completely autonomously. The owner's cabin is located in the spacious aft cabin and offers all the comfort needed for long journeys. Thanks to the good all-round visibility in the wheelhouse (salon), this Dutch Barge is easy to maneuver. The upper deck is spacious and features an outside steering position and bimini, making it an ideal place to relax and enjoy the view. She is ideal for living on board or for long journeys over the European waterways. With her authentic appearance and modern facilities, this Hasselteraak is highly recommended for anyone who is looking for adventure and comfort on the water.
More information
General information
Yard:
Shipyard Wortelboer en Co, NL-Oude Pekela
Rebuilt year:
2013 complete
Hull material:
iron/steel
Superstructure material:
steel
Construction method:
riveted
new steel is welded
rubbing strake around
bulwark around
deckhouse
aftcabin
bulbous bow
closed bollard cabinets
wide side decks (gunnels)
Steering system:
hydraulic
inside and outside steering position
2x wheel
steel rudder
attached rudder
Becker rudder
Windows:
aluminium windows frames
single glass
hardwood outside doors
Ballast (approx.):
no ballast seen
Airdraft (approx.):
2,90 m everything down
Registration:
Dutch registered
B-registered
Costs for the change of ownership and / eventually deletion are for purchasers amount.
Colour / Paint System:
black hull
bordeaux red bulwark
white superstructure
last underwatership treatment 02-2022
very well maintained
Certificates:
inland waterways certificated (TRIWV / ES-TRIN)
zone 2 Netherlands
zone 3
zone 4
Waal, Lek & NL Rhine
valid until: 04-2029
Suitable for / as:
suitable as a year round live- aboard
recreational vessel
inland waterways
General information:
For sale because of the age of the seller.
Additional information:
various rust sensitive places are made from stainless steel
Specified length is between bow and stern.
Hull shape is suitable for drying out.
spacious aftdeck
Great vessel for cruising on the European canals and rivers.
Great vessel for cruising on the French canals and rivers.
Technical information
Construction year engine:
1972
Overhaul engine:
2016 reconditioned installed
Running hours (approx.):
1000 after overhaul
presumably
Fuel tank (approx.):
1200 litre
3 steel tank(s)
Cooling system:
closed
box cooler
dry exhaust
Propulsion:
4 blade propeller
greased lubrication of propeller shaft
Python constant velocity prop shaft with thrust bearing
Gearbox:
Reintjes BGA120 hydraulic
reduction/ratio 2,038:1
Speed (approx.):
10 km/hour cruising speed at 1500 RPM
Heating:
Kabola HR400 central heating (12-2020)
on diesel
& 1x All burner stove
& floor heating
Bow thruster:
Cupa electric bow thruster
24 Volt
Electricity system:
12 / 24 / 230 Volt
230 Volt shore power connection
Batteries:
4x 250 AGM domestic batterie(s) (12-2020)
2x 150 Ah starter batterie(s) (12-2020)
2x 220 Ah bow thruster batterie(s)
1x 74 Ah starter batterie(s) bow thruster
Battery charger:
Victron MultiPlus combi inverter/charger 24/3000/70
Earth-leakage breaker:
present
Genny:
BW 10/15 whisper set
10 kVA 230 Volt
1500 RPM
2900 running hours (approx.)
Inverter:
Victron MultiPlus combi inverter/charger 24/3000/70
Victron Orion inverter 24-12 Volt
2x Alfatronic inverter 24-12 Volt
Solar panels:
6x 340 wp solar panel (12-2020)
Victron SmartSolar MPPT charge controller 250/70-MC4
Fresh water tank (approx.):
2000 litre
plastic tank(s)
Water pressure system:
hydrophore pump
Hot water system:
boiler/water calorifier (230 Volt) (12-2020)
50 litre
Holding tank (approx.):
present
not connected
Deck wash pump:
electric pump
Gas system:
no gas on board
Additional information:
LED lightning
Accommodation
Interior:
Plywood
mahogany finish
see photographs
very well maintained
see photographs
Berth:
Forward: 1x 2-pers
Aft: 1x 2-pers
Lay-out plan (not to scale):
see attachment
Bathroom:
shower cubicle
mixer tap with hot & cold running water
washbasin with hot & cold running water
Toilet / Heads:
flush toilet
Cooker:
4-burner hob
induction cooker
cookerhood
stainless steel
Fridge / Refrigerator:
present
230 Volt
Washbasin:
stainless steel sink
Water tap:
mixer tap with hot & cold running water
Entertainment:
flatscreen TV
radio/CD player
Headroom (approx.):
wheelhouse (approx.) 1,75 m
aftcabin (approx.) 1,78 m
shower (approx.) 1,83 m
toilet (approx.) 1,81 m
Forward: 1,88 m
Additional information:
The vessel will be delivered as without the private goods like furniture, clothing, artwork and tools.
washing machine
tumble dryer
Rigging and sails
Mast:
lantern mast
wooden mast
Equipment
Anchor equipment:
manual anchor winch
Klipp anchor
anchor cable
in hawse-hole
2x spudleg / pole (hydraulic)
2,00 m under the bottom
specified length(s) is/are approximate
Bimini:
bimini top above aftdeck
hydraulically lowerable
Searail / Pulpit:
guardrail around upperdeck
guardrail around side-walks
Safety:
fire extinguishers
life buoys
life jackets
according to the certification requirements
Additional information:
hard wooden skylight
cover over skylight
The ship was completely gutted (only the hull is old) and then rebuilt. Before refitting the interior, the inside of the hull was thoroughly treated.
sundeck
steering chair
Survey report of the underwatership is available (02-2022)