Barge 17.30
reduced in price
Dimensions (m):
17.30 x 3.00 x 0.80
Mooring:
Near Amsterdam, Netherlands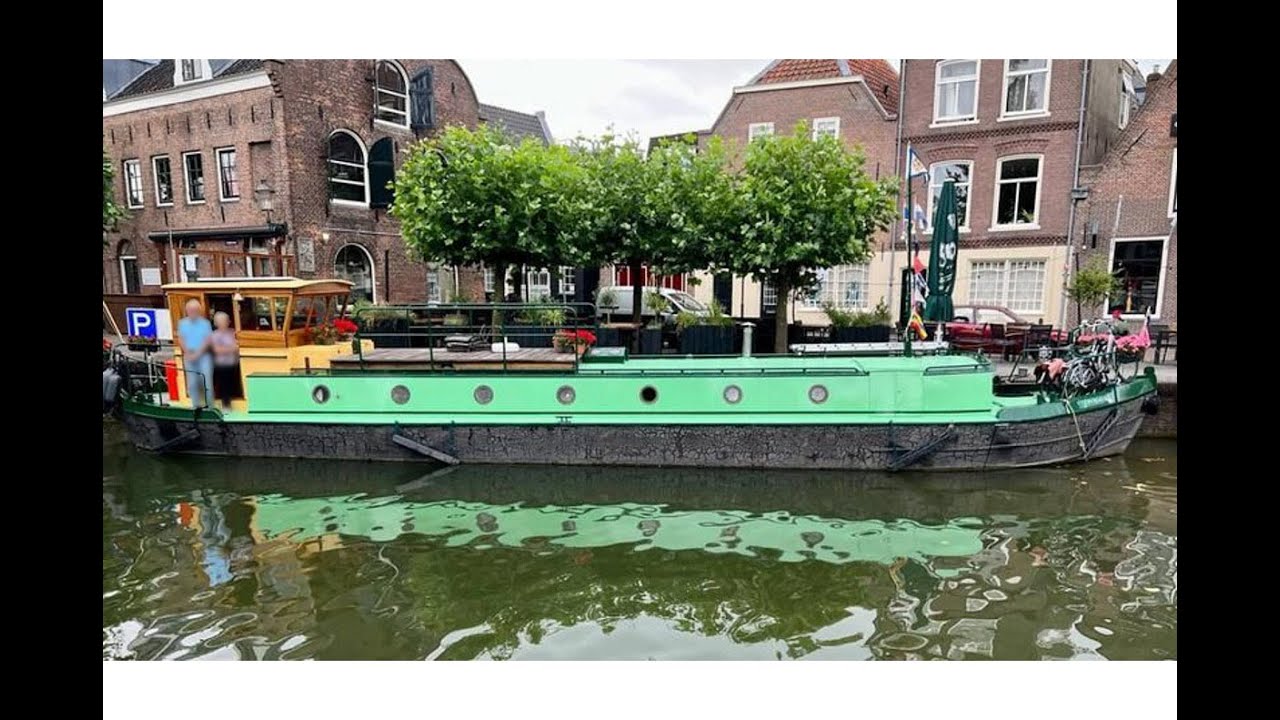 Vision Doeve Brokers
This Sailing Houseboat, built in the UK, is of the type Wide Beam Narrowboat. The interior is classically styled with an eye for characteristic details. In 2011, the owner had a new teak upperside wheelhouse installed. The solar panel on the roof of the wheelhouse can be folded to create a lower air draft. A new engine was also installed in 2011. The boat is designed to accommodate two persons. A very spacious owners' cabin with double bed and plenty of cupboard space. The owners cabin is also accessible from outside. Guests who want to stay overnight can use the sofa bed in the salon. With a depth of only about 80 cm, the ship has a very large sailing area.
More information
General information
Yard:
Shipyard Pickwell & Arnold, UK-Todmorden
Hull material:
steel 6-8 mm
Deck material:
steel 8 mm
Superstructure material:
steel 5 mm
teak top side of the wheelhouse (2011)
Construction method:
forecabin
rubbing strake
2x bulkhead
bollards
Sturdy, heavily constructed
Steering system:
hydraulic
wheel
Windows:
bronze portholes
hardwood window frames
in wheelhouse
Airdraft (approx.):
2,75 m lowered mast(s)
Registration:
Australian registered
Colour / Paint System:
black hull (2022)
green superstructure (2022)
last underwatership treatment (2019)
very well maintained
Suitable for / as:
inland waterways
recreational vessel
suitable as a year round live- aboard
Additional information:
Hull shape is suitable for drying out.
Great vessel for cruising on the European canals and rivers.
Great vessel for cruising on the French canals and rivers.
Technical information
Engine brand:
Perkins Sabre
Construction year engine:
2011 into operation
Running hours (approx.):
1250 on the hour counter
Fuel tank (approx.):
1x 700 litre
steel tank(s)
Cooling system:
closed
insulated exhaust
dry exhaust
Propulsion:
3 blade propeller
greased lubrication of propeller shaft
Gearbox:
hydraulic PRM 500D2
Heating:
central heating Kabola E3
on diesel
& coal stove
Electricity system:
12 / 230 Volt
230 Volt shore power connection
Batteries:
2x 70 Ah starter batterie(s) (2022)
1x 230 Ah domestic batterie(s)
Battery charger:
Victron blue smart 12/30
Battery isolator:
present
Earth-leakage breaker:
present
Solar panels:
1 solar panel
Victron MPPT 75/15 SmartSolar charge controller
Fresh water tank (approx.):
1x 1500 litre
steel tank(s)
cemented tank(s)
Water pressure system:
electric water pump
Hot water system:
80 litre
boiler/water calorifier via 230 Volt and engine cooling system
geyser (gas heater)
Diesel waterseparator:
present
Bilge pump:
1x electric pump
Gas system:
yes, bottle(s) in bottle box on deck
does not fully meet current safety requirements
Additional information:
LED lightning
Accommodation
Interior:
teak interior
various materials have been used
wooden floor(s)
carpet on the floor(s)
see photographs
Berth:
owners cabin: 1x 2-pers
Sofa bed: 1x 2-pers
Lay-out plan (not to scale):
see attachment
Bathroom:
shower
hot & cold running water
washbasin with hot & cold running water
in 1 area together with the toilet
partly tiled
Toilet / Heads:
electric toilet
Cooker:
4-burner hob
on gas
Fridge / Refrigerator:
Isotherm
12 Volt
Worktop:
hardwooden worktop
Washbasin:
stainless steel sink
Water tap:
hot & cold running water
Entertainment:
radio/CD player
Headroom (approx.):
ownerscabin (approx.) 1,83 m
salon (approx.) 1,84 m
galley (approx.) 1,84 m
shower (approx.) 1,80 m
toilet (approx.) 1,82 m
wheelhouse (approx.) 1,90 m
Additional information:
washing machine
Equipment
Anchor equipment:
anchor with chain
bow roller
manual anchor winch
Awnings:
winter cover around the wheelhouse
Searail / Pulpit:
guardrail around foredeck
guardrail around aftdeck
guardrail around upperdeck
Safety:
3 fire extinguishers
fire blanket
Additional information:
sundeck
skylight
set deck furniture
mosquito nets for windows
gangway