Dimensions (m):
16.29 x 2.87 x 0.85
Mooring:
Near The Hague, Netherlands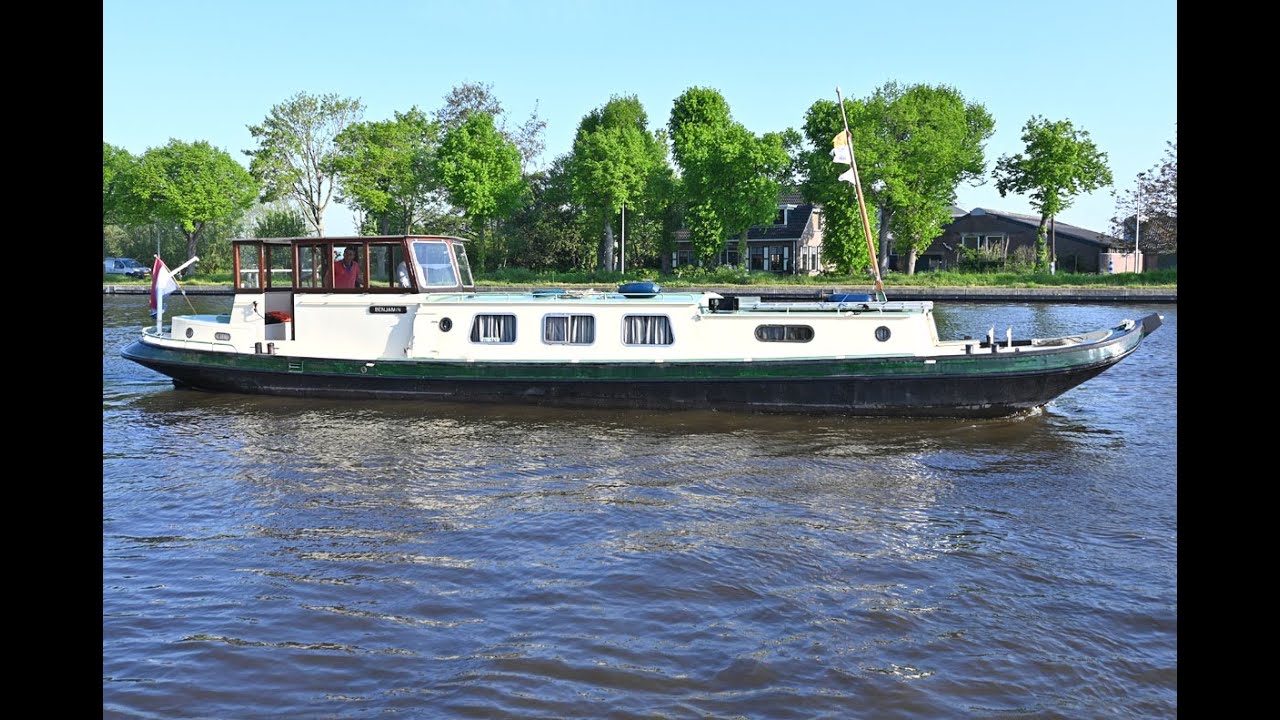 Vision Doeve Brokers
Former inland cargo vessel that has been completely stripped by the current owner and fitted with a new superstructure and interior as well as a new modern engine. It is a recreational Dutch Barge which, due to her very low air draft / bridge clearance because the wheelhouse can be dismantled, is very suitable for sailing on waterways that cannot be navigated by many yachts or barges that are fitted with a superstructure. An added bonus is that this well-maintained Dutch Barge has an unprecedented cruising area.
More information
General information
Yard:
Shipyard Van Waveren, NL-Monster
Superstructure material:
steel
hardwooden top of the wheelhouse
Construction method:
riveted
new steel is welded
kalffsdecks (raised decks)
rubbing strake around
bulwark around
deckhouse
Steering system:
mechanical
wheel
Windows:
aluminium windows frames
hardwood outside doors
Displacement (approx.):
17 metric tons
estimated
Ballast (approx.):
concrete tiles
& steel
Airdraft (approx.):
2,50 m
1,60 m with dismantled wheelhouse
Colour / Paint System:
black hull (04-2023)
green bulwark
white superstructure
last underwatership treatment 04-2023
Certificates:
no certificate requirement
Suitable for / as:
recreational vessel
inland waterways
General information:
good sailing characteristics
Additional information:
classic motor yacht
Hull shape is suitable for drying out.
wheelhouse
Great vessel for cruising on the European canals and rivers.
Great vessel for cruising on the French canals and rivers.
Technical information
Construction year engine:
2011 new
Running hours (approx.):
1200
Fuel tank (approx.):
450 litre
1 steel tank(s)
Cooling system:
closed
cooling pipes
dry exhaust
insulated exhaust
Propulsion:
3 blade propeller
greased lubrication of propeller shaft
constant velocity prop shaft with thrust bearing
Gearbox:
PRM hydraulic (2011)
Speed (approx.):
10 km/hour cruising speed at 1500 RPM
16 km/hour top speed
Heating:
hot air heating
= prepared
Bow thruster:
electric bow thruster
24 Volt
Electricity system:
12 Volt
24 Volt
230 Volt
230 Volt shore power connection
Batteries:
1x 180 Ah starter batterie(s)
2x 180 Ah domestic batterie(s)
2x 180 Ah bow thruster batterie(s)
Battery charger:
Whisper Power WP-Suprime combi inverter/charger 24/2000/55
Inverter:
Whisper Power WP-Suprime combi inverter/charger 24/2000/55
Solar panels:
2x 300 Watt solar panel
& 1x solar panel
Fresh water tank (approx.):
225 litre
2 stainless steel tank(s)
& 1x 125 litre
= not in use
Water pressure system:
hydrophore pump
Bilge pump:
submersible pump
Gas system:
yes, bottle(s) in bottle box on deck
does not fully meet current safety requirements
Accommodation
Interior:
various materials have been used
see photographs
Berth:
Forward: 2x 1-pers
& 1x 2-pers
Aft: 1x 2-pers
Lay-out plan (not to scale):
see attachment
Toilet / Heads:
electric toilet
Cooker:
3-burner hob
on gas
stainless steel
Fridge / Refrigerator:
Isotherm fridge / refrigerator
24 Volt
Freezer:
small ice compartment
Worktop:
hardwooden worktop
Water tap:
cold running water
Entertainment:
radio/CD player
Headroom (approx.):
forward cabin (approx.) 1,51 m
cabin (approx) 1,54 m
salon (approx.) 1,80 m
galley (approx.) 1,86 m
toilet (approx.) 1,86 m
wheelhouse (approx.) 1,85 m
aftcabin (approx.) 1,21 m
Rigging and sails
Mast:
wooden mast
lantern mast
Equipment
Anchor equipment:
anchor with rope
Safety:
2 life jackets
life buoy
Additional information:
gangway
The ship was completely gutted (only the hull is old) and then rebuilt. Before refitting the interior, the inside of the hull was thoroughly treated.
Survey report of the underwatership is available (04-2023)