Dimensions (m):
16.25 x 5.27 x 1.75
Mooring:
Near Den Bosch, Netherlands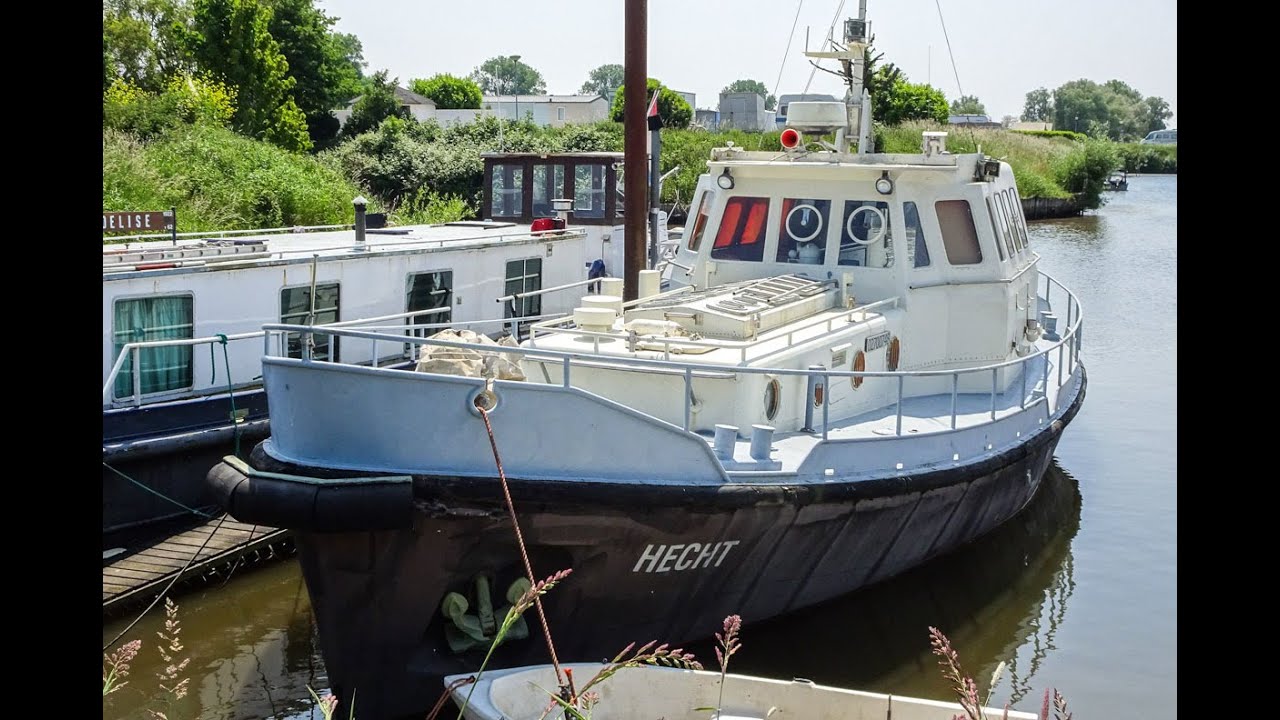 Vision Doeve Brokers
Sturdy pilot boat that was used by the port service in Rostock, Germany. The current owner has provided the ship with a new large aluminum superstructure that serves as a wheelhouse and salon. The look and feel of the original have not been lost out of sight in the design of the new superstructure. The air-started 6 cylinder engine provides the propulsion. The interior is not finished yet. Here is a nice but clear job for the new owner if he / she wishes. In the bow are two single beds, the bathroom with electric toilet, sink and shower. She is not yet equipped with hot water, but there is enough space to install a boiler. The aft cabin has a double bed. Are you looking for a sturdy boat with character, sufficient space and where you can still put your own stamp on, then this boat will certainly be an option for you.
More information
General information
Yard:
Shipyard VEB Schiffswerft Genthin, D-Genthin
Superstructure material:
aluminium
Construction method:
aftcabin
rubber rubbing strake
bulwark
closed bollard cabinets
wide side decks (gunnels)
3 watertight bulkhead(s) with watertight door(s)
Sturdy, heavily constructed
welded
Steering system:
mechanical
wheel
Windows:
aluminium windows frames
rubber window frames
Displacement (approx.):
estimated
22 metric tons
Airdraft (approx.):
4,55 m everything down
Registration:
Dutch registered
B-registered
Costs for the change of ownership and / eventually deletion are for purchasers amount.
Colour / Paint System:
black hull
cream superstructure
last underwatership treatment 10-2018
Certificates:
inland waterways certificated (TRIWV / ES-TRIN)
zone 3
zone 4
zone 2 Netherlands
Waal, Lek & NL Rhine
valid until: 10-2025
Suitable for / as:
coastal waters
inland waterways
recreational vessel
Additional information:
spacious aftdeck
forepeak with chain locker
Great vessel for cruising on the coastal waters.
Great vessel for cruising on the European canals and rivers.
Technical information
Enginepower:
200 Hp
147 kW
Engine model:
6 NVD 26-2 air started
Construction year engine:
1974
Running hours (approx.):
unknown
Fuel tank (approx.):
2x 750 litre
1x 210 litre
steel tank(s) &
stainless steel tank(s)
Cooling system:
intercooling
wet exhaust
insulated exhaust
Propulsion:
4 blade propeller
oil bath propeller stern tube
Gearbox:
VEB hydraulic
reduction/ratio 2,08:1
Heating:
Eberspächer hot air heating
on diesel
Bow thruster:
electric bow thruster
400 Volt
5 Hp
proportional
Electricity system:
24 / 230 / 400 Volt
Batteries:
2x 220 Ah domestic batterie(s)
Battery isolator:
Victron Energy Blue Power Battery Balancer
Genny:
Lister diesel 230/400 Volt
32 Hp
1500 RPM
Inverter:
present 24/2500
Solar panels:
2x solar panel
SmartSolar charge controller MPPT 100/20 charge controller
Fresh water tank (approx.):
2x 400 litre
stainless steel tank(s)
Water pressure system:
electric water pump
hydrophore pump
Holding tank (approx.):
1x 200 litre
stainless steel tank(s)
Engineroom:
see photographs
Gas system:
present
Gas certificate 12-2024
Additional information:
air bottle
air compressor
Accommodation
Interior:
Marine Plywood
various materials have been used
simple interior
Insulation:
Rockwool 60 mm
vapor return film
Berth:
Forward: 2x 1-pers
Aft: 1x 2-pers
Lay-out plan (not to scale):
see attachment
Toilet / Heads:
electric toilet
Cooker:
4-burner hob
on gas
Microwave:
Severin microwave/oven
Fridge / Refrigerator:
Isotherm 24 Volt
Severin 230 Volt
Worktop:
laminate worktop
Washbasin:
stainless steel sink
Water tap:
cold running water
Entertainment:
flatscreen TV
Headroom (approx.):
forecabin (approx.) 1,87 m
aftcabin (approx.) 1,49 m
salon (approx.) 1,98 m
wheelhouse (approx.) 1,98 m
engine room (approx.) 2,37 m
Equipment
Anchor equipment:
electric anchor winch 400 Volt
2x warping drum
Spek anchor
in hawse-hole
anchor chain
Searail / Pulpit:
searail on bulwark
grab rail
Safety:
fire blanket
3 fire extinguishers
Additional information:
deck lights
Survey report of the underwatership is available (10-2018)