Round Bilge Motor Cruiser TSDY
Dimensions (m):
13.05 x 3.65 x 1.20
Mooring:
Near Amsterdam, Netherlands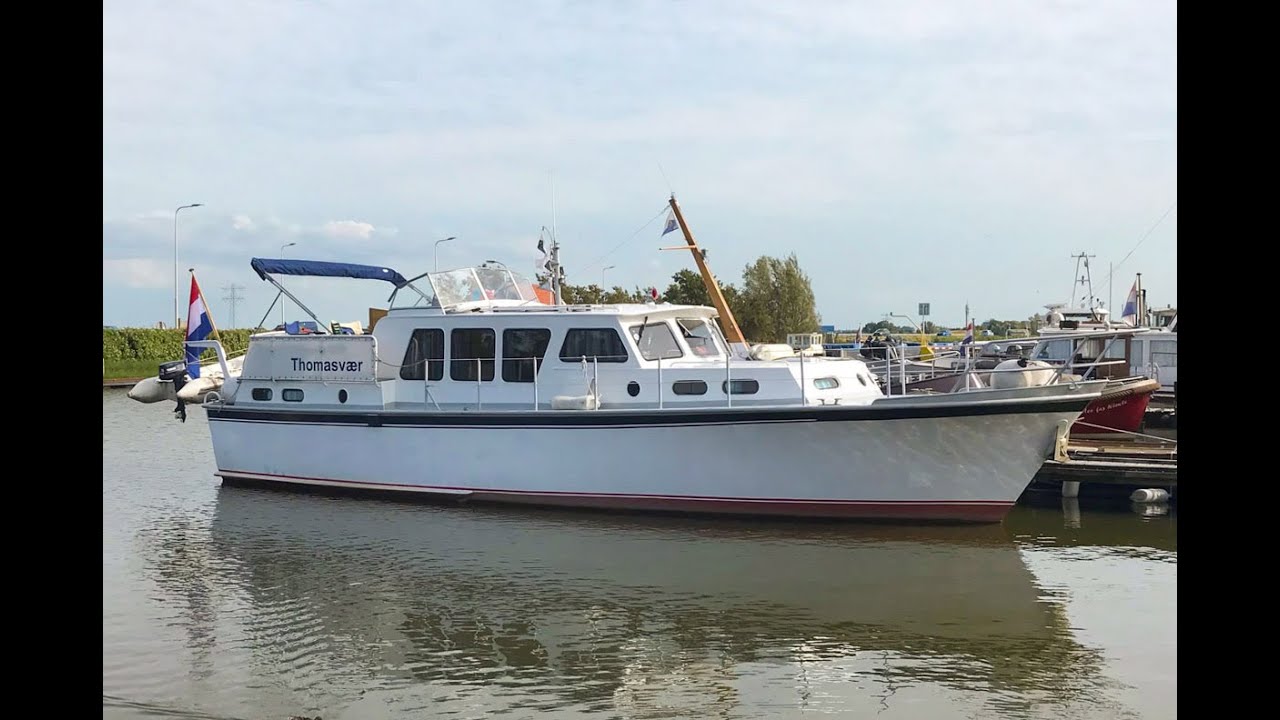 Vision Doeve Brokers
Custom-built motor yacht with flared bow and aft cabin. The salon has large windows all around so that a lot of light can enter but also offers a good view outside. Between the salon and the front cabin there are the galley and the bathroom with shower and toilet. In the front cabin there are two single beds in a V-shape. The aft cabin is equipped with 1x 1-persons bed and 1x a 2-persons bed and a private toilet. Two diesel engines provide propulsion and make maneuvering very easy. During the construction of the ship, the layout has been carefully thought out. A clear choice has been made for living space, a spacious aft cabin and a spacious aft deck to sit outside. The ship is neatly maintained on the inside, but requires extra attention on the outside. If you want to spend your holiday on board of a spacious motor yacht that is equipped with many comforts, then this is the right ship for you.
More information
General information
Yard:
Shipyard De Ringvaart, NL-Leimuiden &
Shipyard Nederhof & Koppers, NL-Aalsmeer
Deck material:
steel
teak on aftdeck
Superstructure material:
steel
Construction method:
welded
aftcabin
flare shape bow
wide side decks (gunnels)
bilge keels
Steering system:
hydraulic
wheel
inside and outside steering position
Windows:
rubber window frames
bronze portholes
hardwooden door
Displacement (approx.):
16 ton estimated
Airdraft (approx.):
3,20 m everything down
Colour / Paint System:
white hull
blue striping
white superstructure
some overdue maintenance
last underwatership treatment 2021
Suitable for / as:
recreational vessel
Additional information:
motor cruiser GSAK
cruiser
spacious aftdeck
Great vessel for cruising on the European canals and rivers.
Great vessel for cruising on the French canals and rivers.
Technical information
Enginepower:
2x 62 Hp
2x 45 kW
Engine brand:
2x Thornycroft
Number of cylinders:
2x 4
Fuel tank (approx.):
2x 550 litre
steel tank(s)
Cooling system:
intercooling
dry exhaust
insulated exhaust
Propulsion:
2x 3 blade propeller
greased lubrication of propeller shaft
Gearbox:
2x Velvet hydraulic
Electricity system:
12 / 230 Volt
230 Volt shore power connection
Batteries:
2x 230 Ah battery
Battery charger:
Victron Blue Smart battery charger 12/20
Inverter:
Victron Phoenix inverter 12/220
Fresh water tank (approx.):
1x 600 litre
steel tank(s)
cemented tank(s)
Water pressure system:
hydrophore pump
Hot water system:
geyser (gas heater)
Holding tank (approx.):
1x grey water tank(s)
Diesel waterseparator:
2x diesel waterseparator
Gas system:
present
yes, bottle(s) in bottle box
ventilated
does not fully meet current safety requirements
Accommodation
Interior:
various materials have been used
see photographs
Berth:
Forward: 2x 1-pers
Aft: 1x 2-pers & 1x 1-pers
Lay-out plan (not to scale):
see attachment
Bathroom:
shower
hot & cold running water
washbasin with hot & cold running water
in 1 area together with the toilet
Toilet / Heads:
2x hand pumptoilet
washbasin with hot & cold running water
Cooker:
4-burner hob
on gas
Fridge / Refrigerator:
Dometic 12/230 Volt/Gas
Freezer:
small ice compartment
Worktop:
stainless steel worktop
Washbasin:
stainless steel sink
Water tap:
hot & cold running water
Entertainment:
flatscreen TV
Pioneer radio/CD player
Headroom (approx.):
forecabin (approx.) 1,91 m
galley (approx.) 1,89 m
bathroom in the front (approx.) 1,86 m
salon (approx.) 2,01 m
toilet aft (approx.) 1,86 m
aftcabin (approx.) 1,80 m
Rigging and sails
Mast:
lantern mast
hard wood
Equipment
Anchor equipment:
manual anchor winch
anchor chain
Pool anchor
in hawse-hole
Boarding ladder:
fixed boarding ladder
steel
Searail / Pulpit:
guardrail around
spray covers
Safety:
1x fire extinguisher
2x life buoy