Luxe Motor 24.56 with TRIWV
Dimensions (m):
24.56 x 3.92 x 1.40
Mooring:
Near Ghent, Belgium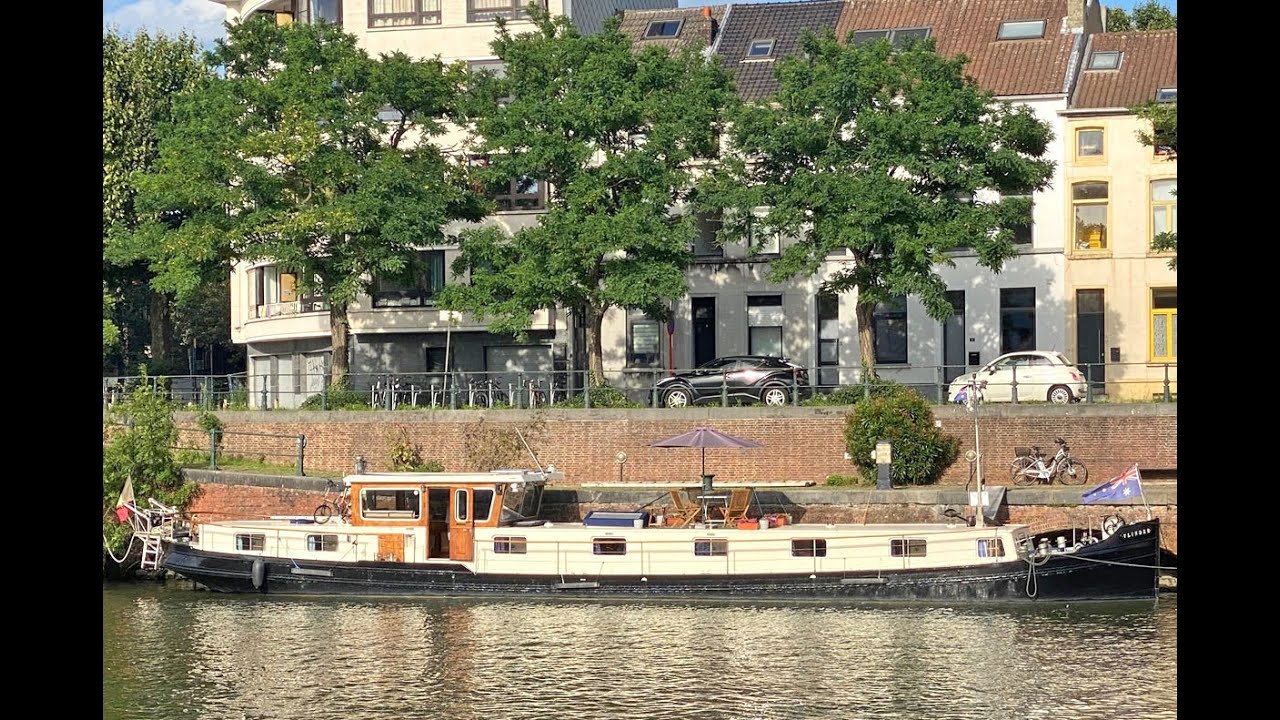 Vision Doeve Brokers
Former inland cargo ship that has been completely refurbished into a comfortable Cruising Live Aboard Dutch Barge. In May 2023, this Luxe Motor went to the yard for a survey and the sidewalks and decks were blasted and provided with a 2-component paint system. The hull was blasted in 2015. This Dutch Barge is therefore on the outside in a very good condition. The inside has been completely renewed in 2001/2002 and is also very neat. The current owners have upgraded the technics on board, making her ready for many years of easy usage. Among other things the vessel has 2 guest cabins that share a spacious bathroom together, an owner's cabin with a French bed that has its own bathroom and a spacious lounge with open kitchen. The wheelhouse has a comfortable L-seat and a steering position and also a good view all around. In our eyes a Dutch Barge that is ready to go with which the buyer can experience many wonderful trips on the European inland waterways.
More information
General information
Yard:
Shipyard Van Zutphen, NL-Vreeswijk
Rebuilt year:
2001 / 2002
Superstructure material:
steel
teak top side of the wheelhouse
Construction method:
riveted
new steel is welded
rubbing strake around
bulwark around
deckhouse
closed bollard cabinets
2 watertight bulkhead(s)
Steering system:
hydraulic
wheel
emergency tiller
Windows:
aluminium windows frames
double glazing in wheelhouse
Displacement (approx.):
maximum allowable displacement 91,699 m³
displacement in empty condition 73,955 m³
displacement 17,744 m³
Ballast (approx.):
poured concrete
Airdraft (approx.):
everything down 2,90 m
Registration:
Belgian registered
Colour / Paint System:
black hull
cream superstructure
well maintained
underwater ship and hull sandblasted
two component system
last underwatership treatment 05-2023
Certificates:
Union Inland Navigation Certificate (ES-TRIN)
zone 2 Netherlands
zone 3
zone 4
Waal, Lek & NL Rhine
valid until: 04-2030
Suitable for / as:
recreational vessel
suitable as a year round live- aboard
suitable for bigger waterways
General information:
good sailing characteristics
Additional information:
various rust sensitive places are made from stainless steel
forepeak with chain locker
Hull shape is suitable for drying out.
Great vessel for cruising on the European canals and rivers.
Great vessel for cruising on the French canals and rivers.
Technical information
Overhaul engine:
2001 reconditioned installed
Running hours (approx.):
2450 after overhaul
Fuel tank (approx.):
1x 1000 litre white
2x 400 litre red
1x 450 litre red
1x 150 litre white
steel tank(s)
Cooling system:
closed
cooling pipes
insulated exhaust
Propulsion:
3 blade propeller
greased lubrication of propeller shaft
Gearbox:
Twin Disc MG506 hydraulic
reduction/ratio 2,91:1
Heating:
ACV central heating
on diesel
radiators
& convectors
Bow thruster:
bow thruster with dieselengine
Sole Mini - 26 (2001)
26 Hp
Electricity system:
12 / 24 / 230 Volt
230 Volt shore power connection
professionally installed system
Color Control GX
Victron Digital Multi Control
Batteries:
2x 200 Ah domestic batterie(s) Li-ion (07-2023)
1x 225 Ah starter batterie(s)
1x 74 Ah starter batterie(s) bow thruster (04-2022)
1x 140 Ah starter batterie(s) generator
Victron BMV 600 battery monitor
Battery charger:
Victron Quattro combi inverter/charger 24/5000/120
Mastervolt EasyCharge Portable battery charger 12/1,1
Battery isolator:
battery isolator
Earth-leakage breaker:
2x earth leakage circuit breaker
Genny:
9 kVA 230 /400 Volt, 1500 RPM
Mitsubishi diesel
closed cooling system
1550 running hours (approx.)
Alternator:
2x alternator
Inverter:
Victron Quattro combi inverter/charger 24/5000/120
Solar panels:
6x 260 Watt solar panel
2x MPPT charge controller
Fresh water tank (approx.):
3000 litre
6x plastic tank(s)
Water pressure system:
hydrophore pump
Hot water system:
boiler/water calorifier (230 Volt)
150 litre
Holding tank (approx.):
not present, enough space to build-in
Diesel waterseparator:
2x diesel waterseparator
Engineroom:
ventilated
insulated engineroom
Bilge pump:
electric pump
system
also deckwash pump
& submersible pump
Gas system:
yes, bottle(s) in bottle box on deck
Gas certificate
Additional information:
air compressor
LED lightning
Accommodation
Interior:
cherry wood interior
oak interior
teak interior
Marine Plywood
laminate floor(s)
suitable for living on board
see photographs
Insulation:
6 mm Rockwool
well insulated
Berth:
Forward: 1x 2 pers.
Guest cabin(s): 2x 1 pers.
Aft: 1x 2 pers.
Lay-out plan (not to scale):
see attachment
Bathroom:
Forward:
shower
thermostat tap
washbasin with mixer tap and hot & cold running water
partly tiled
in 1 area together with the toilet
Aft:
shower
thermostat tap
washbasin with mixer tap and hot & cold running water
partly tiled
in 1 area together with the toilet
Toilet / Heads:
2x electric toilet
Cooker:
4-burner hob
on gas
cookerhood
& 2-burner hob
induction cooker
Oven:
electric oven
& grill
Fridge / Refrigerator:
2x fridge / refrigerator
230 Volt
Freezer:
1 freezer
230 Volt
Washbasin:
stainless steel sink
Water tap:
mixer tap with hot & cold running water
Entertainment:
radio/CD player
flatscreen TV
Headroom (approx.):
forward (approx.) 1,86 / 1,47 m
bathroom / toilet in the front (approx.) 1,87 m
salon (approx.) 1,83 m
galley (approx.) 1,87 m
wheelhouse (approx.) 1,89 m
ownerscabin (approx.) 1,87 m
bathroom / toilet aft (approx.) 1,86 m
Additional information:
inventory
The vessel will be delivered with everything on board less personal effects & artwork.
7 kg washing machine
Rigging and sails
Mast:
aluminium mast
lantern mast
Equipment
Anchor equipment:
manual anchor winch
Klipp anchor
50 m anchor chain
in hawse-hole
2x warping drum
specified length(s) is/are approximate
Awnings:
winter cover around the wheelhouse
Boarding ladder:
aluminium
Searail / Pulpit:
stainless steel searail on bulwark
Safety:
life buoys
fire extinguishers
life jackets
according to the certification requirements
bilge alarm
Additional information:
aluminium gangway
deck lights
teak wooden skylight
cover over skylight
teak set deck furniture
The ship was completely gutted (only the hull is old) and then rebuilt. Before refitting the interior, the inside of the hull was thoroughly treated.
sundeck
Survey report of the underwatership is available (05-2023)
COBB BBQ
Karcher high pressure cleaner