Two-mast Seagoing Charter Clipper 22 pax
Under offer
Dimensions (m):
36.00/31.60 x 6.08 x 1.50
Mooring:
Near Lemmer, Netherlands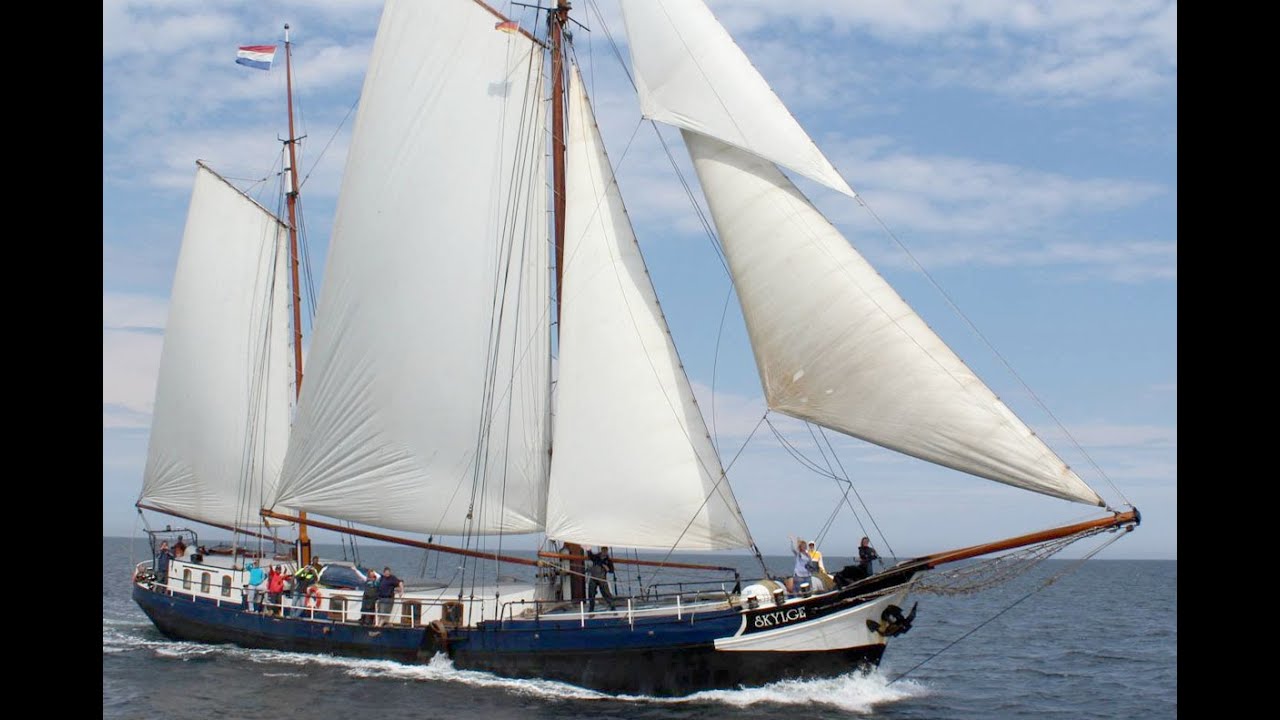 Vision Doeve Brokers
The "Skylge" is a beautifully built two-mast clipper which came into service as a sailing cargo vessel in 1910. The vessel was built under Lloyd's Class with the Wad and Sont (North Sea & Baltic) as a trading area. In 1986 the vessel was converted into a charter boat. The ship has spacious guest accommodations with decent sanitary facilities. There is place for 22 hotel guests or 35 day guests. The vessel has the ideal dimensions to navigate the western part of the Baltic Sea, but she is also very suitable on the German Wadden Sea. She has in the aft cabin a nice crew quarters and also a crew cabin in the foc's hole. In 2011/2012, the engine room was completely refitted and, among other things, a new engine was installed (in total about 120,000 Euro cost). A good ship with many possibilities. For an additional charge, new Dutch certificates can be supplied.
More information
General information
Yard:
Shipyard Wed. D. van Suijlekom, NL-Raamsdonksveer
Hull shape:
flatbottom
round bilges
Deck material:
steel
& hardwood
Construction method:
riveted
new steel is welded
wide side decks (gunnels)
rubbing strake around
bulwark
deckhouse
clipper bow
Sturdy, heavily constructed
3 watertight bulkhead(s)
1 watertight door(s)
Steering system:
mechanical
wheel
on steering pedestal
2x steel rudder
Windows:
hardwood window frames
hardwood outside doors
Displacement (approx.):
129 BT
59 NT
Ballast (approx.):
poured concrete
Airdraft (approx.):
25,90 m
Registration:
B-registered
Costs for the change of ownership and / eventually deletion are for purchasers amount.
Colour / Paint System:
black hull
blue bulwark
white superstructure
see photographs
overdue maintenance
Certificates:
certicaten expired
EU 2009/45/EC passengers including crew
Register Holland Commercial Sailing Vessel Z 1,2,3,4, No Ice
sailing area II, NSI 16
Special Purpose Ship Safety Certificate
Suitable for / as:
coastal waters
commercial shipping
useful as charter
suitable as a year round live- aboard
General information:
Know-how and information about sailing areas can be passed on.
Additional information:
35 day guests
22 hotel guests
forepeak with chain locker
classic lines
beautiful sheer
Specified beam excludes the leeboards.
Hull shape is suitable for drying out.
Great vessel for cruising on the coastal waters.
Technical information
Enginepower:
175 Hp
129 kW
Construction year engine:
2012
Running hours (approx.):
1900
Fuel tank (approx.):
1400 litre
70 litre
steel tank(s)
glass gauge to tank(s)
Cooling system:
intercooling
dry exhaust
insulated exhaust
Propulsion:
3 blade propeller
greased lubrication of propeller shaft
Gearbox:
PRM 1000 hydraulic (2012)
reduction/ratio 4:1
Speed (approx.):
7 knots cruising speed at 1500 RPM
9,5 knots top speed at 2100 RPM
Heating:
Baxiroca Gavina 20GT central heating (2012)
on diesel
hot water tap
Electricity system:
24 / 230 Volt
230 Volt shore power connection
Victron VE bus Multicontrol
Batteries:
2x 80 Ah starter batterie(s) (2021)
480 Ah traction batterie bank (2021)
1x 72 Ah starter batterie(s) generator
2x 230 Ah emergency batterie(s)
2x 102 Ah GMDSS
Battery charger:
1x Victron MultiPlus Compact combi inverter/charger 24/1600/40
Victron Phoenix battery charger 24/16
Voltcraft BC-024-10 battery charger 24/10
Earth-leakage breaker:
present
Genny:
Paguro 9000 whisper set 9 kW / 230 Volt
Lombardini LMG 9000 diesel
2550 running hours (approx.)
startcircuit defect
Inverter:
1x Victron MultiPlus Compact combi inverter/charger 24/1600/40
inverter 24-12 Volt
Fresh water tank (approx.):
5000 litre
2 steel tank(s)
cemented tank(s)
Water pressure system:
Speck hydrophore pump
Fresh water filter system:
1x filter
Hot water system:
120 ltr boiler/water calorifier (2012)
through the central heating
Holding tank (approx.):
4100 litre
3 steel tank(s)
Diesel waterseparator:
diesel waterseparator
Engineroom:
sound insulated engineroom
well maintained
see photographs
2011/2012 vernieuwd / renewed / erneuert / renouvelé
Bilge pump:
1x general service pump
also deckwash pump
Gas system:
yes, bottle(s) in bottle box on deck
Accommodation
Interior:
various materials have been used
see photographs
Lay-out plan (not to scale):
see attachment
Bathroom:
guest cabins with wash basin
hot & cold running water
2x bathrooms, each equipped with:
washbasin with hot & cold running water
shower
thermostat tap
in 1 area together with the toilet
crew quarters:
shower
washbasin with hot & cold running water
Toilet / Heads:
guest accommodation:
2x electric toilet
crew quarters:
1x toilet
Galley:
2x U-shape galley
Cooker:
4-burner hob
& 3-burner hob
Fridge / Refrigerator:
1x combination with freezer
1x fridge / refrigerator
Washbasin:
2x stainless steel sink
1x stainless steel sink
Water tap:
2x mixer tap with hot & cold running water
Entertainment:
radio/CD player
Headroom (approx.):
cabins (approx.) 2,03 / 2,33 m
bathroom / toilet (approx.) 1,93 m
salon (approx.) 2,00 m
galley (approx.) 1,96 m
corridor / walkthrough (approx.) 1,80 m
aftcabin (approx.) 1,94 / 1,96 m
galley (approx.) 1,86 m
shower (approx.) 2,04 m
toilet (approx.) 1.93 m
corridor / walkthrough (approx.) 2,03 m
Additional information:
useful as charter
useful as live-aboard
cutlery and crockery
Rigging and sails
Rigging type:
gaff ketch rigged
Jib boom / Bowsprit:
wooden bowsprit
Leeboards:
Bankirai wooden leeboards
2x Strikwerda leeboards winch
Material of the sails:
Dacron
Sails:
mainsail 123 m2
mizzen 65 m2
boom jib 56 m2
inner yankee 42 m2
outer yankee 42 m2
flyer 33 m2
Additional information:
sail covers
jibboom
pin rail
Equipment
Anchor equipment:
manual anchor winch
double gipsy
warping drum
2x Klipp anchor
2x 100 m anchor chain
in hawse-hole
specified length(s) is/are approximate
Searail / Pulpit:
searail on bulwark
Safety:
automatic fire extinguishing system in engine room
fire extinguishers
fire blanket
smoke detector(s)
life jackets
life buoys
Additional information:
3x hard wooden skylight
gangway
deck lights
sundeck
Survey report of the underwatership is available (10-2013)