Dutch Barge 28.65 with TRIWV Rhine
Dimensions (m):
28.65 x 5.17 x 1.30
Mooring:
Near Rotterdam, Netherlands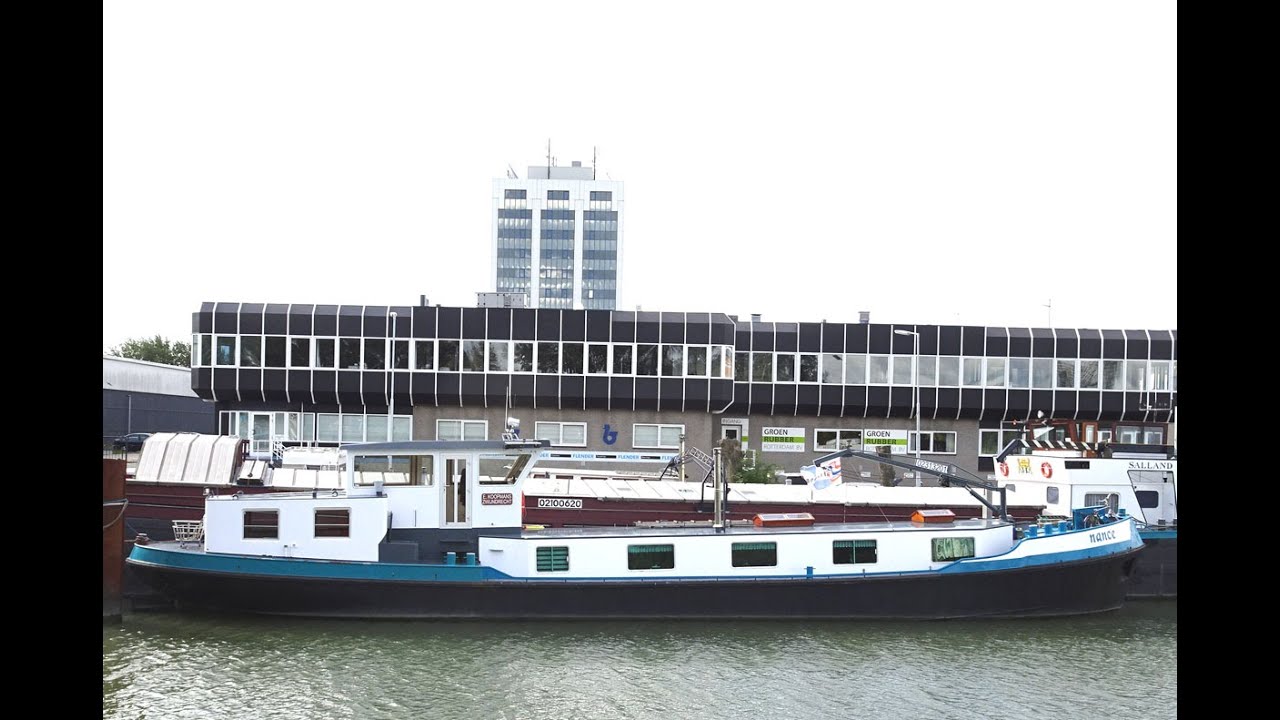 Vision Doeve Brokers
Former inland bunkering vessel (ex Esso Nederland 50) that has been fully welded. She has a heavily constructed hull which is in a good condition. In recent years the barge has been completely converted into a Sailing Live Aboard with an aft cabin that still can be fitted out to your own ideas, a spacious wheelhouse, a bathroom, a salon with open galley and a large owners cabin. The headroom is very good and because of her width the volume inside is very nice and with the many windows and sky lights it is also very light inside. The certification of the ship was renewed in 2017 for another 7 years.
More information
General information
Yard:
Shipyard De Hoop, NL-Schiedam
Hull shape:
flatbottom
round bilges
Superstructure material:
steel
Construction method:
welded
rubbing strake around
wide side decks (gunnels)
4 watertight bulkhead(s)
Sturdy, heavily constructed
joggled
closed bollard cabinets
Steering system:
hydraulic
wheel
balance rudder (2017)
Windows:
aluminium windows frames
double glazing
& single glass
aluminium outside doors
Displacement (approx.):
loading capacity 128,176 m3
Ballast (approx.):
4 ton concrete tiles
poured concrete
Airdraft (approx.):
4,70 m
Registration:
B-registered
Costs for the change of ownership and / eventually deletion are for purchasers amount.
Colour / Paint System:
blue bulwark
white superstructure
two component basic system
one component finish
black hull
one component system
last underwatership treatment 10-2017
Certificates:
inland waterways certificated (TRIWV / ES-TRIN)
zone R (Rhine)
open sea to Basel
Is equal to:
zone 2 Netherlands
zone 3 & 4
Suitable for / as:
suitable as a year round live- aboard
inland waterways
Additional information:
The techniques used on board are commercial shipping quality.
forepeak with chain locker
Hull shape is suitable for drying out.
Great vessel for cruising on the European canals and rivers.
Technical information
Enginepower:
169 Hp
124 kW
Construction year engine:
1982
Overhaul engine:
as declared 2000
Running hours (approx.):
unknown
Fuel tank (approx.):
7250 litre
4 steel tank(s)
3x waterbag(s)
BOBS overflowing fuel safety system
Cooling system:
closed
keel cooling
Propulsion:
3 blade propeller
greased lubrication of propeller shaft
Gearbox:
Twin Disc MG-509 hydraulic
reduction/ratio 3.38:1
Heating:
Kabola B25Tap central heating
on diesel
combi boiler
& floor heating
& stove on wood
Engine instruments:
alarm system
Bow thruster:
Fa Van Wijk bow thruster with dieselengine
360 degrees turnable
DAF 575
105 Hp
Electricity system:
24 / 230 / 400 Volt
professionally installed system
with automatic changeover
Batteries:
2x 88 Ah starter batterie(s) bow thruster / generator
2x 105 Ah starter batterie(s) / service
Battery charger:
Victron Atlas combi inverter/charger 24/1800/35
Earth-leakage breaker:
earth leakage circuit breaker
Genny:
White diesel 27 kVA, 1500 RPM
Hatz whisper set 12,5 kVA, 1500 RPM
Eurogen 5 kVA, 3000 RPM
Inverter:
Victron Atlas 24/1800/35
Fresh water tank (approx.):
5000 litre
1 steel tank(s)
Water pressure system:
Speck hydrophore pump
Hot water system:
through the central heating
Holding tank (approx.):
2500 litre
1 plastic tank(s)
Engineroom:
very well maintained
Bilge pump:
electric pump
with manifold
also deckwash pump
Gas system:
no gas on board
Accommodation
Interior:
Plywood
oak finish
Insulation:
Rockwool with aluminium foil
vapor return film
Berth:
Forward: 1x 2-pers
Lay-out plan (not to scale):
see attachment
Bathroom:
shower cubicle
thermostat tap
washbasin
mixer tap with hot & cold running water
tiled bathroom
in 1 area together with the toilet
Toilet / Heads:
flush toilet
Cooker:
4-burner hob
ceramic cooker
cookerhood
Oven:
Whirlpool microwave/oven
Fridge / Refrigerator:
230 Volt
combination with freezer
Washbasin:
stainless steel sink
Water tap:
mixer tap with hot & cold running water
Dishwasher:
Whirlpool dishwasher
Headroom (approx.):
ownerscabin (approx.) 2,25 m
salon (approx.) 2,24 m
galley (approx.) 2,10 m
bathroom / toilet (approx.) 2,10 m
corridor / walkthrough (approx.) 2,13 m
wheelhouse (approx.) 2,04 m
aftcabin (approx.) 1,97 m
Additional information:
washing machine
tumble dryer
The vessel will be delivered as without the private goods like furniture, clothing, artwork and tools.
Rigging and sails
Mast:
hydraulic crane
steel
Equipment
Anchor equipment:
manual anchor winch with electric motor
Pool anchor
40 m anchor chain
in hawse-hole
specified length(s) is/are approximate
Safety:
6 fire extinguishers
3 life buoys
smoke detector(s)
according to the certification requirements
Additional information:
2x hard wooden skylight
hydraulic crane
Survey report of the underwatership is available (10-2017)
steering chair