Ex German Buoyvessel 29.57 with TRIWV
the owner is a keen seller
Dimensions (m):
29.57 x 6.50 x 1.90
Mooring:
Near Rotterdam, Netherlands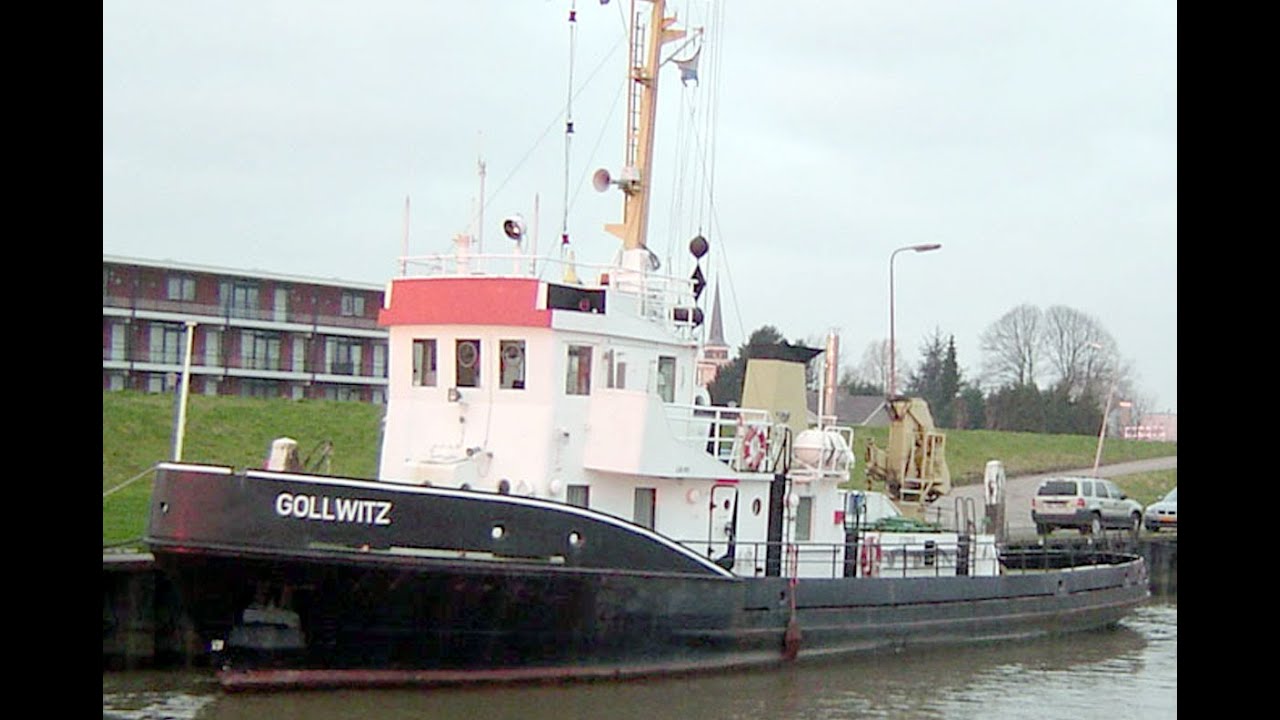 Vision Doeve Brokers
Former German coastal water buoy vessel annex icebreaker. Originally built by the GDR. Until 2004 in operation. The ship was certified SBG (German Shipping Inspection) until 31 May 2007. A technically well-maintained ship. Suitable for living on board. The owner is selling her due to lack of time.
More information
General information
Yard:
Shipyard VEB Peenewerft, D-Wolgast
Deck material:
steel
hardwood
wood
Superstructure material:
steel
aluminium
Construction method:
welded
rubbing strake
bulwark
wide side decks (gunnels)
canoe stern
6x watertight bulkhead(s)
Steering system:
electric hydraulic steering
steel rudder
emergency steering
power steering
Windows:
aluminium windows frames
portholes
Displacement (approx.):
BRT 119
Ballast (approx.):
2x 6500 ltr. ballast tank(s)
1x 3500 ltr. ballast tank(s)
Airdraft (approx.):
everything down 14,50 m
Registration:
B-registered
Colour / Paint System:
black hull
black bulwark
white superstructure
some overdue maintenance
last underwatership treatment 10-2018
Certificates:
inland waterways certificated (TRIWV / ES-TRIN)
zone 2 Netherlands
zone 3
zone 4
Waal, Lek & NL Rhine
Floating equipment (working vessel)
valid until: 09-2025
Suitable for / as:
recreational vessel
suitable as a year round live- aboard
seaworthy
General information:
good sailing characteristics
Additional information:
spacious aftdeck
tug
forepeak with chain locker
Technical information
Enginepower:
578 Hp
425 kW
Engine model:
direct reversible 8 NVD 36.1
Construction year engine:
1968
Running hours (approx.):
unknown
Fuel tank (approx.):
2x ca. 2500 litre
455 litre
daytank(s)
Cooling system:
intercooling
closed
direct cooling system
insulated exhaust
Propulsion:
propeller shaft
Speed (approx.):
10 knots cruising speed
Heating:
Buderus central heating 30 kW
on diesel
radiators
convectors
Electricity system:
230 Volt shore power connection
400 Volt shore power connection
professionally installed system
Batteries:
4x 230 Amp/hours
4x 230 Amp/hours
Battery charger:
1x Victron Skilla battery charger 24/50
3x Victron Skilla battery charger 24/25
Genny:
2x 55 kVA Cummins (1996) diesel
230/400 Volt
Fresh water tank (approx.):
2x 1200 litre
Water pressure system:
hydrophore pump
Hot water system:
50 ltr. boiler/water calorifier (230 Volt)
Holding tank (approx.):
700 ltr. grey water tank(s)
2600 ltr. black water tank(s)
Diesel waterseparator:
diesel waterseparator
Engineroom:
well maintained
insulated engineroom
Bilge pump:
400 Volt electric pump
also deckwash pump
system
Gas system:
no gas on board
Additional information:
air compressor
air bottle
Accommodation
Interior:
original
Formica with print interior
suitable for living on board
well maintained
professionally done
Insulation:
well insulated
Lay-out plan (not to scale):
see attachment
Bathroom:
washbasin with hot & cold running water
shower
partly tiled
in 1 area together with the toilet
Cooker:
4-burner hob
400 Volt electric cooker
Fridge / Refrigerator:
coolbox
Worktop:
stainless steel worktop
Washbasin:
stainless steel sink
Water tap:
hot & cold running water
Headroom (approx.):
foc's hole (approx.) 1,94 m
salon (approx.) 1,93 m
galley (approx.) 1,97 m
bathroom (approx.) 1,90 m
corridor / walkthrough (approx.) 1,95 m
wheelhouse (approx.) 1,89 m
aftcabin (approx.) 1,95 m
Equipment
Anchor equipment:
400 Volt electric anchor winch
2x anchor
2x 105 m anchor chain
hawsehole
specified length(s) is/are approximate
Searail / Pulpit:
searail on bulwark
guardrail around upperdeck
Safety:
2x liferaft without certificate
12x fire extinguisher
Additional information:
hydraulic steel crane (1993), 2600 kg @ 7,95 m
deck lights
spare parts
sundeck
steering chair
Survey report of the underwatership is available (09-2018)