Sailing Clipper 24.35 with TRIWV 12 passengers
Sold
Dimensions (m):
24.35 x 4.75 x 1.00
Mooring:
Near Medemblik, Netherlands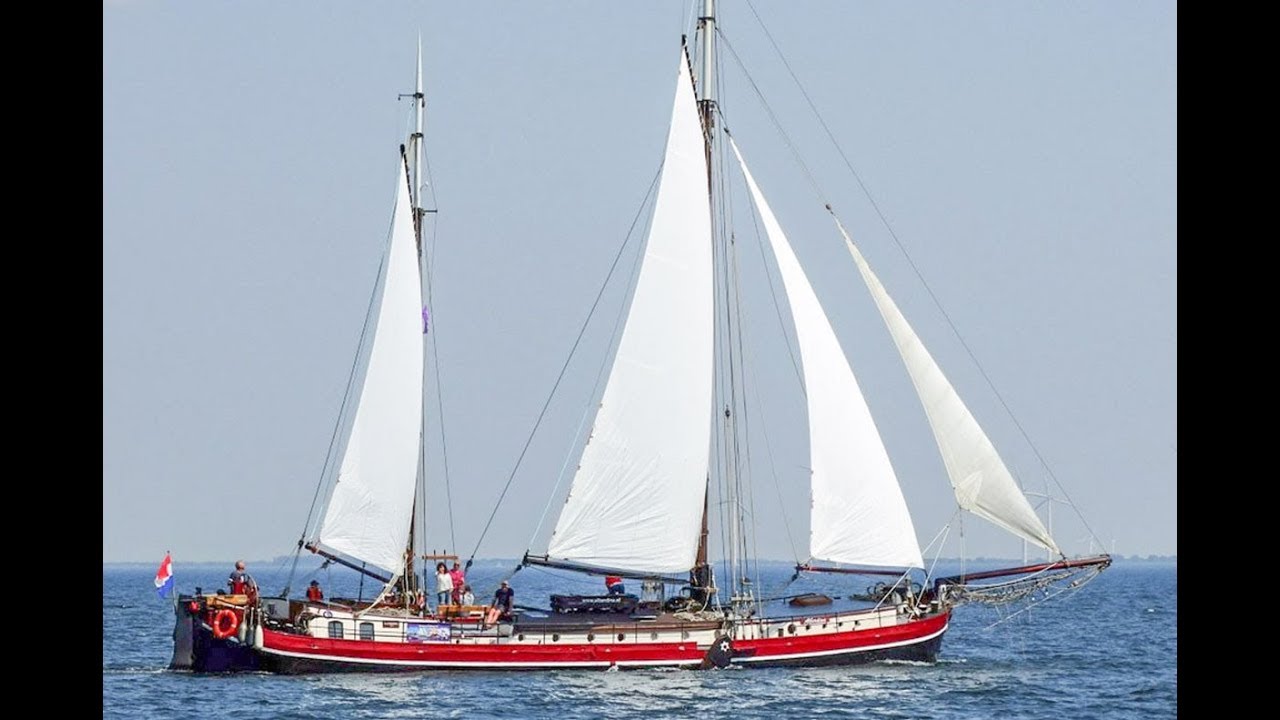 Vision Doeve Brokers
Former inland cargo ship that has been refurbished into a sailing charter ship that has been fitted out and certified for sailing with a maximum of 12 hotel passengers. The interior lay out is spacious. The salon is has ample seating and a generous kitchen. All cabins have a washbasin and central heating. The aft cabin fully furnished as a living and is also permanently inhabited. There is enough seating area on deck for guests. This Dutch Barge is well maintained and ready for new owners who wants to continue sailing cruises, wants to start a bed & breakfast or wants to adjust her for completely private use.
More information
General information
Yard:
Shipyard Wolthuis, NL-Veendam
Superstructure material:
steel
wooden hatches covers over hold
Construction method:
riveted
new steel is welded
bulwark
bollards
wide side decks (gunnels)
1 watertight bulkhead(s)
Steering system:
hydraulic
wheel
attached rudder
steel rudder
Windows:
hardwood window frames
double glazing in aft cabin
bronze portholes
Displacement (approx.):
maximum allowable displacement 76,175 m3
displacement in empty condition 57,106 m3
displacement 19,069 m3
Airdraft (approx.):
17,00 m
Registration:
Dutch registered
B-registered
Costs for the change of ownership and / eventually deletion are for purchasers amount.
Colour / Paint System:
black hull
red bulwark
white superstructure
last underwatership treatment 01-2018
Certificates:
inland waterways certificated (TRIWV / ES-TRIN)
zone 2 Netherlands
zone 3
zone 4
valid until: 01-2023
Suitable for / as:
inland waterways
useful as charter
suitable as a year round live- aboard
General information:
Hand over in consultation.
Additional information:
12 hotel guests
classic lines
beautiful sheer
Underwatership is partly double plated.
Specified beam excludes the leeboards.
Hull shape is suitable for drying out.
Technical information
Overhaul engine:
2017 reconditioned installed
Running hours (approx.):
1100 after overhaul
Fuel tank (approx.):
1x 900 ltr
1x 60 ltr daytank(s)
steel tank(s)
Cooling system:
intercooling
dry exhaust
insulated exhaust
Propulsion:
3 blade propeller
greased lubrication of propeller shaft
Gearbox:
PRM 500 hydraulic (2008)
Heating:
Kabola hybrid Ecoline central heating (2020)
on diesel &
electric
Electricity system:
12 / 24 / 230 Volt
230 Volt shore power connection
Batteries:
2x 145 Ah starter batterie(s)
12x 2 Volt / 768 Amp traction batterie bank
battery monitor
Battery charger:
Victron Quattro combi inverter/charger 24/5000/120 (2019)
Battery isolator:
Mastervolt Alpha-Pro MV 24V
Isolation transformer:
Victron Energy 3600 Watt
Earth-leakage breaker:
present
Alternator:
24 Volt
100 ampère
Inverter:
Victron Quattro combi inverter/charger 24/5000/120 (2019)
Fresh water tank (approx.):
1x 1100 ltr steel tank(s)
cemented tank(s)
Water pressure system:
Speck hydrophore pump
Hot water system:
Vaillant geyser (gas heater) (2017)
Diesel waterseparator:
diesel waterseparator
Bilge pump:
1x electric pump
1x loose pump
Deck wash pump:
1x electric pump
Gas system:
yes, bottle(s) in bottle box
Gas certificate (08-2020)
Additional information:
LED lightning
ZBM50 air compressor (2016)
Accommodation
Interior:
various materials have been used
pine ceiling with laths (classic)
hardwooden floor(s)
well maintained
see photographs
Berth:
Crew cabin(s): 1x 1-pers
2x Guest cabin(s): 2x 1-pers
1x Guest cabin(s): 1x 2-pers
2x Guest cabin(s): 3x 1-pers
owners cabin: 1x 2-pers
Lay-out plan (not to scale):
see attachment
Bathroom:
shower
thermostat tap
guest cabins with wash basin &
cold running water
Toilet / Heads:
3x hand pumptoilet
Cooker:
6-burner hob &
4-burner hob
on gas
stainless steel
Fridge / Refrigerator:
2x 230 Volt
1x bottles cooler
Worktop:
hardwooden worktop
Washbasin:
stainless steel sink
Water tap:
hot & cold running water
Entertainment:
flatscreen TV
stereoset
Headroom (approx.):
forward cabin (approx.) 1,87 m
guest accommodation 1,87 m
midships (approx.) 1,85 m
guest cabin (approx.) 1,78 / 1,86 m
corridor / walkthrough (approx.) 1,88 / 1,81 m
aftcabin (approx.) 1,92 m
Additional information:
The vessel will be delivered as without the private goods like furniture, clothing, artwork and tools.
AEG washing machine
tumble dryer
cutlery and crockery
Rigging and sails
Rigging type:
gaff ketch rigged
Mast:
Hauptmast (2017)
mizzen mast (2018)
2x steel
Jib boom / Bowsprit:
wooden Jib boom (2019)
Leeboards:
Bankirai wooden leeboards
2x electric operated centreboard (2019)
Material of the sails:
Dacron
Sails:
mainsail 78 m2 (2018)
mizzen 43 m2 (2018)
jib 39 m2 (2018)
yankee 23 m2 (2018)
staysail
Additional information:
jibboom
6x pin rail
Equipment
Anchor equipment:
manual anchor winch
4x warping drum
Klipp anchor
in hawse-hole
40 m anchor chain
specified length(s) is/are approximate
Awnings:
over the hold hatches (2017)
Searail / Pulpit:
searail on bulwark (2019)
Safety:
5x fire extinguishers
2x life buoys
Additional information:
3x skylight
cover over skylight
Survey report of the underwatership is available 01-2016