Motortjalk 22.20 with TRIWV
Sold
Dimensions (m):
23.60 x 4.58 x 1.00
Mooring:
Near Utrecht, Netherlands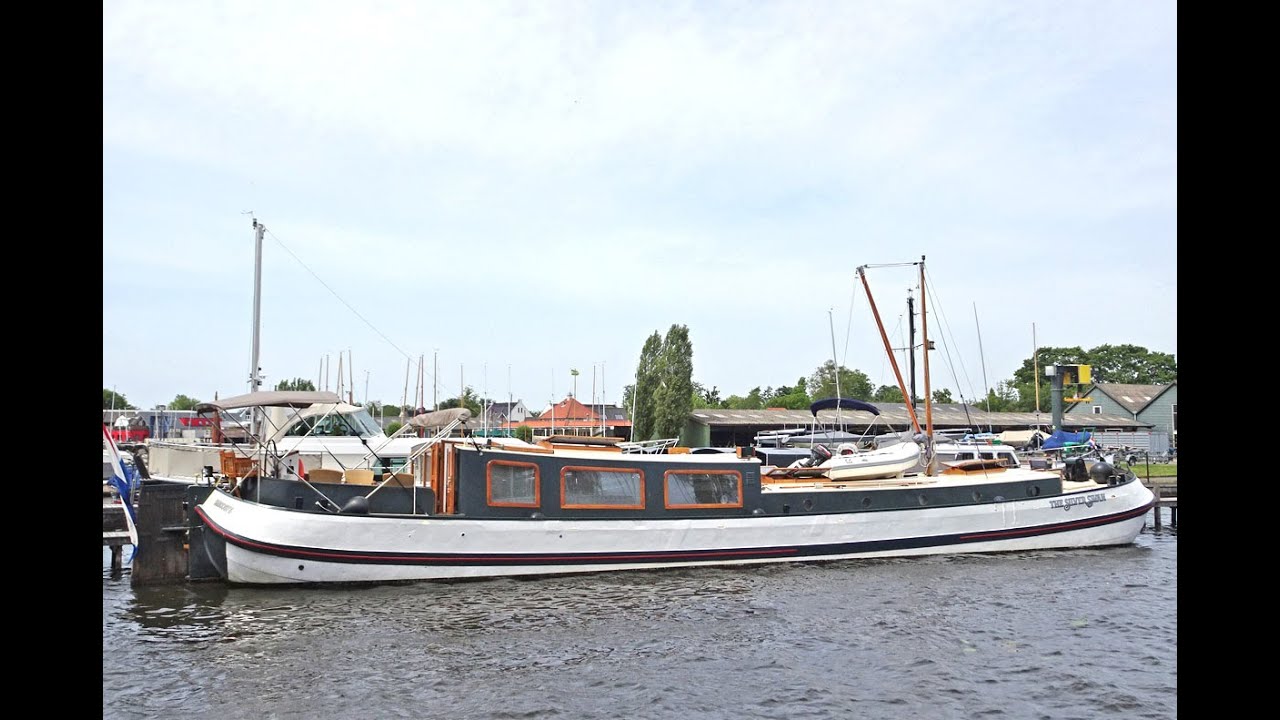 Vision Doeve Brokers
Former inland cargo vessel that has been completely refitted recently and also the outside has been treated very well. The interior is very spacious and has a fresh and modern look. The spacious lounge has new double-glazed windows with further forward the open kitchen with dining table. There are 2 cabins, each with a double bed and a shared bathroom. There are 2 separate toilet rooms. In our view, it is a great Dutch Barge to cruise with because the air draft is only approx. 2.50 meters, but you can also live very good on board. The state of maintenance can simply be called very good because she was fully hydrojetted in 2017 and then put in a 2-component paint system. This Dutch Barge is ready to go.
More information
General information
Yard:
Shipyard J. Smit, NL-Sappemeer
Hull shape:
flatbottom
round bilges
Hull material:
iron/steel
double plated 2003 / 2004
Deck material:
iron/steel
Superstructure material:
steel
Construction method:
riveted
new steel is welded
wide side decks (gunnels)
rubbing strake
bulwark around
open cockpit
self-draining cockpit
saddleback roof
Steering system:
hydraulic
wheel
on steering pedestal
hardwooden rudder
attached rudder
Windows:
mahogany
double glazing
hardwooden door
Displacement (approx.):
60 metric tons
Ballast (approx.):
concrete tiles
laid down on bottom
8 metric tons
Airdraft (approx.):
2,50 m
Registration:
Dutch registered
B-registered
Costs for the change of ownership and / eventually deletion are for purchasers amount.
Colour / Paint System:
white hull
white bulwark
green superstructure
very well maintained
2017 completely stripped down to the bare steel by hydrojetting
two component system
see photographs
Certificates:
inland waterways certificated (TRIWV / ES-TRIN)
zone 2 Netherlands
zone 3
zone 4
Waal, Lek & NL Rhine
valid until: 09-2024
Suitable for / as:
inland waterways
suitable for bigger waterways
suitable as a year round live- aboard
recreational vessel
General information:
good sailing characteristics
Additional information:
various rust sensitive places are made from stainless steel
Underwatership is almost fully double plated.
Hull shape is suitable for drying out.
spacious aftdeck
straight hull
forepeak with chain locker
Great vessel for cruising on the European canals and rivers.
Great vessel for cruising on the French canals and rivers.
Technical information
Construction year engine:
1963
Running hours (approx.):
unknown
Fuel tank (approx.):
2000 litre
2 steel tank(s)
waterbag(s)
Cooling system:
closed
cooling pipes
wet exhaust
Propulsion:
3 blade propeller
greased lubrication of propeller shaft
Gearbox:
Velvet hydraulic
reduction/ratio 2,10:1
2021 reconditioned
Speed (approx.):
12 km/hour cruising speed at 2200 RPM
Heating:
Baxi Gavina central heating
combi boiler
on diesel
Bow thruster:
Nobels electric bow thruster
24 Volt
Electricity system:
24 / 230 Volt
230 Volt shore power connection
professionally installed system
with automatic changeover
Victron Digital MultiControl
Batteries:
2x 180 Ah starter batterie(s)
1x 44 Ah starter batterie(s) generator
4x 200 Ah bow thruster batterie(s)
traction batterie bank 12x 2 Volt
Victron battery monitor
Battery charger:
1x Victron Skylla-TG battery charger 24/50
1x 12 Volt float battery charger
Victron MultiPlus combi inverter/charger 24/3000/70
Battery isolator:
Victron VDI .6 battery isolator
Earth-leakage breaker:
present
Genny:
Fischer Panda whisper set
10 kVA 230 Volt
wet exhaust with water separator
Inverter:
Victron MultiPlus combi inverter/charger 24/3000/70
Victron Orion-TR inverter 24-12 Volt
Fresh water tank (approx.):
2500 litre
2 plastic tank(s)
Water pressure system:
hydrophore pump
Hot water system:
through the central heating
Holding tank (approx.):
1 stainless steel tank(s)
Diesel waterseparator:
present
Engineroom:
see photographs
Gas system:
no gas on board
Additional information:
LED lightning
Accommodation
Interior:
2018 completely renovated
Plywood
painted white
oak floor(s)
ceiling with laths (classic)
see photographs
very well maintained
Insulation:
glass wool
Rockwool
Berth:
owners cabin: 1x 2-pers
Guest cabin(s): 1x 2-pers
Sofa bed: 1x 2-pers
Lay-out plan (not to scale):
see attachment
Bathroom:
shower cubicle
thermostat tap
washbasin with mixer tap and hot & cold running water
partly tiled
Toilet / Heads:
owners cabin
electric toilet
washbasin
mixer tap with hot & cold running water
& day toilet
electric toilet
washbasin
cold running water
Cooker:
4-burner hob
induction cooker
cookerhood
stainless steel
Oven:
electric oven
& grill
Fridge / Refrigerator:
2x Liebherr fridge / refrigerator
230 Volt
Freezer:
2x small ice compartment
1x 230 Volt freezer
Water tap:
mixer tap with hot & cold running water
Dishwasher:
Bosch dishwasher
Entertainment:
1 flatscreen TV
Headroom (approx.):
salon (approx.) 2,15 / 1,92 m
galley (approx.) 1,86 m
corridor / walkthrough (approx.) 1,82 / 1,88 m
guest cabin (approx.) 1,88 m
toilet (approx.) 1,91 m
bathroom (approx.) 1,96 m
ownerscabin (approx.) 1,96 m
toilet in the front (approx.) 1,91 m
Additional information:
AEG washing machine
AEG tumble dryer
Equipment
Anchor equipment:
manual anchor winch
kedge anchor
anchor line
& anchor chain
warping drum
Awnings:
sunblinds for windows
Bimini:
bimini top above cockpit
Boarding ladder:
present
aluminium
Davits:
with boom
electric
Safety:
life jackets
life buoys
fire extinguishers
according to the certification requirements
Additional information:
3x hard wooden skylight
covers over skylights
set deck furniture
Survey report of the underwatership is available (10-2017)
steering chair
sundeck