Vollenhovense Bol 9.50
reduced in price
Dimensions (m):
9.50 x 3.30 x 0.60
Mooring:
Near Leiden, Netherlands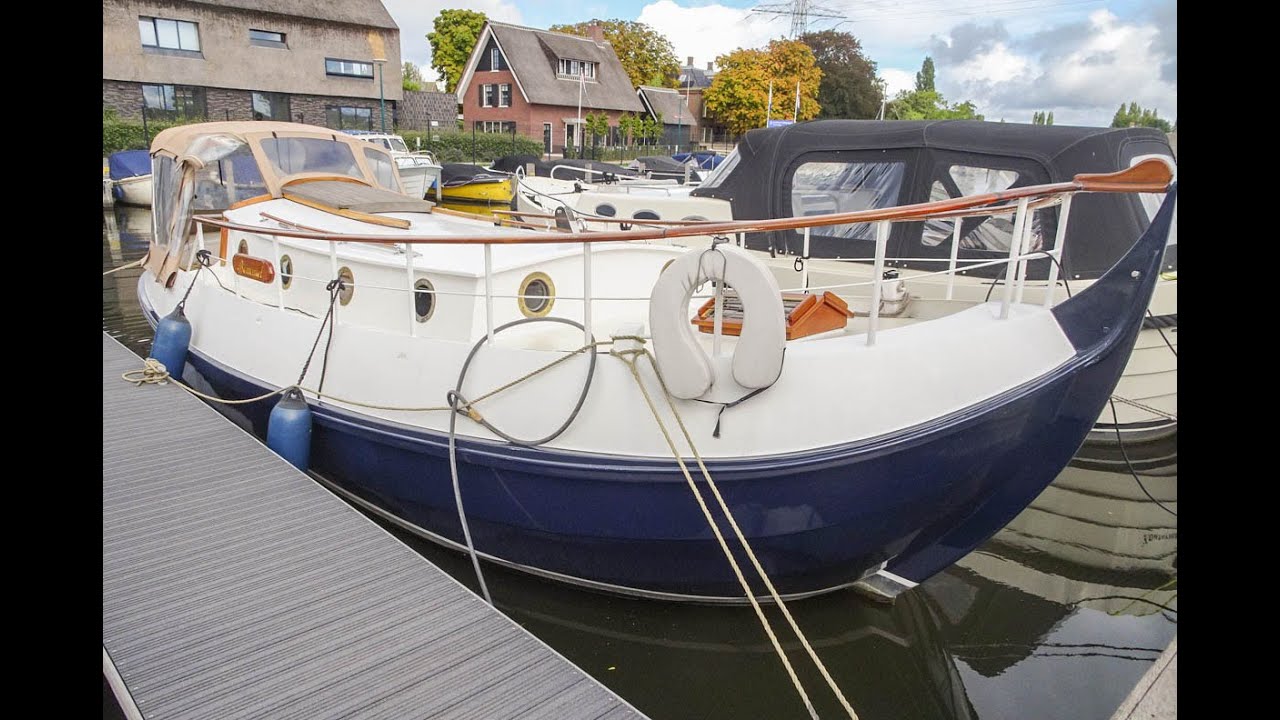 Vision Doeve Brokers
Former sailing yacht that was converted into a motor yacht at the time. In 2012 she was modernized and fitted with a new engine. In the front there is a spacious 2-persons bed of approximately 2.30 x 1.48 meters. The layout has been kept tight with a surprising amount of storage space, but the ship's character has been preserved. The hydraulic steering system and bow thruster make it an easy to manoeuvre vessel and with her depth of approximately 60 cm and an air draft of approximately 2.20 m, has she a very large sailing area. She is a well-maintained vessel that will give you a lot of pleasure.
More information
General information
Yard:
Yard Kooijman & de Vries, NL-Deil
Rebuilt year:
interior 2012
Superstructure material:
steel
Construction method:
forecabin
bulwark
open cockpit
teak capping
saddleback roof
bollards
Steering system:
hydraulic
wheel
attached rudder
hardwooden rudder
Windows:
bronze portholes
Displacement (approx.):
6 metric tons
Airdraft (approx.):
2,20 m everything down
Colour / Paint System:
blue hull
white bulwark
white superstructure
06-2022 last underwatership treatment
very well maintained
Suitable for / as:
inland waterways
recreational vessel
Additional information:
Given construction year is an estimate.
motor yacht
beautiful sheer
Hull shape is suitable for drying out.
Great vessel for cruising on the European canals and rivers.
Great vessel for cruising on the French canals and rivers.
Technical information
Construction year engine:
2012 installed
Running hours (approx.):
800 on the hour counter
Fuel tank (approx.):
1x 100 litre
steel tank(s)
Cooling system:
intercooling
wet exhaust
Propulsion:
3 blade propeller
water lubricated propeller shaft
Gearbox:
Hurth ZF 10 M mechanical
reduction/ratio 2,05:1
Heating:
Webasto hot air heating
on diesel
Bow thruster:
Vetus electric bow thruster
12 Volt
60 KGF
Electricity system:
12 / 230 Volt
230 Volt shore power connection
Batteries:
1x 75 Ah starter batterie(s)
1x 230 Ah domestic batterie(s)
1x starter batterie(s) bow thruster
battery monitor
Battery charger:
Victron Multiplus combi inverter/charger 12/1600/70
Battery isolator:
present
Earth-leakage breaker:
present
Inverter:
Victron Multiplus combi inverter/charger 12/1600/70
Fresh water tank (approx.):
1x 150 litre
stainless steel tank(s)
Water pressure system:
electric water pump
Diesel waterseparator:
present
Bilge pump:
present
electric pump
12 Volt
Gas system:
present
yes, bottle(s) in bottle box
ventilated
Additional information:
LED lightning
Accommodation
Interior:
teak interior
Plywood
Insulation:
Rockwool with aluminium foil
Berth:
Forward: 1x 2-pers
Salon: 1x 1-pers
Lay-out plan (not to scale):
see attachment
Toilet / Heads:
hand pumptoilet
Cooker:
2-burner hob
on gas
stainless steel
Fridge / Refrigerator:
Waeco 12/230 Volt
Worktop:
laminate worktop
Washbasin:
stainless steel sink
Water tap:
cold running water
Entertainment:
flatscreen TV
radio/CD player
Headroom (approx.):
galley (approx.) 1,84 m
toilet (approx.) 1,80 m
salon (approx.) 1,85 m
Additional information:
very well maintained
see photographs
Rigging and sails
Mast:
lantern mast
hard wood
Equipment
Anchor equipment:
2x anchor with rope
Cockpit tent:
cockpit tent
Searail / Pulpit:
guardrail around foredeck
guardrail around side-walks
with teak on top of guardrail
grab rail
Safety:
2x fire extinguishers
fire blanket
life buoy
Additional information:
teak wooden skylight
cover over skylight