Tugboat Antonie II with TRIWV
Sold
Dimensions (m):
18.75 x 4.72 x 1.65/2.00
Mooring:
Near Drimmelen, Netherlands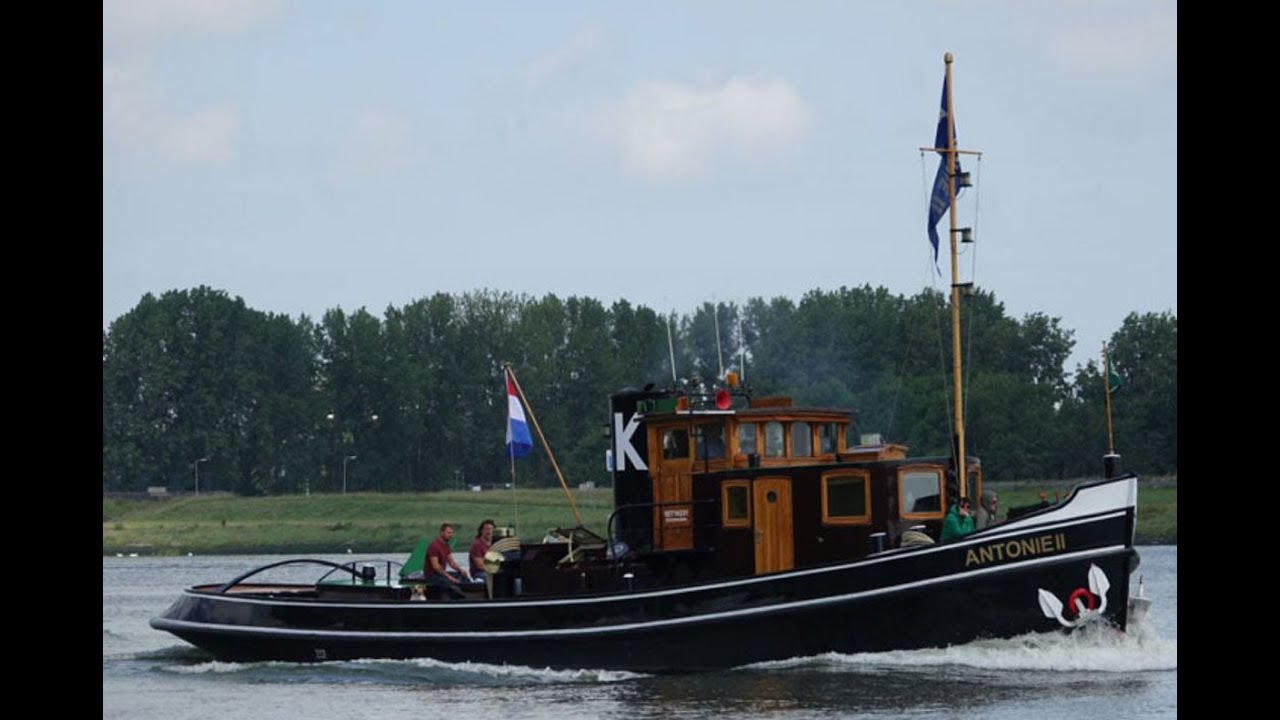 Vision Doeve Brokers
Beautifully built and well-maintained motor tugboat that after being built for the well-known Dutch tugcompany A.Kooren & Zn., has been owned by, among others things, the Amsterdamsche Droogdok Maatschappij, the German Kriegsmarine, the Dutch Royal Navy (A 848 / Y8027), Dutch waterways authorities (Rijkswaterstaat) and subsequently by a number of other owners. The boat is equipped with an overhauled beautiful Brons 3 cylinder diesel. The engine room is very neat, just like the rest of the boat. The wheelhouse has a copper roof covering. The interior is classic with many authentic details, but is fully equipped. In our view, an excellent opportunity to acquire a boat like this, that is certified as a recreational craft.
More information
General information
Yard:
Shipyard G. Bijlsma Jzn, NL-Wartena
Superstructure material:
steel
hardwooden top of the wheelhouse
Construction method:
riveted
new steel is welded
rubbing strake around
bulwark around
forward deckhouse
forecastle
deckhouse
wide side decks (gunnels)
4 watertight bulkhead(s)
Steering system:
hydraulic
wheel
Windows:
hardwood window frames
double glazing
& single glass
Ballast (approx.):
present
lead
Airdraft (approx.):
4,20 m everything down
Colour / Paint System:
black hull
black bulwark
brown superstructure
see photographs
very well maintained
last underwatership treatment 08-2022
Certificates:
inland waterways certificated (TRIWV / ES-TRIN)
zone 2 Netherlands
zone 3
zone 4
Waal, Lek & NL Rhine
valid until: 03-2030
Suitable for / as:
inland waterways
recreational vessel
suitable as a year round live- aboard
General information:
offered in the condition that she is in
The ship is recognized as a Historic Vessel
Additional information:
tug bitts
towing hook
classic motor yacht
classic lines
beautiful sheer
spacious aftdeck
forepeak with chain locker
Technical information
Enginepower:
150 Hp
110 kW
Engine model:
TC3 air started
Construction year engine:
1938
Overhaul engine:
2005/2006
Running hours (approx.):
unknown
Fuel tank (approx.):
1x 900 litre
1x 600 litre
1x 500 litre
1x 50 litre
steel tank(s)
Cooling system:
closed
keel cooling
Propulsion:
4 blade propeller
greasing device
Gearbox:
mechanical
reduction/ratio 1:1
Heating:
Kabola B25 central heating
on diesel
Bow thruster:
Duco electric bow thruster (2018)
13,5 kW
Electricity system:
24 / 230 / 400 Volt
230 Volt shore power connection
Batteries:
1x traction batterie bank 12x 2 Volt
Battery charger:
Victron Phoenix Multi combi inverter/charger 24/3000/70
Victron Phoenix Multiplus combi inverter/charger 24/3000/70
Genny:
BW Generatortechniek whisper set
13.5 kVA 230/400 Volt
1500 RPM
550 running hours (approx.)
box cooler
Inverter:
Victron Phoenix Multi combi inverter/charger 24/3000/70
Victron Phoenix Multiplus combi inverter/charger 24/3000/70
Fresh water tank (approx.):
1x 1200 ltr steel tank(s)
1x 1000 ltr not in use
steel tank(s)
Water pressure system:
Speck hydrophore pump
Hot water system:
boiler/water calorifier (230 Volt)
30 litre
Holding tank (approx.):
120 litre
plastic tank(s)
350 litre gray water tank(s)
Engineroom:
well maintained
see photographs
Bilge pump:
electric pump
& manual pump
with manifold
also deckwash pump
& submersible pump
Gas system:
yes, bottle(s) in bottle box
Gas certificate
Additional information:
2x air compressor
3x air bottle
200 liter lubrication oil tank (approx.)
Accommodation
Interior:
various materials have been used
see photographs
suitable for living on board
Insulation:
presumably insulated
Berth:
Portside cabin: 1x 2-pers
Starboard cabin: 1x 2-pers & 1x 1-pers
Lay-out plan (not to scale):
see attachment
Bathroom:
washbasin
cold running water
shower
hot & cold running water
Toilet / Heads:
electric toilet
Cooker:
3-burner hob
on gas
stainless steel
Worktop:
hardwooden worktop
Washbasin:
stainless steel sink
Water tap:
hot & cold running water
Headroom (approx.):
wheelhouse (approx.) 1,88 m
salon (approx.) 1,73 m
foc's hole (approx.) 1,81 m
toilet (approx.) 1,76 m
bathroom (approx.) 1,79 / 1,92 m
cabins (approx.) 1,73 m
aftcabin (approx.) 2,02 m
Rigging and sails
Mast:
lantern mast
wooden mast
& apparatus wing
Equipment
Anchor equipment:
Ridderinkhof electric anchor winch
1x Klipp anchor
1x Spek anchor
2x anchor chain
in hawse-hole
2x warping drum
Safety:
fire extinguishers
life buoys
life jackets
according to the certification requirements
Additional information:
Survey report of the underwatership is available
hard wooden skylight
cover over skylight