Dimensions (m):
18.60 x 3.62 x 1.10
Mooring:
Near Roanne, France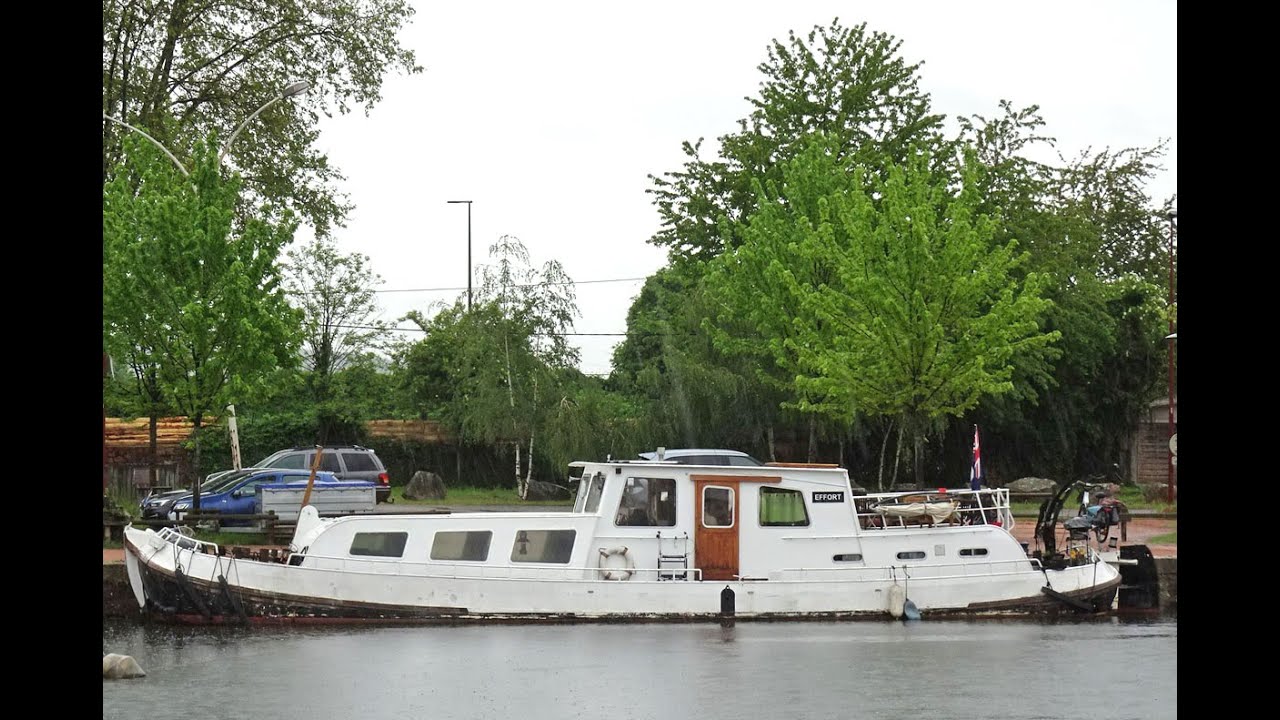 Vision Doeve Brokers
Former inland cargo ship, type Skutsje, which is very suitable for both navigating the European inland waterways or a permanent liveaboard. She is completely self-supporting, thanks to, among other things, a whisper generator and the solar panels. With an unique custom-made kitchen in the wheelhouse, an owner's cabin, a guest cabin and a bathroom, it is a comfortable Dutch Barge. The maintenance is unfortunately, due to personal circumstances and the Covid years, somewhat overdue. We are looking for an interested person who wants to bring this beautiful Dutch Barge back into top condition. She is ready to be sailed away today. So, if you're looking for an adventure on European waters and don't mind a bit of maintenance work, this Skutsje is exactly what you're looking for! In our view, she is also suitable for living on board.
More information
General information
Yard:
Shipyard Barkmeijer, NL-Noordhorn
Yard rebuilt:
Willem de Vries, NL-Groningen
Deck material:
steel
teak in cockpit
Superstructure material:
steel
Construction method:
riveted
new steel is welded
rubbing strake around
bulwark around
open cockpit
self-draining cockpit
closed bollard cabinets
Steering system:
hydraulic
wheel
attached rudder
steel rudder
Windows:
aluminium windows frames
aluminium portholes
hardwood outside doors
Displacement (approx.):
30 metric tons
Airdraft (approx.):
2,80 m
Registration:
Dutch registered
B-registered
Costs for the change of ownership and / eventually deletion are for purchasers amount.
Colour / Paint System:
black hull
white bulwark
white superstructure
last underwatership treatment 09-2016
overdue maintenance
see photographs
Certificates:
no certificate requirement
Suitable for / as:
suitable as a year round live- aboard
& recreational vessel
inland waterways
General information:
For sale because of the age of the seller.
For sale due to health issues.
Additional information:
Underwatership is almost fully double plated.
motor cruiser GSAK
motor yacht
Hull shape is suitable for drying out.
spacious aftdeck
straight hull
Great vessel for cruising on the European canals and rivers.
Great vessel for cruising on the French canals and rivers.
Technical information
Enginepower:
160 Hp
117 kW
Construction year engine:
1970
Running hours (approx.):
unknown
Fuel tank (approx.):
1300 litre
2 steel tank(s)
Cooling system:
closed
keel cooling
wet exhaust
Propulsion:
3 blade propeller
greased lubrication of propeller shaft
Gearbox:
Velvet hydraulic
Heating:
Kabola B15 central heating
on diesel
Bow thruster:
Duco electric bow thruster
24 Volt
Electricity system:
12 / 24 / 230 Volt
230 Volt shore power connection
Victron Digital Multicontrol mainmaster control
Batteries:
2x 225 Ah domestic batterie(s)
2x 180 Ah starter batterie(s)
77 Ah starter batterie(s) generator
Battery charger:
Victron MultiPlus Compact combi inverter/charger 24/1600/40
Isolation transformer:
Victron isolation transformer
Earth-leakage breaker:
present
Genny:
Jelmer Valk whisper set (2014)
5 kVA 1500 RPM
230 Volt
1050 running hours (approx.)
Alternator:
1x 12 Volt
1x 24 Volt
Inverter:
Victron MultiPlus Compact combi inverter/charger 24/1600/40
Solar panels:
2x 100 wp solar panel
Fresh water tank (approx.):
1300 litre
2 steel tank(s)
Water pressure system:
hydrophore pump
Hot water system:
boiler/water calorifier via 230 Volt and engine cooling system
Holding tank (approx.):
100 litre
1 plastic tank(s)
Diesel waterseparator:
2x diesel waterseparator
Bilge pump:
3x electric pump
Deck wash pump:
submersible pump
Gas system:
no gas on board
Additional information:
LED lightning
Accommodation
Interior:
various materials have been used
see photographs
Insulation:
well insulated
Berth:
Forward: 1x 2-pers
Aft: 1x 2-pers
Lay-out plan (not to scale):
see attachment
Bathroom:
shower
mixer tap with hot & cold running water
washbasin with mixer tap and hot & cold running water
in 1 area together with the toilet
Toilet / Heads:
electric toilet
Cooker:
2-burner hob
induction cooker
Fridge / Refrigerator:
present
230 Volt
Worktop:
hardwooden worktop
Washbasin:
stainless steel sink
Water tap:
mixer tap with hot & cold running water
Headroom (approx.):
forward cabin (approx.) 2,12 m
salon (approx.) 1,83 m
wheelhouse (approx.) 2,06 m
corridor / walkthrough (approx.) 1,93 m
bathroom / toilet (approx.) 1,94 m
aft cabin (approx.) 1,87 m
Additional information:
inventory
cutlery and crockery
glassware
cookware
Bosch washing machine / dryer
Rigging and sails
Mast:
lantern mast
hard wood
Equipment
Anchor equipment:
manual anchor winch
Pool anchor
anchor chain
Aft:
manual anchor winch
Spek anchor
anchor chain
Searail / Pulpit:
guardrail around upperdeck
guardrail around
grab rail
Safety:
2 life buoys
3 fire extinguishers
2 inflatable life jackets
4 life jackets
Additional information:
Weber BBQ
set deck furniture
bicycle rack