Day passenger ship 200 pax
reduced in price
Dimensions (m):
26.20 x 5.50 x 0.86
Mooring:
Near Zwolle, Netherlands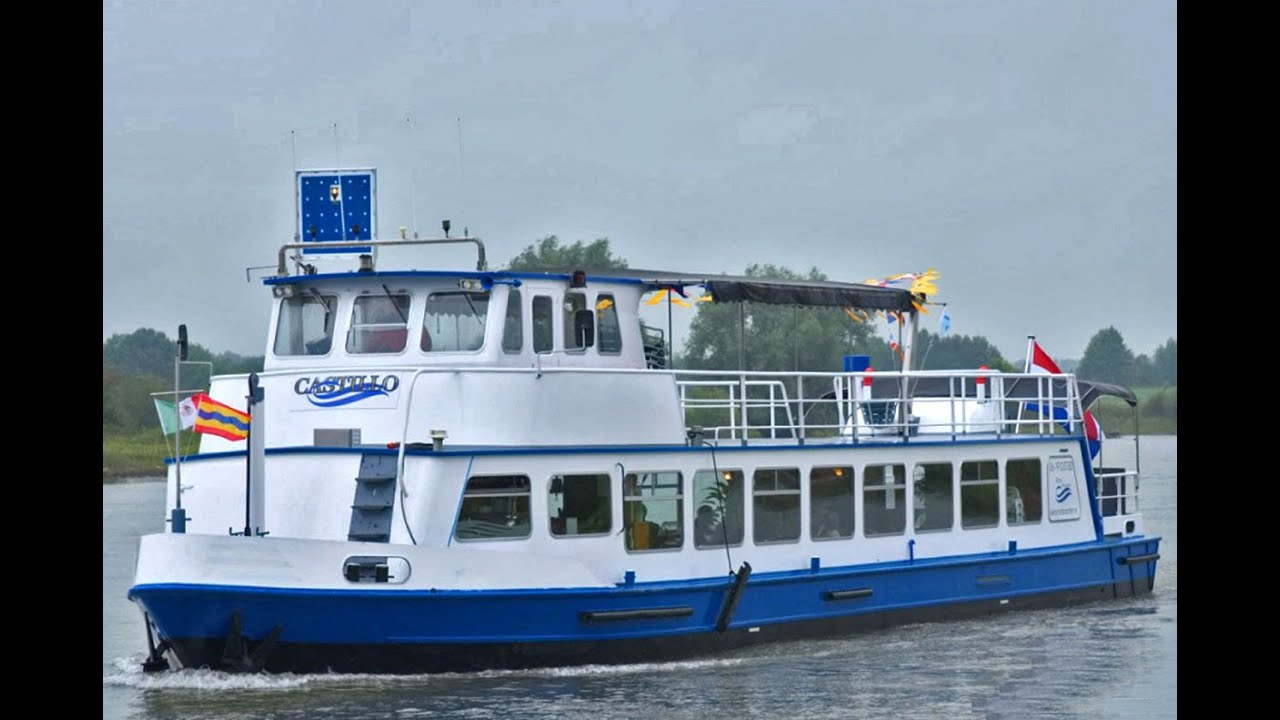 Vision Doeve Brokers
Day passenger vessel / tourist boat which is in a good state of maintenance. Inside she is furnished with 13 tables each with 6 chairs and she has a covered upper deck that is equipped with deck furniture, making the vessel very multifunctional to use. The ship is also suitable for less abled people because there is a lift from the aft deck to the salon and also to the upper deck. The floor in the salon is made of bamboo and is very practical. Further she will be delivered with all available inventory except the beer tap and the beer coolers as they are on lease-lend. In recent years, the owner has invested a lot in the technology on board, making her a reliable vessel that can be deployed immediately.
More information
General information
Yard:
Shipyard J. de Jong, NL-Sneek
Superstructure material:
steel
Construction method:
rubbing strake around
transom stern
2 watertight bulkhead(s)
rubber rubbing strake
Steering system:
hydraulic
power steering
Van der Velden system
2x steel rudder
Windows:
aluminium windows frames
teak wooden outside doors
single glass
Displacement (approx.):
maximum allowable displacement 97,528 m3
displacement in empty condition 71,403 m3
displacement 26,125 m3
Ballast (approx.):
sand bags
Airdraft (approx.):
5,05 m
Registration:
Dutch registered
B-registered
Costs for the change of ownership and / eventually deletion are for purchasers amount.
Colour / Paint System:
blue hull
white superstructure
last underwatership treatment 11-2021
very well maintained
see photographs
Certificates:
inland waterways certificated (TRIWV / ES-TRIN)
zone 2 Netherlands
zone 3
zone 4
Waal, Lek & NL Rhine
valid until: 11-2026
Suitable for / as:
inland shipping
passengers vessel
pancake restaurant
restaurant
General information:
Hand over in consultation.
good sailing characteristics
Sellers are possibly willing to part finance.
Additional information:
various rust sensitive places are made from stainless steel
200 day guests
Great vessel for cruising on the European canals and rivers.
Technical information
Enginepower:
178 Hp
131 kW
Construction year engine:
1985
Running hours (approx.):
27000
Fuel tank (approx.):
1x 1500 litre
steel tank(s)
BOBS overflowing fuel safety system
Cooling system:
closed
cooling pipes
dry exhaust
insulated exhaust
Propulsion:
4 blade propeller
greased lubrication of propeller shaft
greasing device
Gearbox:
Masson RCD60 hydraulic
reduction/ratio 2,923:1
Speed (approx.):
12 km/hour cruising speed at 1600 RPM
14 km/hour top speed
Heating:
Eberspächer central heating
convectors
on diesel
Bow thruster:
hydraulic bow thruster
50 Hp
proportional
Electricity system:
12 / 24 / 230 / 400 Volt
professionally installed system
230/400 Volt
2022 largely replaced (MarTronics Maritieme Elektro, NL-Meppel)
Batteries:
2x 230 Ah starter batterie(s) (2023)
1x 95 Ah starter batterie(s) generator (2022)
1x 64 Ah starter batterie(s) generator (2023)
Battery charger:
Mastervolt Mass battery charger 24/50
Earth-leakage breaker:
present
Genny:
Hatz whisper diesel
17,5 kVA 230/400 Volt, 1500 RPM
26500 running hours (approx.)
Lister whisper set
18 kVA 230/400 Volt, 1500 RPM
6700 running hours (approx.)
Fresh water tank (approx.):
1x 1500 litre
stainless steel tank(s)
Water pressure system:
hydrophore pump
Hot water system:
Close in boiler/water calorifier (230 Volt)
Holding tank (approx.):
not present, enough space to build-in
Engineroom:
see photographs
Bilge pump:
present
with manifold
also deckwash pump
& submersible pump
Gas system:
no gas on board
Additional information:
main engine with PTO for the hydraulic
Accommodation
Interior:
Plywood
Formica with print interior
see photographs
Toilet / Heads:
men's room:
1x toilet
washbasin
cold running water
tiled toilet
lady's room:
1x toilet
washbasin
cold running water
tiled toilet
Cooker:
2-burner hob
induction cooker
cookerhood
stainless steel
Fridge / Refrigerator:
5x fridge / refrigerator
1x combination with freezer
2x bottles cooler
2x wine cooler
Freezer:
1x ice compartment
1x freezer
Worktop:
stainless steel worktop
& laminate worktop
Washbasin:
2x stainless steel sink
Water tap:
mixer tap with hot & cold running water
Entertainment:
stereoset
inside and outside speakers
Headroom (approx.):
wheelhouse (approx.) 1,99 m
galley (approx.) 2,04 m
salon (approx.) 2,04 m
toilet (approx.) 2,05 m
Additional information:
inventory
coffee machine
coffee percolator
POS system
400 Volt crêpe maker
inventory
Rigging and sails
Mast:
apparatus wing
stainless steel
Equipment
Anchor equipment:
manual anchor winch
2x Pool anchor
2x 40 m anchor chain
in hawse-hole
specified length(s) is/are approximate
1x spudleg / pole (electric)
1,80 m under the bottom
1x spudleg / pole (electric)
2,20 m under the bottom (werking onbekend / operation unknown / Funktionieren unbekannt / opération inconnue)
Outdoor cushions:
present
Bimini:
sun awning
& 50% bimini top above aftdeck (niet / not / nicht / ne pas 100%)
Searail / Pulpit:
guardrail around upperdeck
guardrail around aftdeck
Safety:
fire alarm system
life buoys
life jackets
2x inflatable life jackets
fire extinguishers
according to the certification requirements
Additional information:
deck lights
set deck furniture
Survey report of the underwatership is available (11-2021)
aluminium gangway