Dimensions (m):
29.00/24.95 x 5.76 x 2.20
Mooring:
Near Zwolle, Netherlands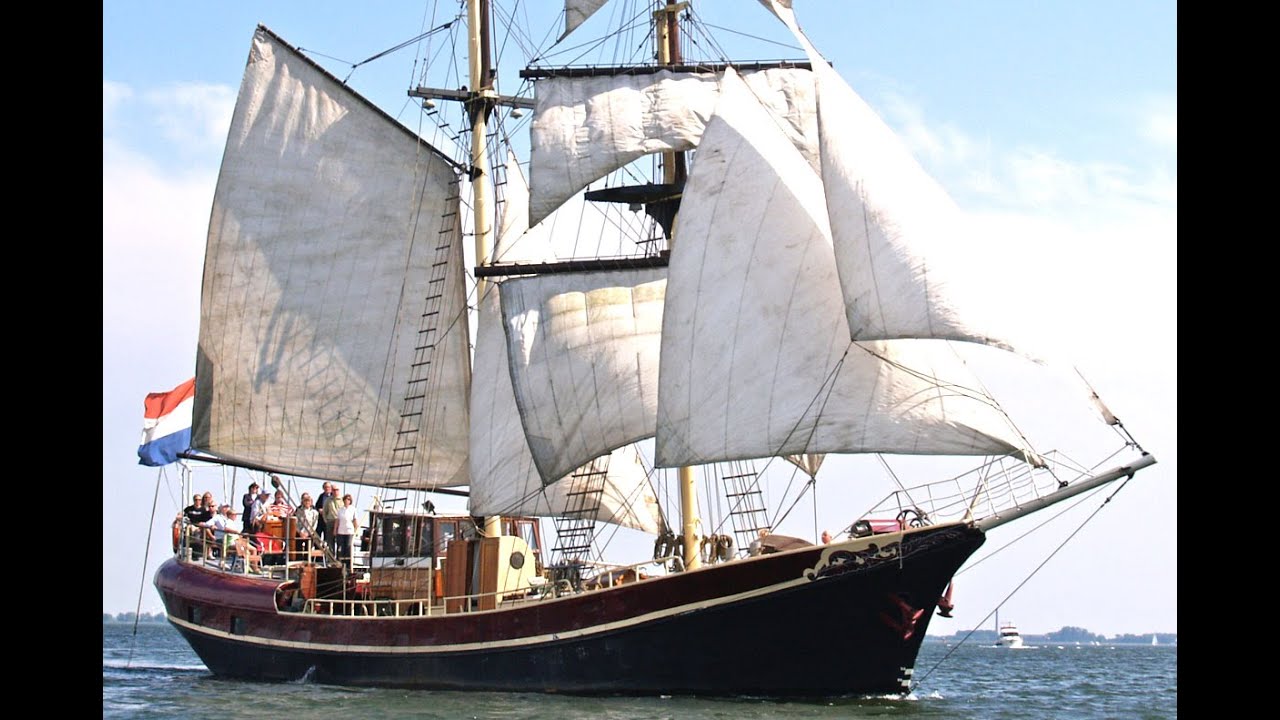 Vision Doeve Brokers
Sailing charter ship for the inland waterways that can be used immediately for sailing with day passengers and is excellent for parties on board. There is a bar in the wheelhouse, in the salon (in the old hold) is sufficient seating and the main bar, and the toilet group is situated over there as well with the galley further forward. There is a spacious aft cabin that can function as the residence for the owner or can be used by guests as a lounge area. The seller provided the vessel with new sails in 2022 and fully recertified the vessel in May 2023, making the Dutch ES-TRIN certificate valid until 06-2028. With the impressive sail plan, this ship is a pearl on the water that makes many people look back. In our eyes an excellent passenger ship where someone can possibly live on board and use her for chartering.
More information
General information
Yard:
Shipyard De Dageraad, NL-Woubrugge
Superstructure material:
steel
wooden wheelhouse
Construction method:
riveted
new steel is welded
bulwark
rubbing strake around
wide side decks (gunnels)
closed bollard cabinets
2 watertight bulkhead(s)
1 watertight bulkhead(s) with watertight door(s)
Steering system:
hydraulic
wheel
& electric steering
inside and outside steering position
Windows:
brass window frames
brass portholes
Displacement (approx.):
maximum allowable displacement 165,304 m³
displacement in empty condition 145,846 m³
displacement 19,458 m³
Ballast (approx.):
poured concrete
Airdraft (approx.):
20,00 m
Registration:
Dutch registered
B-registered
Costs for the change of ownership and / eventually deletion are for purchasers amount.
Colour / Paint System:
black hull
bordeaux red bulwark
bordeaux red superstructure
well maintained
see photographs
last underwatership treatment 05-2023
Certificates:
inland waterways certificated (TRIWV / ES-TRIN)
zone 2, 3 & 4 NL
Waal, Lek & NL Rhine
valid until: 06-2028
Suitable for / as:
passengers vessel
suitable as a year round live- aboard
inland waterways
General information:
offered in the condition that she is in
Sellers are possibly willing to part finance.
Additional information:
classic lines
spacious aftdeck
wheelhouse
forepeak with chain locker
The relevant VAT will be due on the asking price if the vessel is purchased by a consumer or by a Dutch company (provided it concerns a Dutch seller). Sale at 0% VAT to a is eventually possible if the buyer meets the applicable VAT guidelines.
Technical information
Enginepower:
164 Hp
121 kW
Engine model:
AM428 air started
Running hours (approx.):
unknown
Fuel tank (approx.):
1x 1500 litre
steel tank(s)
1x 500 litre
steel tank(s)
waterbag(s)
Cooling system:
intercooling
dry exhaust
insulated exhaust
Propulsion:
3 blade propeller
greased lubrication of propeller shaft
Gearbox:
Reintjes hydraulic
Speed (approx.):
6 knots cruising speed at 350 RPM
Heating:
Fer central heating
on diesel
Bow thruster:
DUCO electric bow thruster
400 Volt
40 Hp
proportional
Electricity system:
12 / 24 / 230 / 400 Volt
230 Volt shore power connection
Batteries:
2x navigation batterie(s)
2x starter batterie(s) generator
Victron BMV-501 battery monitor
Battery charger:
Victron Phoenix battery charger 24/25
Earth-leakage breaker:
present
Genny:
Jelmer Valk whisper set
35 kVA 230/400 Volt
1500 RPM
Solar panels:
2x solar panel
Fresh water tank (approx.):
1x 1500 litre
steel tank(s)
cemented tank(s)
Water pressure system:
Speck hydrophore pump
Hot water system:
boiler/water calorifier (230 Volt)
Holding tank (approx.):
1x 400 litre
steel tank(s)
Engineroom:
see photographs
Bilge pump:
general service pump
230 Volt
with manifold
also deckwash pump
Gas system:
no gas on board
Additional information:
400 Volt air compressor
2x air bottle
Accommodation
Interior:
oak
& various materials have been used
see photographs
Insulation:
glass wool
& Rockwool
Lay-out plan (not to scale):
see attachment
Bathroom:
bath with shower
hot & cold running water
washbasin with hot & cold running water
Toilet / Heads:
lady's room:
flush toilet
washbasin
cold running water
men's room:
flush toilet
washbasin
cold running water
2x tiled toilet
Cooker:
4-burner hob
electric cooker
Oven:
Rational CM6 combi steamer oven
Fridge / Refrigerator:
1x combi bottles cooler & bier /beer /bière
1x bottles cooler
1x beer fridge
1x fridge / refrigerator
Worktop:
stainless steel worktop
Washbasin:
5x stainless steel sink
Water tap:
3x hot & cold running water
2x cold running water
Headroom (approx.):
wheelhouse (approx.) 2,06 m
aft (approx.) 1,95 m
corridor / walkthrough (approx.) 1,83 m
bathroom (approx.) 1,83 / 2,12 m
cabin (approx) 2,62 m
salon (approx.) 2,68 m
toilet (approx.) 2,45 m
bar (approx.) 2,67 m
galley (approx.) 2,07 m
Additional information:
2x beer tap
Full charter inventory is present.
2x coffee machine
Rigging and sails
Rigging type:
brigantine (schooner brig) rigged
Jib boom / Bowsprit:
steel bowsprit
Material of the sails:
Dacron
Sails:
inner yankee (UBS Sails)
outer yankee (UBS Sails)
jib (UBS Sails)
square sail (UBS Sails)
marssail (UBS Sails)
staysail (UBS Sails)
mainsail (UBS Sails)
in 2022 werden deze zeilen voor het eerst gebruikt
in 2022 these sails were used for the first time
im Jahr 2022 wurden diese Segel erstmals eingesetzt
en 2022, ces voiles ont été utilisées pour la première fois
Additional information:
2 steel topmast(s) (2017)
1 sail cover
bobstay
pin rail
Equipment
Anchor equipment:
manual anchor winch
2x Spek anchor
2x anchor chain
in hawse-hole
warping drum
Bimini:
bimini top above aftdeck
Boarding ladder:
aluminium
Searail / Pulpit:
searail on bulwark
guardrail around aftdeck
Safety:
life buoys
life jackets
rescue cushion(s)
fire extinguishers
fire alarm system
fire blanket
Automated External Defibrillator (AED)
according to the certification requirements
Additional information:
aluminium gangway
Survey report of the underwatership is available (05-2023)