Charter ship Three-masted topsail schooner
Dimensions (m):
47.00/37.15 x 5.85 x 2.30/2.56
Mooring:
Near Kiel, Germany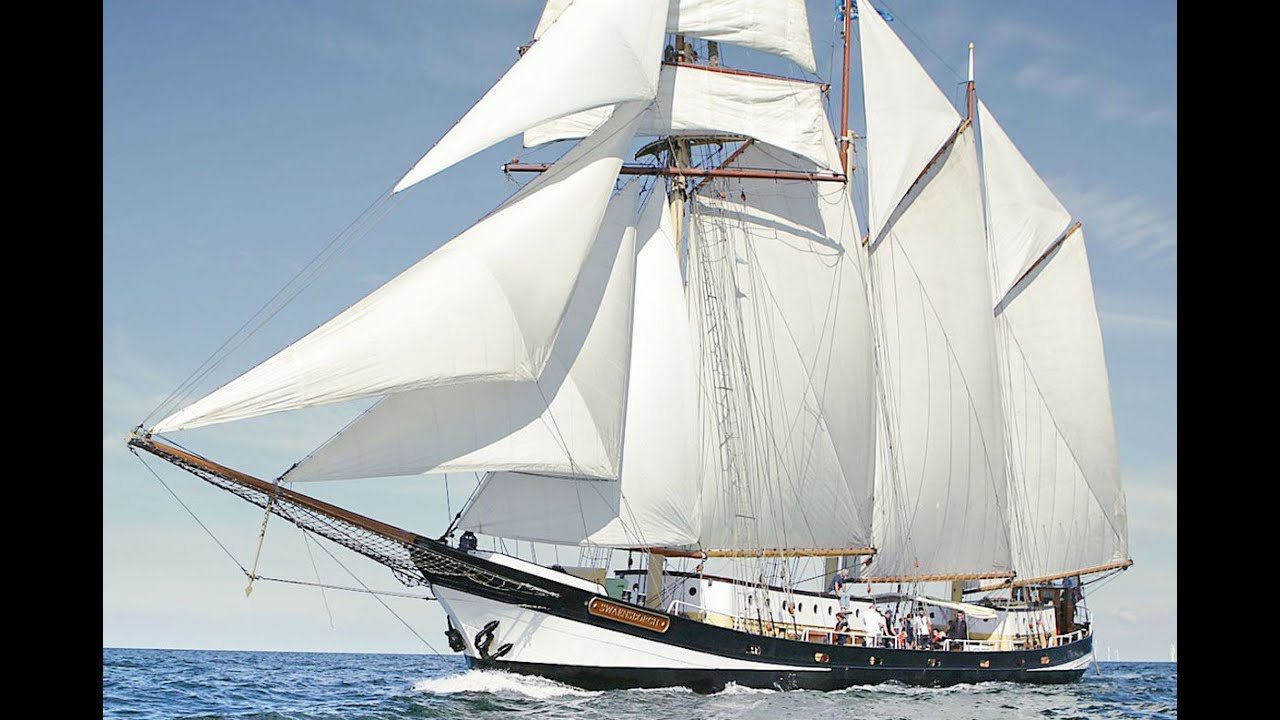 Vision Doeve Brokers
Well-performing charter ship that in the summer months is used on the North Sea and Baltic Sea and can be rented out as a B&B in the winter months, for example. Originally she was a sailing freighter that was completely transformed, after she was decommissioned as a freighter, into a sailing charter ship annex training vessel for a maximum of 36 hotel guests or 86 day passengers. The ship meets all Dutch requirements and the seller is very consistent with preventive maintenance. In total there are 13 guest cabins with their own washbasin and there are 4 showers and 4 toilets and 1 urinal for the guests. There is sufficient space for the crew and in the aft cabin there is a fully equipped galley and a private bathroom. In our view, an excellent opportunity to acquire a beautiful ship with many exploitation possibilities where the possible captain/owner can also live on board very well. This lady is a real beauty to see and has a good turnover that, in our view can be expanded through winter activities.
More information
General information
Yard:
Shipyard Johann Hinrich Jacobs, D-Moorrege
Hull shape:
flatbottom
round bilges
Hull material:
iron/steel
Deck material:
iron/steel
Superstructure material:
steel
wooden wheelhouse
Construction method:
riveted
new steel is welded
bulwark around
rubbing strake around
clipper bow
forecastle
aft cabin below
6 watertight bulkhead(s)
Steering system:
hydraulic
power steering
electric steering
& wheel
Displacement (approx.):
165 GT
78 NT
Airdraft (approx.):
29,50 m
Registration:
Dutch registered
B-registered
Costs for the change of ownership and / eventually deletion are for purchasers amount.
Colour / Paint System:
black hull
white hull
black bulwark
yellow superstructure
white superstructure
see photographs
last underwatership treatment 2023
Certificates:
Register Holland Classebureau Zeevaart B.V. (RHC) Commercial Sailing Vessel Z 1,2,3,4, no ice
NSI sailing area 17 (A1)
Special Purpose Ship Safety Certificate
RINA Load Line
Passenger Ship safety declaration EU 2009/45 day trips
national safety management certificaat IL&T (ISM Lite)
Suitable for / as:
commercial shipping
seaworthy
coastal waters
useful as charter
suitable as a year round live- aboard
General information:
Acquisition of the current operation can be discussed.
good sailing characteristics
The current berth may differ from what is indicated as the vessel operates internationally.
Hand over in consultation, charter contracts must be complied.
Additional information:
86 day guests
36 hotel guests
When this vessel is not / will not be used in the Netherlands as a seagoing vessel for 100% commercial purposes and for at least 70% of the time on the high seas, then the relevant VAT will be due in the Netherlands in addition to the asking price. Sale at 0% VAT to a foreign company is eventually possible if the buyer meets the applicable VAT guidelines.
Technical information
Enginepower:
384 Hp
283 kW
Running hours (approx.):
17977 (14-08-2023)
Fuel tank (approx.):
2x 2200 litre
1x 500 litre
steel tank(s)
Cooling system:
intercooling
dry exhaust
insulated exhaust
Propulsion:
4 blade propeller
greased lubrication of propeller shaft
greasing device
Gearbox:
Reintjes WUO 260 hydraulic
reduction/ratio 3:1
Speed (approx.):
6 knots cruising speed at 850 RPM
9 knots top speed at 1500 RPM
Heating:
Buderus Logana G 105 central heating
combi boiler
on diesel
Bow thruster:
bow thruster with dieselengine
DAF 615
97 Hp
Electricity system:
24 / 230 / 400 Volt
400 Volt shore power connection
ENTES EPM-05 Digital Multimeter
Victron BMV-700 battery monitor
Batteries:
traction batterie bank 12x 2 Volt
2 emergency batterie(s)
2x 83 Ah starter batterie(s) bow thruster
2x 55 Ah starter batterie(s) generator (Optima Red Top)
2x 55 Ah starter batterie(s) generator (Optima Red Top)
Battery charger:
Victron Blue power battery charger 24/8
Victron Blue smart battery charger 24/5
Victron Skylla-TG battery charger 24/80 & Skylla 24/25
GBC200 battery charger 24/20
Earth-leakage breaker:
present
Genny:
JF Marine Power whisper set
15 kVA 230/400 Volt, 1500 RPM
29121 running hours (approx.) (14-08-2023)
JF Marine Power whisper set
30 kVA 230/400 Volt, 1500 RPM
6896 running hours (approx.) (14-08-2023)
Inverter:
Victron Atlas inverter 24/3000
Fresh water tank (approx.):
1x 6000 litre
1x 5000 litre
steel tank(s)
Water pressure system:
hydrophore pump
Fresh water filter system:
fresh water filter system
Hot water system:
boiler/water calorifier
through the central heating
Holding tank (approx.):
1x 4400 litre
black water tank(s)
Diesel waterseparator:
present
Bilge pump:
3x electric pump
with manifold
also deckwash pump
& loose pump
Gas system:
yes, bottle(s) in bottle box on deck
Additional information:
air compressor
200 liter lubrication oil tank (approx.)
Accommodation
Interior:
various materials have been used
useful as charter
suitable for living on board
see photographs
Berth:
Guest cabin(s):
9x 2-pers = 2x 1-pers bunk bed:
2x 3-pers = 1x 2-pers & 1x 1-pers
2x 4-pers = 4x 1-pers bunk bed:
Crew cabin(s):
Forward: 3x 1-pers
Aft: 1x 2-pers & 2x 1-pers
Lay-out plan (not to scale):
see attachment
Bathroom:
guest accommodation:
guest cabins with wash basin
hot & cold running water
4x shower
hot & cold running water
= 1x in 1 area together with the toilet
crew quarters:
Forward:
washbasin with hot & cold running water
Aft:
shower
hot & cold running water
in 1 area together with the toilet
Toilet / Heads:
2x day toilet =
1x urinal &
1x flush toilet
1x toilet in bathroom
2x toilet
Aft:
1x flush toilet
Galley:
professionally equipped galley
Cooker:
2 & 4-burner hob
on gas
stainless steel
cookerhood
stainless steel
Fridge / Refrigerator:
2x fridge / refrigerator
combination with freezer
2x bottles cooler
Worktop:
stainless steel worktop
Washbasin:
2x stainless steel sink
Water tap:
mixer tap with hot & cold running water
Headroom (approx.):
below deck (approx.) 1,95 / 2,05 m
galley (approx.) 2,38 m
deckhouse (approx.) 1,95 / 2,16 m
bar (approx.) 2,16 m
wheelhouse (approx.) 2,05 m
foc's hole (approx.) 1,95 m
aftcabin (approx.) 1,92 / 2,05 m
aftcabin (approx.) 1,82 m
Additional information:
Full charter inventory is present.
beer tap
coffee machine
water dispenser
washing machine
tumble dryer
Rigging and sails
Rigging type:
square rigged
topsail schooner
Jib boom / Bowsprit:
wooden bowsprit
Material of the sails:
Dacron
Sails:
mizzen 96,5 m² (2022)
Gaff topsail
mainsail 100 m² (2023)
Gaff topsail 35,38 m² (2019)
schooner sail 91 m² (2019)
inner yankee 44 m² (2022)
outer yankee (2022)
jib 36 m² (2022)
flyer
marssail 26,83 m² (2020)
square sail 24,43 m² (2020)
breejib
Additional information:
2 wooden topmast(s)
1 steel topmast(s)
jibboom
bobstay
Equipment
Anchor equipment:
manual anchor winch with electric motor
2x Spek anchor
250 m anchor chain
warping drum
specified length(s) is/are approximate
Searail / Pulpit:
searail on bulwark
Safety:
4 life buoys
95 life jackets + 9 kind / child / Kind / enfant
3x inflatable life jackets
2 immersion suit(s)
1 linethrower
flares
7 fire extinguishers
fire alarm system
FM200 automatic fire extinguishing system in engine room
1x 16 pax & 4x 25 pax liferaft with certificate
Ocean Signal E-100 EPIRB
NSR NAS-100 AIS-SART
bilge alarm
Additional information:
aluminium gangway
2x SUP
deck lights
high pressure cleaner
Survey report of the underwatership is available
sundeck