Dutch Style Narrowboat 57
Dimensions (m):
17.50 x 2.08 x 0.70
Mooring:
Near Saint Quentin, France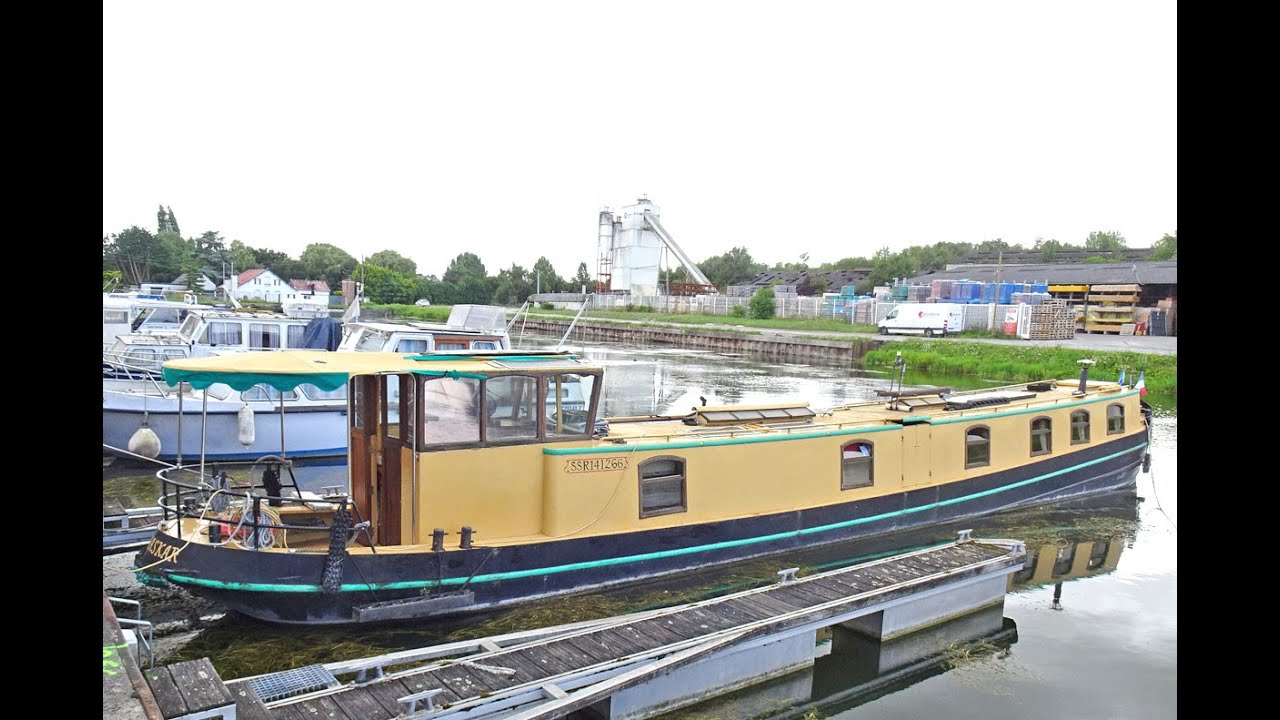 Vision Doeve Brokers
This newly build Sagar Marine Narrowboat is an unique vessel and is offered by her first owners. She is equipped with a twin prop hydraulic propulsion system. Together with the hydraulic bow thruster she is a very maneuverable barge. From the aft deck with the Bimini you reach the wheelhouse (with a dismantlable hardwood topside and aluminum roof) with steering position and bench, step down into the bedroom, on the portside the engine with PTO and on the Starboard side storage, then the bathroom with bath, washbasin and the toilet, side doors, galley and salon with exit at the front. The owners traveled extensively in the UK before they made the move to France where they since then have been barging on the inland waterways. Moored in the North of France she is well positioned for the new owner to explore the European canal system or to live on board.
More information
General information
Yard:
Shipyard Sagar Marine, UK-Brighouse, Yorkshire
completed in-house finished
Hull material:
steel 12 / 6 / 3 mm
Deck material:
steel 6 mm
Superstructure material:
steel 3 mm
Steering system:
hydraulic
2x steel rudder
Windows:
hardwood window frames
Displacement (approx.):
18 metric tons
Ballast (approx.):
concrete
Airdraft (approx.):
2,25 m
1,75 m collapsible wheelhouse
Colour / Paint System:
black hull
cream superstructure
see photographs
Certificates:
no certificate requirement
RCD / CE Certification:
exempt, built before June 16, 1998
Suitable for / as:
inland waterways
General information:
from first owner
For sale because of the age of the seller.
Additional information:
Given construction year is the year that the ship was ready and she was launched.
wheelhouse
Hull shape is suitable for drying out.
Great vessel for cruising on the European canals and rivers.
Great vessel for cruising on the French canals and rivers.
Technical information
Enginepower:
2x 28 Hp
2x 20 kW
Engine model:
2x hydraulic
Construction year engine:
1998
Running hours (approx.):
8400
Fuel tank (approx.):
370 litre
1 steel tank(s)
Cooling system:
closed
keel cooling
Propulsion:
2x 3 blade propeller
greasing device
Heating:
stove heater
All burner stove
Bow thruster:
hydraulic bow thruster
8 Hp
proportional
Electricity system:
12 / 230 Volt
230 Volt shore power connection
Batteries:
1x 74 Ah starter batterie(s)
2x 100 Ah domestic batterie(s)
Battery charger:
Sterling Marine battery charger 12/30
Inverter:
Sterling Power DAI-3000H - 122E inverter 12/3000
Solar panels:
8x solar panel
Fresh water tank (approx.):
450 litre
1 stainless steel tank(s)
Water pressure system:
hydrophore pump
Hot water system:
boiler/water calorifier via 230 Volt and engine cooling system
Holding tank (approx.):
present
stainless steel tank(s)
Bilge pump:
present
2x 12 Volt
Gas system:
yes, bottle(s) in bottle box
Accommodation
Interior:
Plywood
& cherry wood interior
some overdue maintenance
see photographs
Insulation:
foamed insulation
Lay-out plan (not to scale):
see attachment
Bathroom:
bath with shower
hot & cold running water
washbasin with mixer tap and hot & cold running water
in 1 area together with the toilet
Toilet / Heads:
electric toilet
Cooker:
4-burner hob
on gas
Fridge / Refrigerator:
present
12 Volt
Freezer:
small ice compartment
Washbasin:
1x sink
1x vegetable sink
Water tap:
hot & cold running water
Entertainment:
flatscreen TV DVD/CD player
satellite receiver kit
Headroom (approx.):
forward (approx.) 1,95 m
galley (approx.) 1,92 m
bathroom / toilet (approx.) 1,88 m
cabin (approx) 1,92 m
wheelhouse (approx.) 1,89 m
Additional information:
washing machine
Rigging and sails
Mast:
wooden mast
lantern mast
Equipment
Anchor equipment:
anchor with rope and chain
Bimini:
bimini top above aftdeck
Safety:
fire extinguishers
life jackets
safe
Additional information:
aluminium gangway