Restaurant vessel, 96 seats
Dimensions (m):
50.00 x 6.60 x 1.20
Mooring:
Near Franeker, Netherlands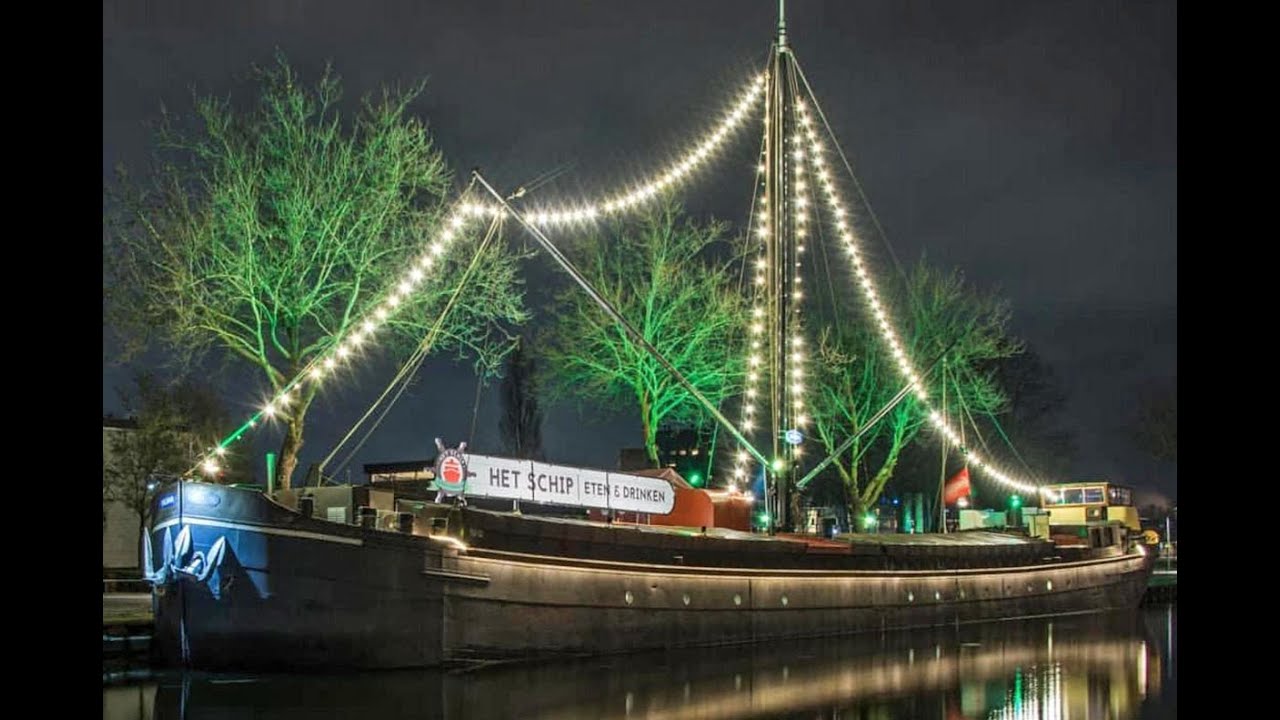 Vision Doeve Brokers
A vessel that was completely rebuilt in 2016 and furnished with a catering destination. Currently she is equipped as a restaurant / pancake ship, but deploying as a party location or a pub is of course also a possibility. With her current layout, she has a total of 96 seats and a spacious bar. The stairs at the entrance is equipped with a stair lift and everything else is for the guests on one level floor. Adjacent to the restaurant there is a spacious, professionally equipped open kitchen which is equipped with all modern appliances. Subsequently, there is a large storage room with various fridges / freezers. The old captain's quarters (aft cabin) is now in use as an office and beverage storage but in our opinion it can also be used as a B&B location. The wheelhouse is at the moment not in use but it can serve as a unique private dinner location. Of course the barge is also equipped with a modern separate toilet group for men and women. It is a historic ship that has certainly not lost her authentic charm and she will be a welcome addition to many municipalities to accommodate a location within its municipal boundaries. We also think that she can be an excellent club ship and/or catering facility in a marina. Immediate delivery is possible.
More information
General information
Yard:
Shipyard Ruijtenberg BV, NL-Raamsdonksveer
Yard rebuilt:
Shipyard Talsma, NL-Franeker
Superstructure material:
steel
teak top side of the wheelhouse
wooden hatches covers over hold
Construction method:
riveted
new steel is welded
wide side decks (gunnels)
rubbing strake around
deckhouse
Steering system:
steel rudder
not connected
Windows:
aluminium windows frames
Ballast (approx.):
concrete
Airdraft (approx.):
4,80 m
Registration:
Dutch registered
B-registered
Costs for the change of ownership and / eventually deletion are for purchasers amount.
Colour / Paint System:
black superstructure
white superstructure
see photographs
Certificates:
not certified
Suitable for / as:
restaurant
pancake restaurant
gastronomy
General information:
Sellers are possibly willing to part finance.
Additional information:
The relevant VAT will be due on the asking price if the vessel is purchased by a consumer or by a Dutch company (provided it concerns a Dutch seller). Sale at 0% VAT to a is eventually possible if the buyer meets the applicable VAT guidelines.
Technical information
Heating:
central heating
& floor heating
Air conditioning:
present
Electricity system:
230 Volt
400 Volt
400 Volt shore power connection
professionally installed system
Earth-leakage breaker:
present
Fresh water tank (approx.):
No, via shore connection
Hot water system:
present
Holding tank (approx.):
present
Homa macerator wastewater pump
suitable for pumping sewage to the shore
Gas system:
via shore connection
Additional information:
LED lightning
Accommodation
Interior:
various materials have been used
see photographs
Insulation:
for a large part
Toilet / Heads:
lady's room:
2x flush toilet
1x washbasin
tiled toilet
men's room:
1x flush toilet
1x urinal
1x washbasin
tiled toilet
Galley:
professionally equipped galley
Cooker:
6-burner hob
2-burner hob
6-burner hob
stainless steel
Oven:
Bartscher oven
Rational oven
Fridge / Refrigerator:
present
beer fridge
bottles cooler
Worktop:
stainless steel worktop
Entertainment:
stereoset
2x flatscreen TV
WIFI
Additional information:
2x coffee machine
beer tap
inventory
cash register
ice maker
washing machine
Salamander
3x stainless steel deep fat fryer
Equipment
Anchor equipment:
manual anchor winch
anchor with chain
Safety:
fire extinguishers
smoke detector(s)
safe