Dutch Barge 24.72 with TRIWV
reduced in price
Dimensions (m):
24.72 x 4.85 x 1.15
Mooring:
Near Medemblik, Netherlands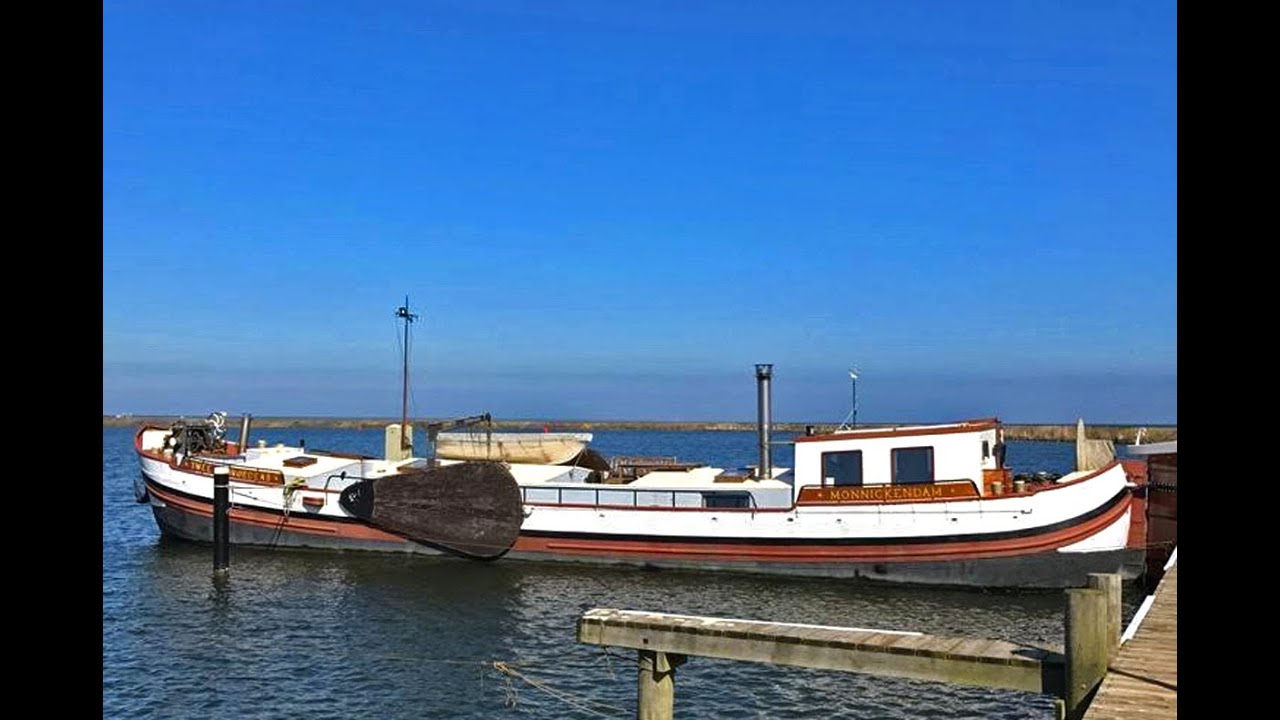 Vision Doeve Brokers
Former inland cargo vessel that was converted into a Live Aboard Dutch Barge in the 1980s and to which continuous improvements have been made. For example, the aft cabin has been completely renovated (marine plywood and epoxy) and the old cargo hold is fully equipped with a steel deck which also has a cockpit with seating. During the renovation, it was taken into account that the Dutch Barge must still be able to be made sailing, so there is still a mast deck and a mast foot. In the aft cabin there is the galley with seating and from there you can go to the aft (furnished as a cabin with 1-persons berth) and forward to the old hold where the cozy living room is located and also 2 more cabins, the bathroom and a spacious workshop. In our eyes a Dutch Barge with which a new owner can start easily, but where things also easily can be changed according to one's own wishes.
More information
General information
Yard:
Shipyard G.J. van Goor, NL-Meppel
Hull material:
iron/steel
Superstructure material:
steel
wooden aftcabin =
marine plywood
Construction method:
riveted
new steel is welded
rubbing strake around
bulwark around
wide side decks (gunnels)
deckhouse
clipper bow
self-draining cockpit
1 watertight bulkhead(s)
closed bollard cabinets
Steering system:
manual hydraulic steering
wheel
on steering pedestal
hardwooden rudder
attached rudder
Windows:
double glazing
hardwood window frames
Displacement (approx.):
maximum allowable displacement 89,916 m³
displacement in empty condition 62,701 m³
displacement 27,215 m³
Ballast (approx.):
present
steel
& concrete tiles
Airdraft (approx.):
everything down 3,10 m
Registration:
Dutch registered
B-registered
Costs for the change of ownership and / eventually deletion are for purchasers amount.
Colour / Paint System:
black hull
white bulwark
white superstructure
see photographs
last underwatership treatment 06-2018
Certificates:
inland waterways certificated (TRIWV / ES-TRIN)
zone 2 Netherlands
zone 3
zone 4
valid until: 07-2025
Suitable for / as:
inland waterways
suitable as a year round live- aboard
Additional information:
Specified beam excludes the leeboards.
classic lines
Hull shape is suitable for drying out.
straight hull
Great vessel for cruising on the European canals and rivers.
Great vessel for cruising on the French canals and rivers.
Technical information
Construction year engine:
1968
Running hours (approx.):
unknown
Fuel tank (approx.):
1x 600 litre
1x 500 litre
1x 1400 litre
steel tank(s)
Cooling system:
closed
box cooler
Propulsion:
3 blade propeller
greased lubrication of propeller shaft
Gearbox:
ZF hydraulic
BW30 VL
Heating:
ACV central heating
combi boiler
on diesel
& stove on wood
with back boiler connected to central heating
Electricity system:
12 / 24 / 230 Volt
230 Volt shore power connection
Batteries:
2x 50 Ah starter batterie(s) Optima Red Top
1x 50 Ah starter batterie(s) generator Optima Red Top
2x 225 Ah domestic batterie(s)
Battery charger:
Victron Skylla battery charger 24/50
Earth-leakage breaker:
present
Genny:
8,5 kVA
diesel genny
230 Volt
1500 RPM
running hours (approx.) 500
Inverter:
Victron Atlas inverter 24/1200
1 inverter 24-12 Volt
Solar panels:
4x solar panel
Fresh water tank (approx.):
2x 250 litre
stainless steel tank(s)
1x 1200 litre
steel tank(s)
Water pressure system:
Speck hydrophore pump
Diesel waterseparator:
present
Bilge pump:
2x submersible pump
Deck wash pump:
present
230 Volt
Gas system:
yes, bottle(s) in bottle box on deck
Additional information:
partly LED lightning
Accommodation
Interior:
various materials have been used
see photographs
Insulation:
glass wool
Rockwool
hard foam plates
Berth:
Forward: 1x 2-pers
Midships: 1x 1-pers
Aft: 1x 1-pers
Lay-out plan (not to scale):
see attachment
Bathroom:
sitting bath
thermostat tap
washbasin with hot & cold running water
in 1 area together with the toilet
Toilet / Heads:
2x hand pumptoilet
Cooker:
4-burner hob
stainless steel
on gas
Fridge / Refrigerator:
present
230 Volt
Freezer:
small ice compartment
Worktop:
hardwooden worktop
Washbasin:
stainless steel sink
Water tap:
hot & cold running water
Headroom (approx.):
aftcabin (approx.) 2,07 / 1,94 m
aftcabin (approx.) 1,53 m
salon (approx.) 2,33 / 2,14 m
corridor / walkthrough (approx.) 2,14 m
cabin (approx) 2,33 / 2,09 m
bathroom / toilet (approx.) 2,23 m
toilet (approx.) 1,57 m
cabin (approx) 2,38 / 2,10 m
workshop 1,70 / 2,38 m
Additional information:
washing machine
tumble dryer
useful as live-aboard
Rigging and sails
Leeboards:
2 hardwooden leeboards
2x leeboards winch
Equipment
Anchor equipment:
manual anchor winch
Klipp anchor
in hawse-hole
warping drum
Searail / Pulpit:
searail on bulwark
Dinghy:
Linder 410 Fishing aluminum dinghy
Safety:
inflatable life jackets
fire extinguishers
life buoys
according to the certification requirements
Additional information:
Taking over of the current recreation rental mooring can be discussed with the port owner.
sundeck
Survey report of the underwatership is available (06-2018)